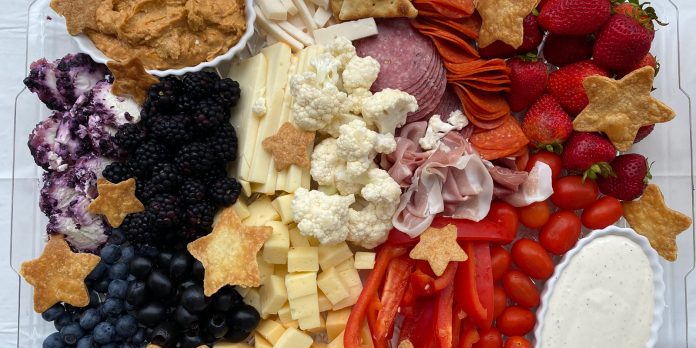 Ah, Labor Day! The grand finale of the sweet summertime season that's sprinkled with those glorious three-day weekends. While we anticipate the rivaled arrival of all-things-fall (AKA football), make sure to relish those last few moments of fun in the sun. Enjoy some of my go-to hacks for spreading a little extra Labor Day cheer!
By Natalie Garrett
Snack Hack
First and foremost… FOOD. Any excuse to please someone's palate in both a flavorful and festive manner is a win for both hosts and guests. A favored holiday Americans are proud to celebrate, the obvious answer is to maximize on the red, white and blue theme. To achieve this as a crowd pleasing appetizer, I recommend trying your hand at crafting a charcuterie board! You truly can't go wrong with a spread of small bites. And, bonus – it's completely customizable, so you can ensure there's something tempting on the board for even the pickiest of eaters.
Pro Tip: A star cookie cutter + flour tortillas = tortilla chips taken to the next level. Cut out your stars, brush with olive or vegetable oil, lay flat on a baking sheet, and bake at 350 degrees until crispy (about 8 minutes) flipping the stars halfway through.
Party Hacks
You don't always have to invent grand, elaborate plans or purchase upscale party supplies in order to seize the moment. Memories can be made even more memorable by upping the ante in small, creative ways. Turn your typical summer activities and get-togethers into cherished ones by trying one of these tips and tricks!
• Add glow sticks to the pool for a lively night swim!
• Find your favorite kiddie pool and fill it with ice to serve as a unique and efficient drink cooler.
• No pool? No problem! A tarp, water hose and soap (or bubbles) can become a makeshift slip 'n slide in a matter of minutes. Fun for the kiddos to enjoy over and over, or even the adults to incorporate into a game of their own (adult beverages optional… hint hint).
• Use bandanas to wrap cutlery sets. It's a frugal way to advance the presentation of your plastic or silverware, and you can get them in red, white and blue colors.
• Set up a projector outside for an epic movie night under the stars! Pile up blankets and pillows to make a comfy pallet, pull out the air mattress, or even break out the pool floats. Pro Tip: if you're laying blankets straight on the ground, place a shower curtain liner underneath to help minimize the dew.
Wherever the holiday leads you this year, make a splash! Schools will be kicking back into high gear, the temperatures will start to settle, and those summer nights will start getting shorter. Live Labor Day just as it was intended by all the hard working folks before us – by taking a break from the hustle and bustle of everyday life to slow down and be present in the moment. And remember, my fellow party people, don't be afraid to overdo the red, white and blue… and never, ever skimp on the food.CHEERS!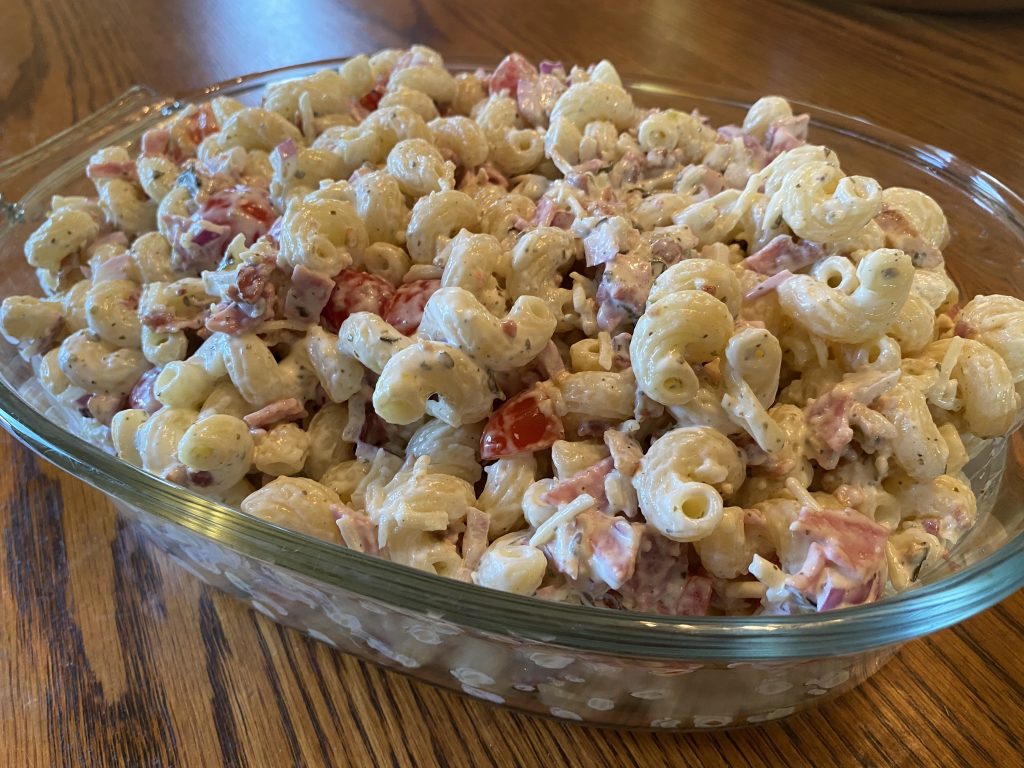 Italian Pasta Salad
*Recipe courtesy of ThisIsNotDietFood.com.
If highlighting barbecue in our annual food issue suckered you right in and you're firing up the Pit Boss for Labor Day, I suggest adding a twist to the popular picnic side – pasta
salad – by taking it Italian style. This cold and creamy dish made with cavatappi noodles (my personal fave!) is both filling and refreshing for a large crowd!
Ingredients:
– 2 cups Cavatappi noodles
– 1 cup halved grape tomatoes
– 1⁄2 cup diced red onion
– 1⁄2 cup chopped salami
– 1⁄2 cup shredded parmesan cheese
– 1⁄4 cup bacon bits
– 1⁄2 cup shredded mozzarella cheese
Dressing
– 1 cup mayonnaise
– 2 tablespoons basil pesto
– 1 teaspoon salt
– 1 teaspoon pepper
Directions: Boil noodles until tender. Drain and rinse with cold water. Transfer to a large mixing bowl. Mix dressing ingredients in a separate bowl. Stir well into pasta noodles. Add the tomatoes, onion, salami, and bacon bits. Toss well. Mix in parmesan and mozzarella cheeses. Cover and refrigerate for at least 2 hours prior to serving to allow for flavors to marry. Enjoy!