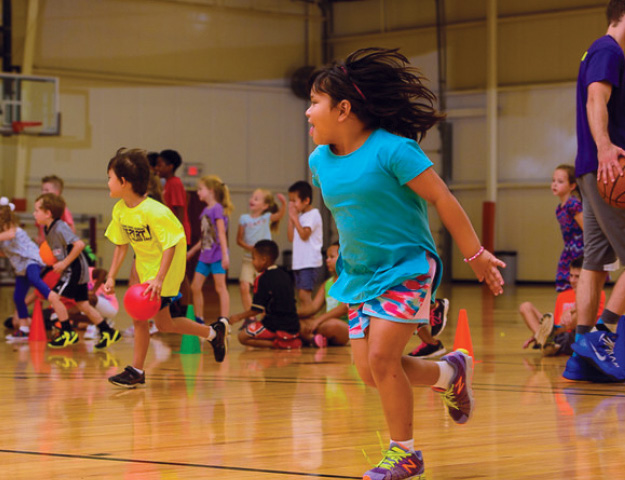 Baby it's cold outside, but that doesn't mean the kids should be cooped up indoors staring at screens all winter. All that youthful energy needs to be released before a major case of cabin fever sets in, so we've crafted a handy list of places to take the kids to keep them active all year long.
By: Alicia Carter
MYSPORT AFTER SCHOOL AT THE SUWANEE SPORTS ACADEMY
Suwanee Sports Academy's MySport program is the ideal place for parents looking for something different than traditional aftercare. The kids who participate in MySport have a great time while having the opportunity to try many different sports. Time is set aside each day for homework as soon as the kids arrive from school. After a healthy snack, the kids hit the courts for a warm- up and learn the sport of the day. The best part is the program offers flexibility for parents who want their child to participate in different sports after school but may not need five days per week. MySport believes sports and physical activity make lasting impacts on individuals and communities. Not only does participation in sports at a young age lead to healthier and more active lifestyles, it also helps kids learn valuable lessons. These include teamwork, sportsmanship, and the value of working toward a common goal. Most of all, sports and exercise should be fun!
3640 Burnette Road, Suwanee / 770-614-6686 / ssasports.com

ADRENALINE CLIMBING
Adrenaline Climbing is a family-owned climbing gym that's fun for the whole family. They offer beginner level
youth classes that teach the fundamentals with an emphasis on fun. Climbing is a fun exercise for kids that develops strength, balance, coordination, flexibility, problem solving skills, independent thinking, and more. Check out their family
fun nights on Fridays from 6pm-8pm. Adrenaline also hosts camps that focus on outdoor adventure.
460 Brogdon Road, Suwanee / 770-271-1390 / adrenalineclimbing.com
ATLANTA SILVERBACKS SUWANEE INDOOR
Atlanta Silverbacks Suwanee Indoor is a 48,000-square-foot facility that features two large indoor turf fields and organizes and operates a variety of leagues and programs year-round such as indoor soccer, flag football, and an after-school program. They also offer a number of multi-sport youth camps to keep your kids active all throughout the year. We also know an active kid is a hungry kid, so pick up a snack, lunch or dinner at Banana's Restaurant.
4285 Brogdon Exchange N.E., Suwanee / 678-714-7454 / atlantasilverbacks.com/silverbacks-suwanee-indoor