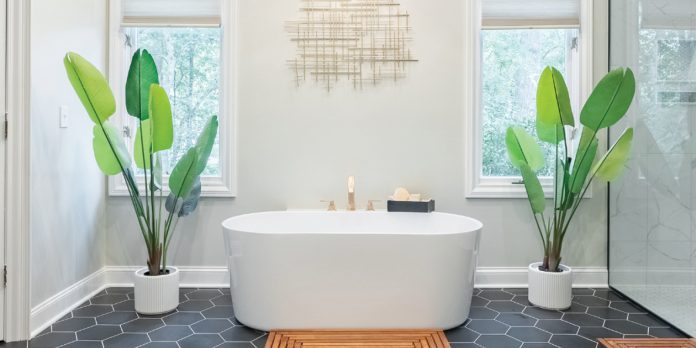 Bath Tune-Up works with homeowners to breathe new life into the most personal space in their home — the bathroom.
By Alicia Carter
It's no secret that over the past few years, we've all been spending a lot more time at home. Because of this, many people are taking time to update or remodel their home to make it more comfortable, functional, and even just prettier. While many people focus on larger spaces like the kitchen, living room, master bedroom, or even the backyard, we shouldn't neglect perhaps the most intimate space in our house: the bathroom.
While the kitchen and living room may be the more social areas of your home, the
bathroom is extremely personal, so it's important to create a space that feels like your own personal oasis. That's where Belle and Fer Scenna step in. As owners of Alpharetta's Bath Tune-Up franchise, they help homeowners create the bathrooms of their dreams.
Custom Design Options
Specializing in full-service bath remodels, Bath Tune-Up provides a full range of custom design options as well as curated concepts for every project level. They realize that there are a number of decisions and added stress that go into a remodel, so they work to remove the "overwhelm" from the equation by being your one-stop shop, assisting from design to install. They even help with the "behind the walls" components, such as the electricity and plumbing.
Bath Tune-Up's services include shower and tub installation, conversion (changing a tub to a shower or vice versa), as well as full remodels. In addition to these services, Belle and Fer work to create a different type of experience than homeowners may have had in the past, and they apply their customer service trust points to every project. "It sounds basic, but we treat our clients how we want to be treated," Belle says. "That includes listening, arriving on time, respecting your home, providing innovative solutions, and always returning calls within 24 hours."
A European Touch
Originally from Argentina, Belle brings a European influence to her designs, creating a truly unique space that is both personal and functional. With an eye for design, Belle loves incorporating materials such as wood, iron, concrete, and glass to create eye-catching spaces. She also likes to add plants to bring in outdoor elements, giving it an organic feel. Belle will meet with clients multiple times to truly understand their vision, while also making suggestions to help elevate the design.
"Where to place your trust for a bathroom project is a big decision, and we work to guide our clients through it," Belle says. "Sometimes the amount of choices, colors, styles, and finishes can be overwhelming, so we help them through the process of selecting what they most want to change, and what service might be best for their family's needs and budget."
Bath Tune-Up has worked hard to create a culture of honesty paired with a passion for innovative design. While Bath Tune-Up is a great option for basic bath remodels, Belle thrives on working with clients who want to create a truly unique space and who are open to new ideas.
And while a bathroom remodel will certainly increase the value of your home, don't wait until you're planning to put your house on the market to consider an update. "What we hear most often from our clients is that they wish they would have updated their bath space sooner," Belle says. "The bath is where you get ready to take on the day, wind down at night, and should be your oasis for relaxation."
Bath Tune-Up serves the Suwanee, Johns Creek, Duluth, Alpharetta, and Midtown areas. For more information, call 678-487- 5552 or visit BathTune-Up.com/alpharetta-ga.