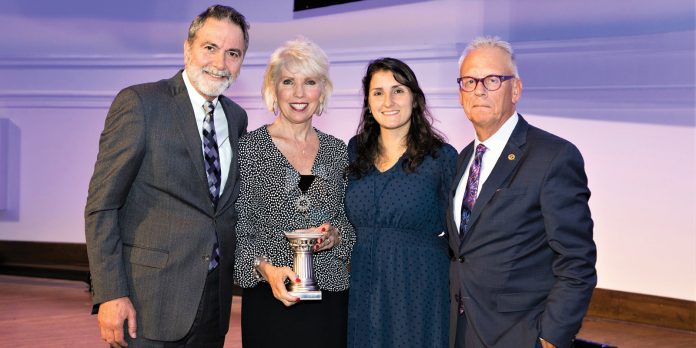 Buford's American Casual Living honored with an Apollo Award by the International Casual Furniture Association.
By Alicia Carter
Suwanee residents Lee and Maureen Recchia share a passion for creating comfortable, year-round outdoor living areas for family fun, entertaining friends, or for quiet enjoyment and relaxation. They founded American Casual Living in 2009, and since then have become a staple in the community. Conveniently located across from the Mall of Georgia, American Casual Living's spacious 25,000-square- foot showroom brings to life the very finest outdoor and casual furnishings and accessories available. Their friendly, knowledgeable staff combines more than 150 years of experience with focused personal attention to help customers create their ideal outdoor living areas.
The family-owned business was recently honored with a 2022 Apollo Award by the International Casual Furniture Association (ICFA) in the Single Store category. Lee, Maureen, and their daughter Lauren traveled to ICFA's Awards Gala in Chicago this past July to accept the award on behalf of the dedicated and deserving employees of American Casual Living.
"Recognition by your peers is gratifying, and it speaks well for the way we conduct our affairs not only within the industry, but with our employees, our customers, and within our community," Lee says. "We are blessed to have experienced, creative, dedicated employees who are experts at their craft. All things being equal, we think that customers buy from people they like, believe, and trust."
The ICFA's prestigious Apollo Award, which recognizes retail excellence in the sales and marketing of outdoor furnishings, is bestowed upon businesses that represent the highest qualities of character and success among retailers of casual home furnishings, and is considered an outstanding retail model in the industry.
Finalists must demonstrate outstanding accomplishments plus active partnership and excellent credit rating with manufacturers and industry suppliers. The finalist is recognized as an exceptional dealer of a wide variety of quality products in their trading area and a role model for others within the industry, as well as characterized by superior customer service plus innovative marketing and merchandising strategies.
After being recognized with the Apollo Award, Lee and Maureen are excited about not only the future of American Casual Living, but in their personal lives as well.
"Maureen and I are enjoying the incredible thrill of recently becoming grandparents for the first time — twice in fact, within a month of each other," Lee says. "Perhaps the next generation of American Casual Living is beginning to form itself. In addition to trying to spend as much time as possible with the little ones, we continue to work to improve American Casual Living to ensure we continue to deliver a remarkable, positive, and satisfying customer experience."