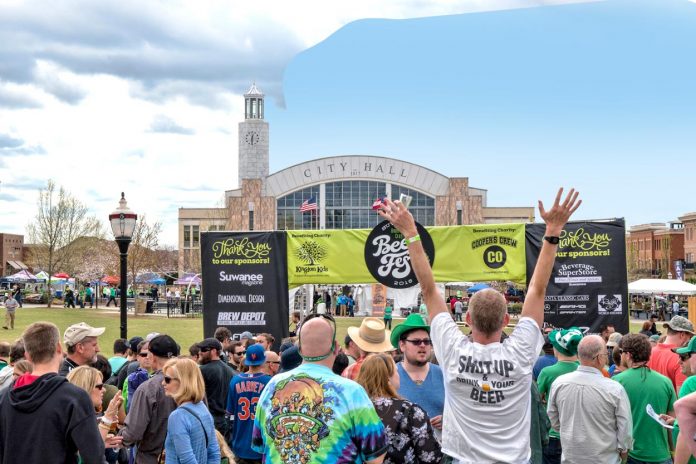 Strategies for upgrading your beer adventures during "drinking season"
By: Derrick Atkinson, Taproom Manager of Jekyll Brewing
It's pretzel necklace time! Beer festivals are a great opportunity for newbies to try something new and they are enticing to beer nerds as a chance to really explore favorite styles or brands. It's an exciting environment to essentially be surrounded by 100+ tap takeovers. But, to fully take advantage, you need a plan to really tackle it the right way…
DON'T FORGET THE H20
First tip, don't forget the usefulness of water! As we roll into the hotter months the beer lines will get longer. Waiting in line can make it easy to forget about water, but DO NOT forget about water. You don't want to be that guy or girl. Don't be stubborn, drink water and enjoy the beers a bit longer…and no, a lager doesn't count!
TAKE NOTES
There are many festivals that hand out a notebook with your tasting glass, use it! If you like to go to a lot of festivals you can find some really nice beer notebooks on Amazon and keep a running tally of your brews. You don't want to miss out on all of those Untappd app check-ins or badges! Some beer festivals will have upwards of 50+ versions of one particular style, and therefore, "that one IPA" is hard to remember.
REMEMBER THE SNACKS
One of the oddities of beer festivals that you will see are the necklaces folks make and wear into the festival. Ingenuity is the game here. Pretzels are the common sight, but I've seen beef jerky, cookies, and even granola bars. The idea is to have something to snack on as well as something that can somewhat cleanse the palate. They are easy to make and may just save you when the midday beer fest lull kicks in!
SPLURGE ON VIP
Seek out beer fests that offer a VIP (Suwanee Beer Fest VIP is definitely the best in my book!) or special beer section because these tickets usually come with access to rare or one-off beers. Small breweries, like Jekyll Brewing, often use these areas to try out a new recipe or to reward folks for their continued support. In the past, Jekyll has sent barrel-aged versions, fruit-infused versions and cellar-aged versions of some of their beers. With beer festivals, it's all about standing out from a brewery standpoint.
USE THE APP

The SBF17 App is designed to help attendees rate and track their favorite brews at the festival. With unlimited samples it can be hard to remember which beers you loved most at the event, so the app has a section where you can upload favorites to your profile. Plot your beer-tasting journey ahead of time by viewing the map and brewery list within the app. Users will also get the chance to participate in the "Georgia Brew Battle" where they can vote for their favorite Georgia beer of the day. At the end of the festival, votes will be tallied and one brewery will take home the title! SBF17 App will be available soon in the app store. For more information, visit SuwaneeBeerFest.com/App.