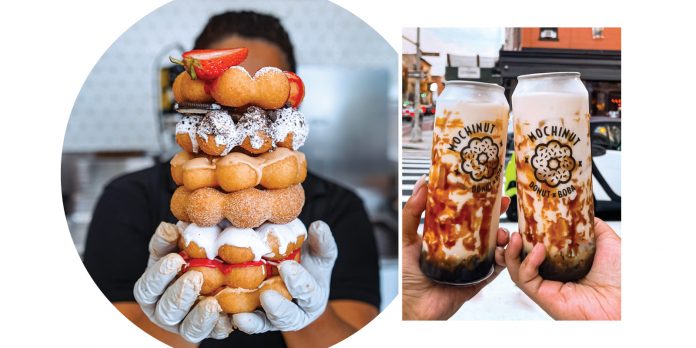 Mochinut is a popular franchise of mochi donuts. Originating from Hawaii, Mochinut is gaining popularity due to its unique shape and wonderful texture: light and crispy with a soft, chewy flavor inside. Mochi donuts are a combination of American donuts and Japanese mochi. They are made with rice flour, which makes them unique in taste. The rice flour also makes mochi donuts stretchy and chewy. As the last step in enriching the flavors of the mochi donuts, Mochinut adds special flavors such as chocolate, vanilla, matcha, and Earl Grey, and then tops them with delectable toppings to best fit your taste.
Mochinut currently has more than 75 stores in America and is growing. Mochinut has become the latest trend in the donut industry, and Mochinut is confident in their success due to their quality of food, customer service, and of the company's culture and values. Mochinut is opening its second store in Suwanee in July, with many stores planned for later this year: Duluth Mall Corner, Lee+White in Atlanta, Town Brookhaven, and more. The team is looking forward to its grand opening and proud to be part of the Suwanee community.
"We hope that our customers feel comfortable when they visit our store and are enjoying each other's company, while sharing the experience together," says Chris, owner of the Suwanee Mochinut store. Whether you want to enjoy mochi donuts, grab a drink on the go, or sit down for a bowl of shaved ice, Mochinut Suwanee has all the dessert you need all in one place.
Mochinut Suwanee is located at 315 Peachtree Industrial Blvd., Suite 106, in Suwanee. For more info, visit their social media pages at @MochinutSuwanee.