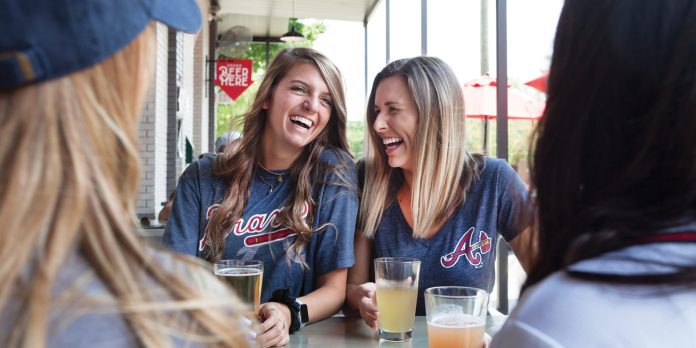 Suwanee's StillFire is brewing community relationships in their hometown and beyond.
By Lizzy James | Photos by Gary Dowd
In just under three years in business, Suwanee's StillFire Brewing has not only created a name for itself for brewing innovative, award-winning beers in the Georgia craft beer industry, but has also evolved into an extension of the local community. On any given day, you might just find four generations of family gathered on the patio, with great-grandchildren playing on the playground while the adults enjoy conversation over a beer. The brewery has become a place for families, friends, neighbors, and colleagues to gather to celebrate graduations, retirements, weddings, and even little league championships.
We asked General Manager Aaron Bisges his thoughts on what StillFire has become for so many in the community. "It was always our mission to provide something grander than great beer. Yes, our brewers have crafted nationally recognized beer. But ultimately, StillFire is about community. About place. About relationships. When we created our mission statement over four years ago, every partner agreed that at our core, the values we cared most about were quality, loyalty, and community. We wanted to create an experiential destination, a 'third place,' a treasured local institution."
Crafting Relationships
Since opening in 2019, the brewery has held true to these core values. StillFire has not only been a place for families and friends to gather, but also a place for people of all walks of life to meet and build new relationships. For StillFire Founders Club member Matt Savitt, or as the staff has lovingly named him, "Mayor Matt," the brewery has become like a second home. It's not often that you make a pit stop for a pint of your favorite StillFire beer and Matt is not in the taproom. In fact, he did not miss a single day of visiting the taproom in the first 400 days of the brewery's existence. One can only imagine the number of friendly faces Matt has been able to meet and build relationships with over the past three years. "During my time spent at StillFire I've met some amazing people," Savitt says, "The culture and community in the taproom enable everyone to do that. The staff is fantastic, and the beer is incredible. Add that to the location and you have a winning recipe for success."
Along with Savitt, fellow Founders Club member Mike Ringham has also found a home in the StillFire community. "My wife and I have both come to realize that being a 'StillFire Founder' has given us an entirely new group of friends from very different walks of life, professions, and backgrounds," he says. "Seeing someone else with a Founders' glass immediately provides a conversation starter and many new awesome friendships have begun at that point. The basic benefits rom the Founders Club have been great, but the hidden gem is getting to know the other people who joined with us."
Crafting Impact
Aside from personal relationships, StillFire's success has also allowed the brewery to expand its charitable relationships within the community. In June of 2021, the team launched the Find Your Fire Foundation in an effort to give back to the local community. "We had been so inspired by the support we had received since opening and we realized that we had the opportunity to do more than just brew beer," Bisges says. The brewery partnered with Children's Healthcare of Atlanta to launch the f oundation by hosting an event filled with live music, giveaways, and plenty of delicious beer in the taproom. Throughout the day, the brewery raised money through raffles, accepted individual donations, and also donated $1 of every full pour sold that day to Children's Healthcare of Atlanta. The foundation also matched all of the donations made that day and was able to raise more than $9,000 for the fight against childhood cancer.
This event lit a fire in the hearts of the StillFire team, and they knew that their charitable efforts were not going to stop there. Since then, the team has donated over $27K for organizations such as Our Friend Christopher, Cooper's Crew, Children's Healthcare of Atlanta, North Gwinnett Co- Op, The Meal Bridge, Phoenix Community of Atlanta, and HomeFirst Gwinnett among many others.
Find Your Fire Foundation Fundraiser 2022
On August 20th, the StillFire team will once again be hosting their Find Your Fire Foundation Fundraiser in an effort to raise funds for Bert's Big Adventure, an organization that provides a magical, all-expenses-paid, five-day journey to Walt Disney World for children with chronic and terminal illnesses and their families. The event will feature appearances by Bert's Big Adventure team members, a low country boil and delicious food trucks, live music all day long, pop-a-shot basketball, as well as raffles to win awesome prizes. $1 from every pour that day will be donated to Bert's Big Adventure and StillFire Brewing will also be doubling any direct donations and matching all apparel, gift card, and packaged beer sales for the day.
StillFire Brewing has made good on its goal of becoming a "third place" for people in our community to gather and enjoy the events taking place under its roof. StillFire may serve beer, but what it truly sells is relationships, old and new. StillFire hopes to continue kindling those fires for years to come in both this community and the next.