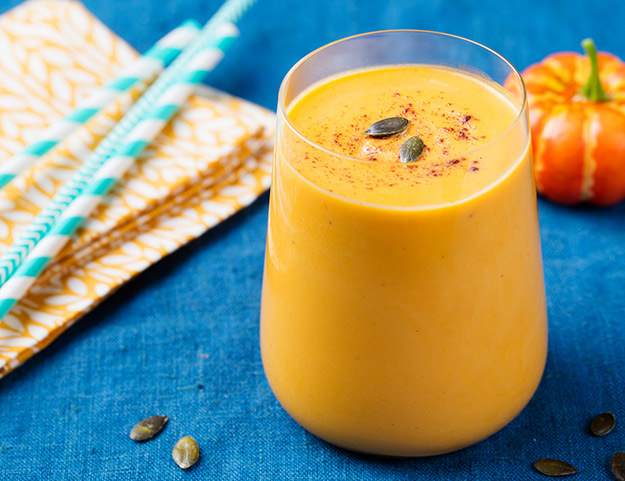 In this article, Fit Mom shared seven amazing health benefits of our favorite seasonal squash and some recipes that not only taste great, but that you can feel good about.
Recipes Submitted By: RUTH UNGERER, aka FIT MOM
Pumpkin Spice Latte
Ingredients:
1 cup (240mL) almond milk
1 tbsp (15g) pumpkin purée
4 drops vanilla crème stevia, or 1/2 teaspoon of vanillla and 1 tsp honey
⅛ tsp ground cinnamon
tiny pinch ground nutmeg
tiny pinch ground ginger
¾ cup (180mL) extra strong organic coffee
Instructions:
Add the almond milk and pumpkin to a small saucepan.
Heat over medium-low heat, stirring constantly with a whisk, until the mixture begins to simmer.
Add in the stevia, cinnamon, nutmeg, and ginger. Whisk the mixture until it becomes frothy.
Add the coffee to a large mug, and pour the milk mixture on top. Enjoy!
Pumpkin Protein Balls (makes 16 balls)
Ingredients:
1 cup pitted Medjool dates
1/2 cup pecans
1/3 cup pumpkin puree
1/4 cup unsweetened coconut flakes
2 tsp vanilla
1 tsp cinnamon
1/4 tsp nutmeg
1/4 tsp ground cloves
Pinch of salt
Instructions:
Place the dates into a small bowl and cover with water. Let soak for 10 minutes, then drain.
Place the pecans into a food processor and pulse until finely ground. Add in the rest of the ingredients, including the soaked dates. Pulse until combined. Adjust the spices to tatse.
Use your hands to form the dough into small balls. Store in the refrigerator in an airtight container. Enjoy 2 balls as a energizing, filling snack between meals.
Dill Pickle Pumpkin Seeds
Ingredients (for each 1/2 cup of raw pumpkin seeds you will need the following):
1 teaspoon olive oil
1 teaspoon white vinegar
1 teaspoon dill
1/2 teaspoon garlic powder
1/2 teaspoon sea salt
1/8 teaspoon black pepper
Note: The vinegar just adds a touch of the acidic flavor that pickles are known for. If you happen to have citric acid around from canning, that will work in place of the vinegar to add that tang, too. Add just a pinch.
Instructions:
Preheat oven to 300° and line a baking sheet with parchment paper.
Scoop out the seeds using your hands, a slotted spoon or a sieve and put them onto a dish towel to pat dry. Now you're read to season and roast!
Per half cup of seeds, toss with olive oil (you could also use coconut oil, grapeseed oil or avocado oil) and then immediately toss with the combined spices and vinegar.
Pumpkin Risotto with Goat Cheese
Ingredients:
4

cups

bone broth

or vegetable stock

1

cup

canned pumpkin puree

2

Tbsp

. unsalted grass fed butter

1

shallot

minced

1

tsp

. kosher salt

1

tsp

chopped fresh thyme

1 1/2

cups

Arborio rice

1

tsp

. white wine vinegar

1/2

cup

grated Parmesan cheese

1/4

cup

chopped fresh flat-leaf parsley

1/4

tsp

. nutmeg

Fresh ground black pepper

1

cup

crumbled goat cheese

1/2

cup

dried cranberries

1/2 cup toasted pumpkin seeds or walnuts
Instructions:
In a medium saucepan, whisk together the stock and pumpkin over medium heat. Bring to a simmer and reduce the heat to low. Cover and keep warm.
Melt the butter in a large dutch oven or saucepan over medium heat. Once the foaming subsides, add the shallot and salt. Cook until softened, 2-3 minutes. Add the thyme and rice and cook for one minute longer.
Add the white wine vinegar and a ladle of warm stock and cook, stirring occasionally, until the liquid has evaporated. Add another ladle of stock, and continue cooking until evaporated again. Continue cooking, adding a ladle of stock at a time, and allowing to evaporate in between each addition. Cook until the rice is done, but has a bite to it, it should be creamy in texture, and will take about 20-25 minutes.
Mix in the parmesan, half of the parsley, and nutmeg. Season to taste with salt and pepper. Top with the remaining parsley, goat cheese, dried cranberries, and pumpkin seeds. Serve immediately.
Pumpkin Pie Smoothie (great for post-workout recovery)
Ingredients:
1

cup

almond

milk

1

medium frozen banana

3/4

cup

pumpkin puree

unsweetened

1/2

cup

old fashioned oats

1/2

cup

G

reek yogurt

3

tbsp

pure

maple syrup

1 1/2

tsp

pumpkin pie spice

1/2

tsp

cinnamon

Pinch of nutmeg
Instructions:
Place all ingredients in blender and blend on high until all ingredients are smooth (about a minute, depending on how strong your blender is).
Pour into a glass and serve immediately. Enjoy!
Pumpkin and Cauliflower Soup with Ginger (vegetarian and vegan friendly)
Ingredients:
1 medium onion, diced
2 sticks celery, chopped
1 large carrot, chopped
2 tablespoons ginger, finely chopped*
3 cloves garlic, minced
2 (10 fluid ounce) cans vegetable or chicken stock
1 (27 fluid ounce) can pumpkin purée
1-2 cups water depending on desired thickness
1/4 teaspoon dried thyme
1/4 teaspoon ground cumin
Salt & pepper, to taste
1 head cauliflower
Instructions:
Sauté the onion, celery, and carrot in a large pot on medium heat for 5-7 minutes.
Add the ginger and garlic to the pot, stir, and cook for 2 minutes until fragrant. Add the vegetable broth, pumpkin purée, water, dried thyme, cumin, and salt & pepper to taste. Add the cauliflower (I used my hands to break it down into smaller florets).
With the lid slightly ajar, simmer the soup on medium-low heat for about 30 minutes or until the vegetables have softened.
Purée the soup in batches using your blender. I suggest letting the soup cool for a bit first.
The soup will be quite thick. You can add water to thin it out a bit.
So the next time you see a pumpkin, don't just use it for your fall decor or to make pie, try some of these recipes above and love your body in the process. If you'd like more tips on staying healthy and fit, check out my blog at bodybyruth.com or join my local or online bootcamps to get in the shape of your life, no matter your age.
Ruth Ungerer, aka Fit Mom, has been training women in the Lawrenceville area for the past 16 years! Her passion is connecting with women, teaching them how to live a healthy lifestyle and empowering them to be the best version of themselves. She trains her clients both locally and online, providing them with dynamic workouts, a detailed meal plan and tremendous support, so they are equipped with everything they need to be successful.