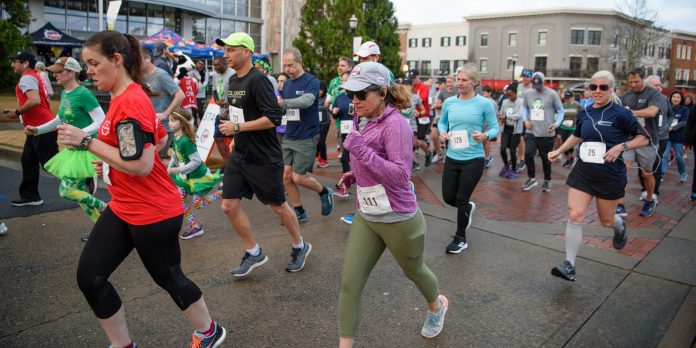 Six upcoming 5Ks and half marathons to mark on your calendar for a healthy and active new year.
By Alicia Carter
It's no secret that running is a terrific form of exercise. The benefits are plenty: Running improves your cardiovascular fitness, which reduces the risk of conditions such as heart disease, type 2 diabetes, high blood pressure and strokes. It's also an excellent way to lose weight and improve your mental health. Plus, it's an opportunity to get outside and soak in some of that crucial vitamin D. While many people opt to run, jog or walk alone, running can also be a fun social activity. In fact, there are many local running groups that cater to all fitness levels. (Not sure where to start? Check out Big Peach in Suwanee for a list of their weekly group runs.) Once you hit your stride, sign up for one of the many 5Ks taking place around town. Don't be intimidated: 5Ks are for runners (and walkers) of all levels. And as an added bonus, many benefit amazing local organizations, so all that running and walking will be for a great cause!
Chilly Willy 5K, 10K, and Half Marathon
Saturday, January 14, 8:30 a.m.
Race through the sweet city of Sugar Hill with this annual 5K, 10K and half marathon. All participants will receive a Chilly Willy long-sleeve race shirt! Half marathon participants will receive a custom finisher medal and a long-sleeve tri-blend shirt with "half marathon" down the sleeve. 5K and 10K participants may purchase a finisher medal for $7 and will receive a cotton long-sleeve shirt. Awards will be given for the Overalls, Masters, Grand Masters, Senior Masters, and the five-year age groups. For more information visit RunSignUp.com.
Suwanee Sweetheart Sprint 5k and Fun Run
Saturday, February 11, 9 a.m.
The Rotary Club of Buford/North Gwinnett hosts the 12th annual Suwanee Sweetheart Sprint 5K and Fun Run at Suwanee Town Center. The race is a Peachtree Road Race qualifier and boasts tons of fun, including medals for each age group, fastest dog, most senior finisher, and a Valentine-themed costume contest. Proceeds support Rotary Club of Buford/ North Gwinnett scholarships and other charities. For more information visit SuwaneeSweetheartSprint.com.
Suwanee Half Marathon and Old Town 5K
Sunday, February 19, 7:30 a.m.
The Suwanee Half Marathon has been an annual tradition since 2015. This year, races will take place on Sunday, February 19, with the half marathon beginning at 7:30 a.m. in front of City Hall and the Old Town 5K starting at 7:45 a.m. The 9th annual event is presented by Performance Race Services along with the City of Suwanee, and will benefit the Suwanee Public Arts program. For more information visit SuwaneeHalf.com.
Suwanee Beer Fest Beer Chaser 5K
Saturday, March 4, 11 a.m.
The Suwanee Beer Fest Beer Chaser 5K returns to Town Center Park for its third year with its beer- centric twist on the traditional 5K. This timed, Peachtree Road Race-qualifying event is perfect for experienced runners and newbies alike. Just choose the ticket that best fits your running style — either non-stop or with beer stops. All 21+ runners will cheers together with a full beer at the finish line. For more information visit SuwaneeBeerFest.com/beer-chaser-5k.
Suwanee Kiwanis Shamrock 5K
Saturday, March 18, 8 a.m.
The Suwanee Kiwanis will host its 11th annual Shamrock 5K at Suwanee Town Center to raise funds for their Don Lee Memorial scholarships. Last year, race proceeds assisted in awarding scholarships to three local high school students. The 3.1-mile course begins at City Hall at 8 a.m. T-shirts and goodie bags will be available for registered runners, and prizes will be awarded for top male and female runners. For more information visit Suwanee.com.
Care for Cops 5K Run/Walk
Saturday, March 25, 8 a.m.
Taking place at Suwanee Town Center, this annual 5K supports Care for Cops, a nonprofit organization that has provided financial assistance to more than 90 families of fallen Georgia officers since 1999. Runners will receive a T-shirt and medal, and there will also be a DJ blasting fun music and photo ops provided by True Speed Photography. For more information visit Care4Cops.org.