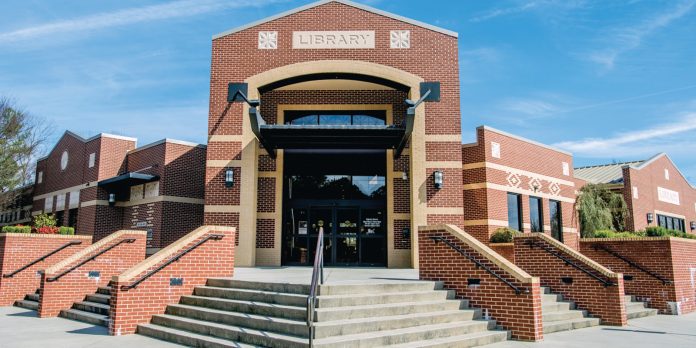 Why libraries remain essential community institutions, now more than ever.
By: Alicia Carter | Photo by Kate Awtry
During an age when a seemingly infinite wealth of knowledge is literally at our fingertips, it can be easy to question whether libraries still hold a viable place in our community. After all, a quick Google search can bring up information about any subject you can imagine and most of us have direct access to books and audiobooks on our phones and tablets, among other conveniences the internet has provided over the last few decades. We would argue, however, that now more than ever libraries remain vital institutions in our community, serving as free public spaces that provide services and opportunities for everyone, especially the underserved.
Public libraries play an essential role in providing safe, accessible, and free educational resources for every member of the community regardless of social status, race, income or other identifying factors. Libraries provide the resources — all completely free of charge — that many of us take for granted, including books, internet access, and educational and professional training programs. And as the world changes in the wake of COVID-19, including requiring many students across the country to log in to school virtually this year, the need for these resources is especially important.
Not only do libraries provide access to these much-needed resources, they also boost the local economy by providing work space for telecommuters, free internet access for people looking for employment opportunities, and interview training for those in need. According to the American Library Association, 73% of public libraries assist patrons with job applications and interviewing skills, and 48% provide access and assistance to entrepreneurs looking to start a business of their own. So by helping individuals succeed, libraries help entire communities succeed at boosting their economy.
In 2019, the Suwanee Branch of the Gwinnett County Public Library, celebrated its crystal anniversary (15 years!) and welcomed more than 300,000 visitors. This year, the Suwanee Branch underwent a renovation, including new carpeting and paint, a new children's layout to provide more room for a growing community, a new classification system based on subject headings, as well as more digital services, including magazines, access to Ancestry.com and Tutor.com, and services for job seekers. The library is also offering dozens of virtual programs for all ages.
We recently spoke with Karen Griffin, Supervisory Librarian at the Suwanee Branch, to discuss why libraries still hold an important place in our community, what new services they are providing, as well as what precautions have been put into place following COVID-19.
Why are libraries still important in these digital times?
Libraries are still important because they continue to reflect the needs and desires of their communities. Libraries help provide equitable access to learning and entertainment to everyone in the community, and it's one of the few places that anyone can go without having to spend any money. Further, libraries keep evolving to meet the new needs of our communities, whether it's through enhanced technology offerings at our Learning Labs, extensive community outreach to groups of all ages, or evolving to meet the needs of the world during COVID-19. The library is consistently here for the community, and that steadiness is incredibly important in this day and age.
Will parents be able to use library services to help them navigate this school year's digital learning format?
Much of the library is still available at all times. Anything in the collection can be ordered by placing a hold and picking the item up at curbside pickup. We have thousands of ebooks and e-audiobooks available for use on any smart device. Additionally, there are dozens of digital resources and databases available on our website. If anyone needs help using any of these things, they can call us at 678-978-5154 to be walked through it over the phone, or they can make a Book-A-Librarian appointment for individual support online. New this year is access to Tutor.com, something that we're excited to be able to offer in partnership with GCPS. This is an online service where students can get one-on-one tutoring from a real person on a wide variety of academic subjects. The transition to digital learning is tough, but this resource will enable students to stay on track with their learning no matter the format.
Tell us about the recent renovations at the Suwanee Branch.
Even though it seems like yesterday, the Suwanee Branch of GCPL was opened 16 years ago in 2004, and some aspects of the building had started to show their age. Additionally, when this library was planned, no one could know that it would become the busiest branch library in Gwinnett County and one of the busiest in the state. The renovations that were made were not only to replace things that had worn out, like carpet, but also to increase space in the children's area to allow for more seating, activity areas, and programming. The library continually evolves to match the needs of the community, and the main goal of this mini- renovation was to make the space more inviting, comfortable, and accessible to everyone.
Do you have any upcoming events or programs?
Like most people, we've experienced a lot of change because of COVID-19. The best place to find out what's going on at the library is at GwinnettPL.org. Many of our programs have moved to digital meetings (book clubs, TED Talk Tuesdays) or to pre-recorded videos that you can access anytime on GCPL's YouTube page. Additionally, be on the lookout for the GCPL Bookmobile around the county! We're excited about this new offering and how it will extend the reach of the library even further beyond our walls.
What precautions are you taking in the wake of COVID-19?
COVID-19 forced the libraries to shut their doors to the public in mid-March. Gwinnett County Public Library gradually started adding back services in late May, starting with curbside pickup of held items. Additional services will be added back as soon as possible, but it will all be dependent on the health situation in the county.
Our first goal is to ensure the safety of everyone who uses the library and everyone who works here. All staff wear masks whenever they are in the building and gloves whenever they are handling returned materials. All hard surfaces in the building are wiped down with bleach wipes each day, all touchscreens are cleaned with a vinegar solution, and staff cleans workstations whenever the user changes. Hand sanitizer is readily available for customers, and the library strongly encourages all of our customers to wear a mask and observe social distancing when using their library.