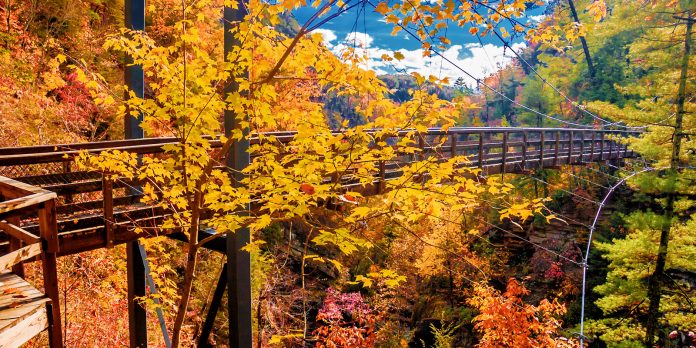 It's safe to say that 2020 has become quite the anomaly. During this time many of us would typically be settling into the new school year, planning which fall festivals to attend, or scheduling one last getaway before the end of the year — but, alas, here we are facing another round of virtual learning, canceled events, and postponed trips. C'est la vie.
We know this year hasn't been easy and we've all been dealt a difficult hand. However, when the going gets tough we recommend getting creative. We may not be rounding out the year like we thought we would, but that doesn't mean we can't enjoy all of the fall fun we know and love. In that spirit, we've compiled a list of 20 fall activities perfect for 2020, a year that requires social distancing, a renewed love for being home with your family, and a sprinkling of adjusted expectations. Enjoy!
VISIT A SUNFLOWER FIELD
The beautifully golden-yellow glimmer of sunflowers is not only a show-stopper in photos, but experiencing them in person puts them in an all-new perspective! Find a sunflower field in full bloom and take a walk through as the flowers tower over and engulf your panoramic vision. You'll be flooded with the organic beauty and a sense of peace that you won't forget. Check out Fausett Farms in Dawsonville, Copper Creek Farm in Calhoun and The Anderson's Sunflower Farm in Cumming.
NORTH GEORGIA FOLIAGE DRIVE
We're blessed that the North Georgia Mountains are just a short car ride away — especially in the fall, when the leaves change into brilliant shades of red, orange and golden yellows. There are a number of ways to enjoy the fall leaves. For example, you can slip on your hiking boots and trek through the trails lined with those perfect fall hues. But in 2020, your best bet is to zip by them from the safety of your car, allowing the colors to blend into a caramel palette of friendly little Bob Ross trees. Be sure to take some time this October to visit the mountains and appreciate the natural beauty of our state. Prime spots for foliage rides, walks and hikes include Black Rock Mountain State Park, Tallulah Gorge and Candlelight Forest, among others.
PICNIC AT TOWN CENTER PARK
A change of scenery is good for the soul! Grab some takeout or pack a simple meal and head to a nearby park to enjoy a different setting. Top it off with a family walk or bike ride while you take advantage of the season's sweet spot — not too hot and not too cold. (And, all you parents out there — take advantage of a night off from cleaning the kitchen!)
HEAD TO JAEMOR FARMS
Whether as a pit stop on your way to the mountains or a quick morning trip to stock up on fresh produce and goodies from its on-site market, Jaemor Farms is truly a diamond in the rough. To put it simply: If you know, you know. Located about 40 miles north of Suwanee in Alto, Georgia, the farm hosts a number of u-pick opportunities in the spring and summer, but we think the best time to visit is in the fall for its fall fun extravaganza. In addition to an awesome corn maze, the kids (and adults!) can enjoy hay rides, farm slides, a petting zoo, farm skeeball, a pumpkin train, duck races, tricycle races, apple cannons and concessions. This year the fun kicks off Sept. 12 and is the perfect fresh-air family getaway that we all need after being cooped up all summer.
MAKE YOUR OWN FALL-SCENTED CANDLES
There's just something warm and inviting about a home filled with fall-scented aromas like pumpkin pie or cinnamon. Try making your own candles this season for a relaxing and budget-friendly activity! There are plenty of step-by-step tutorials online with materials easily found at your favorite local craft store. Enjoy them around your house or share them as a thoughtful gift with your family and friends!
DECORATE A PUMPKIN
Carving pumpkins has evolved into somewhat of an art form over the years. Whether you choose to kick it old-school with a set of plastic carving tools and a traceable design or pull out all the stops and decorate your gourd with paints, glitter and other crafty supplies, nothing beats gathering together as a family and flexing your creative muscle — quite literally if you're chucking the pumpkin guts and seeds into a bowl for later disposal. (Pro tip: Hang on to the seeds, rinse them, then roast them in the oven for a tasty fall treat!)
RUN A VIRTUAL 5K FOR CHARITY
The air is crisp as you bounce around checking the porta potty lines, checking your watch, anxiety building…it's that start line feeling. And while you can't recreate it with a virtual race, you can still get some killer benefits from joining in on the virtual fun. Since many races have been cancelled this season, runners are participating in virtual 5Ks on their own time, while still getting many of the benefits of a real-life competition. Our friends at Annandale Village are hosting their Extra Mile 5K virtually this year on September 12. The annual fundraising event helps Annandale continue to support adults with special needs and help them to reach their highest levels of independence. For more information, visit Annandale.org.
TOAST SOME S'MORES
There's a breeze in the air and you can feel the temperature beginning to drop. You find your favorite worn-in sweatshirt and get nestled by a fire in the backyard. Marshmallows are a MUST as they always seem to taste better with a fire-burnt casing around the outside and a warm, gooey inside… taking it up a notch when sandwiched between graham crackers and chocolate. There's no better way to spend a fall evening outdoors!
SCHEDULE A FAMILY PHOTO SHOOT AT SIMS LAKE PARK
Fall is a great time of year to shoot family photos. Not only are the outside colors vibrant, but the weather is perfect. You won't need to worry about anyone being too cold or overheating during the shoot and it's the perfect opportunity to knock out those Christmas cards!
MAKE A DIY HALLOWEEN COSTUME
All of the extra time at home has allowed us to get creative. So why not focus that creative energy on your child's Halloween costume this year? Cut a large silver star out of a poster board, slather some silver glitter on it and create a shining "Twinkle, Twinkle Little Star" costume. The options are endless: pumpkins, ghosts, witches, cartoon or book characters, animals and more! Plus, the bonding time and memories you'll create during the process are priceless.
SEARCH FOR BIGFOOT
Maybe it was the classic movie Harry and the Hendersons that planted the seed that a Sasquatch could be a family friend who just — oops! — destroyed your house while getting to know you and made you the talk of the town. Maybe it's a longing for a simpler time when Bigfoot (not a global pandemic) was the scariest (or goofiest?) thing we could imagine. Whatever it is, Expedition Bigfoot in Cherry Log, Georgia, is here to cater to your inner conspiracy theorist. The off-the-beaten-path tourist spot is the country's largest display of "genuine" bigfoot artifacts, life- size exhibits, photos, sketches and an up-to-date sighting map. Sure, it may not be the Louvre, but it's certainly a trip your family won't forget. Plus, it's 2020! Nothing is off limits!
TAKE THE FAMILY CAMPING
With the hot days of summer behind us, camping is a great way to get outdoors and enjoy some gorgeous fall scenery in the cooler months. Chilly mornings, perfect hiking weather and warm comfort food (Hello S'mores!) all come together to make fall camping a must-do for the whole family. Check- out the campsites at Lake Lanier, or at several other Georgia State Parks!
BUILD A SCARECROW
Who said scarecrows are limited to field duty? Make this into a fun scavenger hunt (or contest, if you're the competitive type!) to see what clothes and accessories you and the family can dig up around the house. Then, add your creation to the front porch for another touch of fun, fall decor!
MAKE A FALL HOOP WREATH
Looking for a fun and easy update to your entryway? DIY fall hoop wreaths are the perfect accessory to spruce up your fall space! Taking little time and minimal supplies, such as mini pumpkins, stems, craft paper, fake leaves, ribbon and more, this is a fun and rather simple DIY for when you're in the mood for some fall decorating. There are many DIY instructions online!
LEARN TO KNIT HOMEMADE GIFTS
Knitting gets a bad rap. Typically thought to be reserved for grandmothers sitting around in a knitting circle, knitting is actually a relaxing hobby for any age that's perfect to take up when we're all stuck at home. There are plenty of how-to videos online and blog posts on the subject. Just learn the basics – knit stitch, purl stitch, reverse stitch – and you'll be a pro in no time. Just think of all the lovely (homemade!) gifts you'll be able to create for your loved ones this holiday season!
Fall Recipes: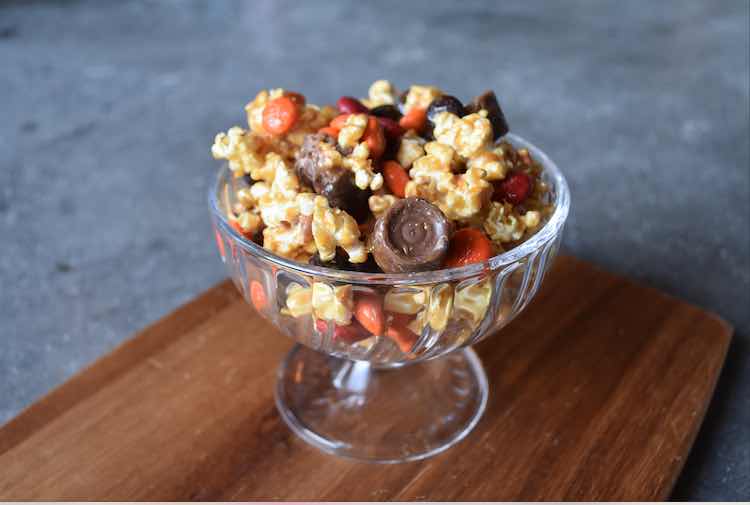 Harvest Caramel Popcorn
Recipe from TwoSistersCrafting.com
This combination of sweet and salty is fitting for any occasion! The flavors of the caramel-covered popcorn and chocolate candies marry so well together that this might become one of your most addicting (and adorably festive!) snacks this fall.
Ingredients:
– 10 cups of popped popcorn
– Salt
– 1 cup butter (sweet cream salted)
– 1 cup light brown sugar
– 2 tsp. vanilla
– 1/2 tsp. baking soda
– Mini Rolos or regular Rolos
– Harvest blend M&M candy
Directions:
Make popcorn. Salt popcorn and set aside. Melt 1 cup of butter in a medium saucepan over medium heat. Add 1 cup of brown sugar and stir until thoroughly mixed. Stirring continuously, bring the butter and sugar mixture up to a boil. When it reaches a boil allow it to cook for 5 minutes without stirring. Add the 2 tsp. of vanilla at the 4 minute mark and stir to mix. Continue to boil for one additional minute and then add the 1/2 teaspoon of baking soda. Drizzle 3/4 of the caramel mixture over the popcorn. Use a spoon to gently fold the popcorn with the mixture until the kernels are all covered. Save 1/4 of the mixture to the side. Pour the popcorn out onto a cookie sheet covered with aluminum foil or a silpat liner. Drizzle the remaining caramel mixture over the caramel corn and immediately sprinkle the M&M Candy and the Mini Rolo's on the areas with the drizzled caramel mixture. Let the popcorn cool. Serve.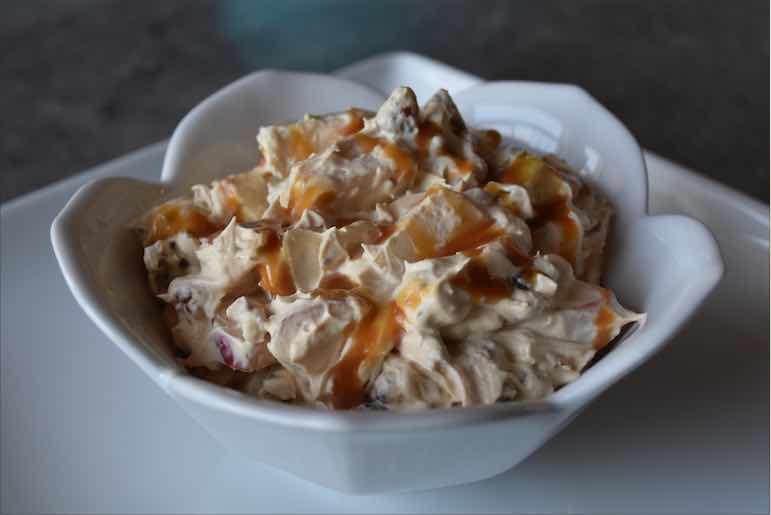 Caramel Apple Pretzel Salad
Recipe from TheGunnySack.com
It's called a "salad," but don't let this sweet treat fool you! The whipped caramel mixture serves as a perfectly- rich binder to the deliciously fresh apple bites and crunchy, sugared pretzels.
Sugared Pretzels:
– 1 cup pretzels, roughly chopped (measure after chopping)
– 1⁄2 cup pecans, chopped (measure after chopping)
– 3⁄4 cup brown sugar
– 3⁄4 cup butter, melted
Cream Cheese Mixture:
– 8 oz cream cheese, softened to room temperature.
– 3 cups diced apples, about 2 large apples
– 1⁄2 cup caramel sauce, I used Marzetti Old Fashioned Caramel Dip
– 3 cups whipped topping or whipped cream
Directions:
Sugared Pretzels: Mix together crushed pretzels, chopped pecans, brown sugar and melted butter. Spread in a large baking sheet with sides (I used my jelly roll pan) and bake at 400 degrees for 7 minutes. Allow the mixture to cool and then break it into small pieces. Cream Cheese Mixture: Beat the softened cream cheese until smooth. Beat in the caramel sauce until smooth. Fold in whipped topping. Stir in the diced apples and sugared pretzels.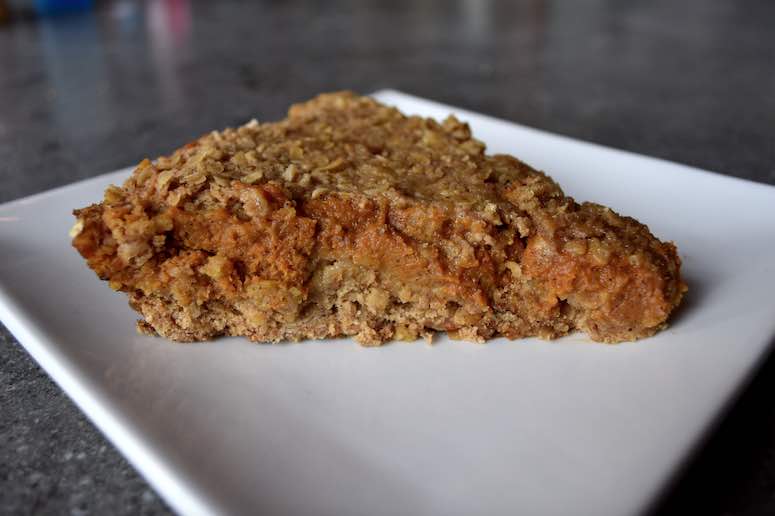 Pumpkin Crisp
Recipe Courtesy of TwoSistersCrafting.com
Calling all pumpkin lovers… this one's for you! A decadent pie-like filling packed with pumpkin spice and everything nice. The crisp layers resemble an oatmeal cookie and serve double satisfaction on both the top and bottom to create a dreamy balance for this impressive dessert.
Crisp Mixture Ingredients:
– Quick-cooking oats
– Flour
– Brown sugar
– Baking powder
– Baking soda
– Pumpkin spice
– Butter Pumpkin Mixture
Ingredients:
– Eggs
– Sugar
– Pumpkin puree
– Heavy cream
– Pumpkin pie spice
– Vanilla
-Kosher salt
Directions: Preheat oven to 375°.
Crisp Mixture:
Grease a 12-inch or 13-inch skillet with cooking spray or butter. Combine the oats, flour, brown sugar, baking powder, baking soda, and pumpkin spice together. Add in the cubed butter and use your hands to combine. You want the butter to be pea-sized and coated entirely. Spread 4 cups over the bottom of your prepared pan and press flat. Set the remaining crisp mixture aside.
Pumpkin Mixture:
In a large bowl, whisk together eggs and sugar. When smooth and fully combined, add pumpkin, cream, vanilla, pumpkin pie spice, and kosher salt. Whisk until smooth and blended. Pour the pumpkin mixture on top of the layer of crisp in the skillet. Pour remaining crisp mixture over top of the pumpkin. Bake uncovered at 375°F for 35-45 minutes. Serve with whipped cream or ice cream.
Microwave Pecan Mug Cake
Recipe from BiggerBolderBaking.com
Who else out there loves a good old Pecan Pie? Golden crust, toasty pecans and that sweet maple syrup filling. What could be better? These fun and easy pecan mug pies are the perfect fall treat.
Ingredients:
– 3 tbsp. butter, melted
– 4 tbsp oats
– 2 tbsp chopped pecans
– 2 tbsp all purpose flour
– 2 tbsp brown sugar
– 1/4 tsp cinnamon
– 1/2 tsp salt
– 1 egg
– 3/4 cup (60g/20oz) pecans, chopped and toasted
– 2 small cookies, crushed into 2 tablespoons of crumbs (graham crackers, digestives, gingersnap cookies)
– Extra pecans for decoration
Directions:
For best results make the pecan pie mix 24 hours in advance. In a small bowl whisk together the butter, brown sugar, maple syrup, pecans, vanilla and salt. Whisk in egg. In a microwavable mug add in your crushed cookies to the bottom. Pour in your pecan pie mix. Microwave roughly for 1 1⁄2 minutes, checking every 30 seconds. The mix will thicken and appear jelly like, but it will set as it cools. Cooking time is based on my 1200W microwave so your timing might vary. Carefully remove the mug from the microwave. Let it stand for a couple minutes to cool. Serve with whipped cream and enjoy.
Crockpot Applesauce
Recipe courtesy of Denise Harris
If you're new to making homemade applesauce, know that you only need a few ingredients, and for the novice chef it is much easier than you might think — especially when you bring in the crock pot to do most of the work for you. This Crockpot Cinnamon Applesauce recipe is the perfect fall snack or treat, and tastes delicious served warm!
Ingredients:
– 3 pounds apples, peeled, cored, and sliced (about 6 medium apples)
– 1⁄2 cup of granulated sugar
– 1⁄2 teaspoon of ground cinnamon
– 1⁄2 a cup of water
Directions:
Place the peeled, sliced apples into your crockpot. Sprinkle the sugar and cinnamon over the apples and mix well. Pour the water into the crockpot and place the lid on top. Cook over high heat for four hours. When cooking time is up, remove the lid and mix the apples using a wire whisk, stirring until smooth, or until desired consistency is reached. This applesauce tastes delicious warm! To store, allow the applesauce to cool completely then place in a sealed container in the fridge. Enjoy!