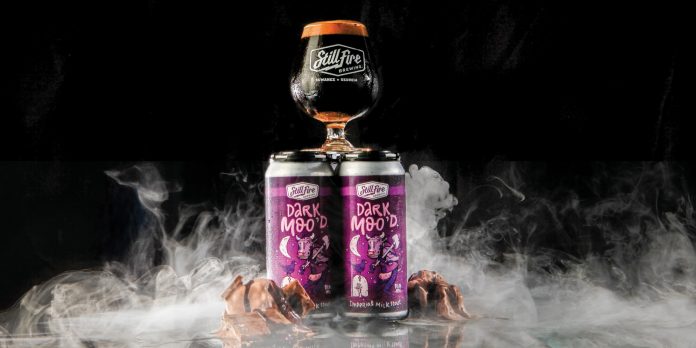 Suwanee's local brewery medals at the 2022 International Beer Cup in Tokyo, Japan, for their popular imperial stout Dark Moo'd.
By Lizzy James
In just three years, the StillFire Brewing team in Suwanee has created over 100 new and innovative craft beers and seltzers. A few standouts received national attention as the brewery took home medals from notable competitions such as the Suwanee Beer Fest Brew Battle, the Can Can Awards, the U.S. Open Beer Championship and even the country's largest beer contest the Great American Beer Festival Competition. Now, the brewing team can add an International medal winner to their growing list of awards.
Each year, The Craft Brewers Association of Japan hosts its annual international beer competition, The International Beer Cup (IBC), in Ota City, Tokyo, Japan. In 2022, American craft brewer participation was a success, with U.S. breweries winning 35 awards in total, including five gold, 14 silver, and 16 bronze. Amongst the 14 silver medalists was Suwanee's own StillFire Brewing.
Brewmaster Phil Farrell decided to throw the team's hat into the ring at the 2022 International Beer Cup and came home a silver medalist with the brewery's popular Dark Moo'd Milk Stout. No stranger to receiving awards, this 10.8% ABV beast is a rich and creamy, full-bodied imperial milk stout that has previously brought home a silver medal in the 2021 Can Can Awards and a bronze medal in the 2021 U.S. Open. The competition in Japan was fierce as judges saw 1,111 entries from 268 breweries in 16 countries including Australia, China, Colombia, Denmark, Spain, France, Germany, Greece, Hong Kong, The Netherlands, the Republic of Korea, Taiwan, Thailand, the U.S., Vietnam, and Japan.
Ultimately, the 69 international beer judges favored Dark Moo'd and the StillFire Brewing team came out as silver medalists in the British-Style Imperial category. "We are ecstatic to be bringing home an international medal to the brewhouse," says Phil Farrell. "Dark Moo'd has been a popular beer among patrons in the taproom and now has fans in several different countries!"
Dark Moo'd features notes of chocolate and luscious flavors of coffee, caramel, dark fruit and toffee. This big, dark beer is silky smooth, with none of the boozy burn you might expect from a 10.8% stout. Those looking to try this multi-award winner can visit the StillFire taproom for a glass or take it to go in 32 oz. crowlers.
For more information on the the International Beer Cup (IBC), including a complete 2022 winners list, visit brewersassociation.org. To learn more about StillFire Brewing, visit stillfirebrewing.com.