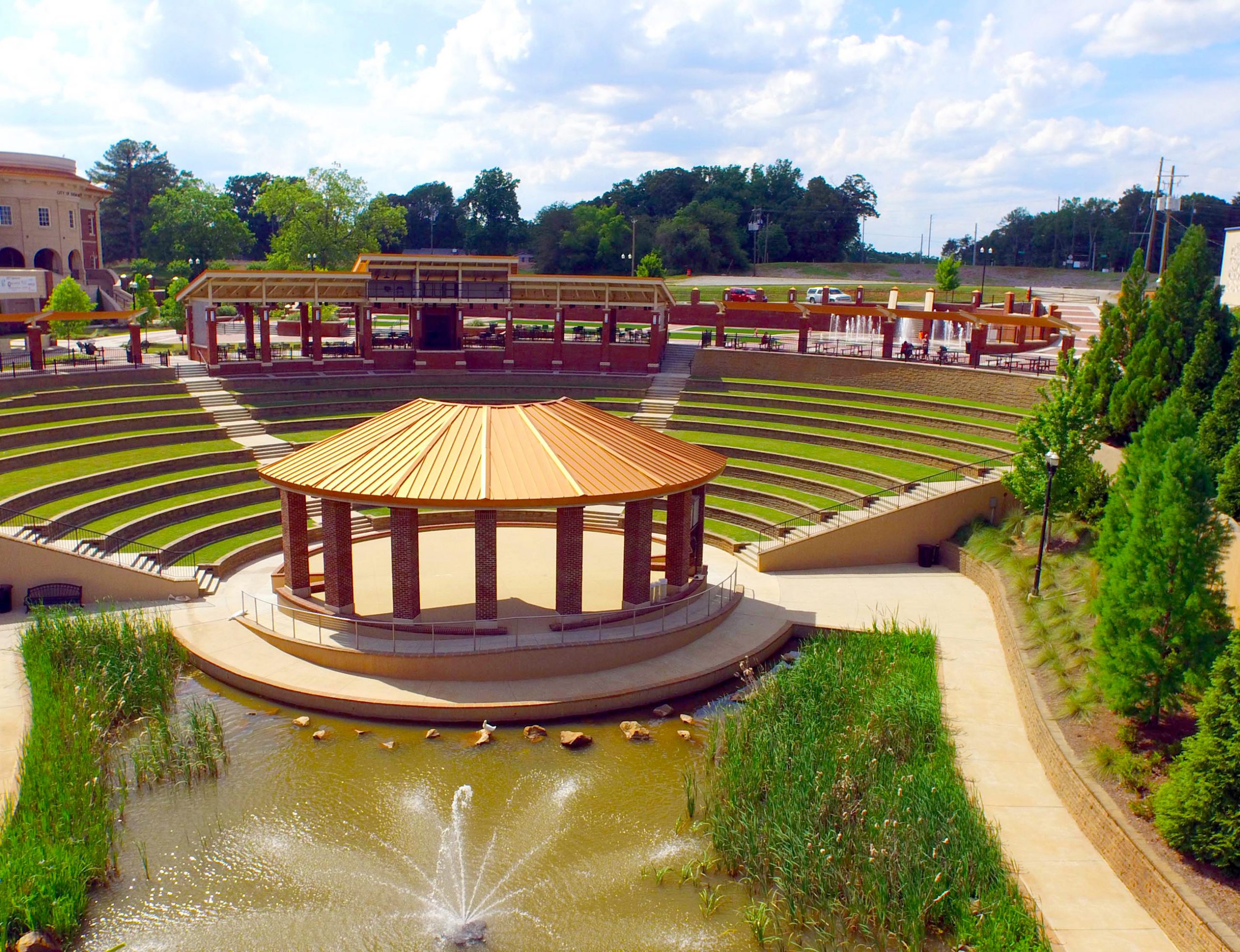 Life just keeps getting sweeter in the city of Sugar Hill. The community's already award-winning E Center, an 180,000-square-foot mixed-use development owned and operated by the city's Downtown Development Authority, has been debuting premier businesses and entertainment experiences since the Eagle Theatre opened its doors in fall of 2018.
With 40,000 square feet of leasable commercial space, the project has attracted businesses and entrepreneurs interested in locating in the project that proudly serves as "the Center of Everything." The E Center's first business, Blue Landworks, a civil engineering firm, opened its doors earlier this fall and Rushing Trading Company, a gourmet coffee shop and restaurant with a full bar, celebrated a grand opening in January of this year. Other tenants offering unique dining experiences and professional services have opened over the last few months, with artisan slice bar Crazy Dough's Pizza opening in early spring and several other concepts not far behind.
Indio Brewing, a home-brewing passion grown into full microbrewery production, will be located along the E Center's public promenade with outdoor seating, sculptures, gas fire pits, and cascading waterfalls. Perazim, a mother-daughter clothing boutique, will open soon on West Broad Street along with Sweet City Smiles dental practice. Other tenants such as NorthPointe Hospitality, a hospitality consulting firm, and Cloud Performer, a performance marketing team, illustrate the diversity of professional services and opportunities E Center tenants are bringing to downtown Sugar Hill.
In addition to new businesses, the E Center also boasts a full community gym including:
› an indoor walking track
› fitness equipment
› community classrooms
› gathering spaces for rent
› a court striped for volleyball, basketball, and pickleball
The Eagle Theatre, a 406-seat performing arts center, hosts nationally touring shows as well as community performances, serving as a true fine arts center for the region. Located near the Bowl, Sugar Hill's award-winning 1,800- seat outdoor amphitheater, the Eagle Theatre further establishes Sugar Hill as an entertainment destination with a commitment to performing and community art.
With entertainment, dining, and commercial space in the E Center complementing the Bowl amphitheater's soon-to- be-announced summer concert series and the downtown Splash Park, life in downtown Sugar Hill is sure to provide opportunities for families and neighbors of all ages to enjoy the sweet life this summer.