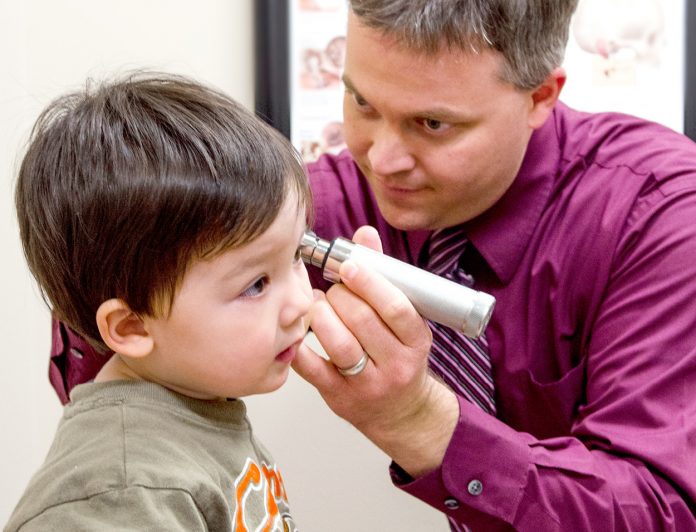 Suwanee ENT offers both the diagnosis and the treatment for any issue related to ear, nose and throat health.
By: Rachel Pillow | Photos by: Karl Lamb
Dr. Matthew T. Gill recently opened the doors of Suwanee Ear, Nose & Throat (ENT) in November of 2016 but has been practicing since 2011. A Suwanee resident himself, Dr. Gill wanted to open his practice in the community where he and his wife are already raising their family. "I wanted to be the first ENT doctor that is located right in the heart of Suwanee," Dr. Gill said about his office located at Suwanee Dam and Peachtree Industrial Blvd. "I love this community and there was a need here," he explained.
Shortly after Dr. Gill made the decision to start his own practice, he searched for an Audiologist and found Michelle Maloney, Au.D., a Fellow of the American Academy of Audiology and certified member of the American Speech-Language-Hearing Association (ASHA.) Audiologists are somewhat hard to come by in Georgia because there is no Audiology training program specifically in the state. Dr. Maloney received her Doctorate in Audiology at the University of Florida where there were only eight people in her graduating glass. Dr. Maloney is skilled in the diagnosis and management of hearing loss and balance disorders in children and adults.
Suwanee ENT treats people of all ages, but Dr. Gill and Dr. Maloney are both passionate about pediatric ENT services and have made sure that their office appeals to little ones. "One of the things that initially drew me to ENT is that I get the opportunity to see a broad range of problems and a broad range of ages," said Dr. Gill. While he has privileges for surgery center usage at most local hospitals, there are also a number of minimally invasive procedures he is able to do from the comfort of his own office, including Balloon Sinuplasty, for example. Patients who suffer from chronic sinus infections are good candidates for this treatment, in which a small balloon is used to expand the sinus opening to restore drainage.
A lot of people go straight to their Primary Care Physicians for issues better treated by an ENT specialist. "I like that I can offer both the diagnosis and treatment," said Dr. Gill. And, with an Audiologist on staff, he and Dr. Maloney can tag team almost any issue related to ear, nose and throat health. "It's nice to have a Surgeon and Doctor of Audiology on staff because we have the technology to test and treat hearing while also having the ability to clear up any medical issues that cause hearing issues or imbalance," said Dr. Maloney.
For both Maloney and Gill, the greatest satisfaction comes from seeing people's quality of life improve. "I'm completely invested in helping people hear better – losing your hearing can make you lose touch with people and it's so rewarding to help people regain their lives again: for them to be able to be social again, to want to go out to dinner, to talk on the phone," said Dr. Maloney. "In general we are dealing mostly with quality of life issues and something as simple as putting in ear tubes can make them a different person. Or if somebody has sleep apnea and is not sleeping well we might remove the tonsils and adenoids. If they can't breathe through their nose then they might need Septoplasty and suddenly they'll be able to breathe well again. Basically it's all about improving the quality of life," Gill continued.
Suwanee ENT's regular hours are M-F, from 9am-5pm, but in order to better serve the community and to accommodate busy schedules, they are open late on Tuesdays from 1pm-8pm. They also plan to be open one Saturday per month as well. Dr. Gill said that the community has been very receptive to them so far and that he looks forward to becoming the "go to" ENT doctor for Suwanee and surrounding communities.
---