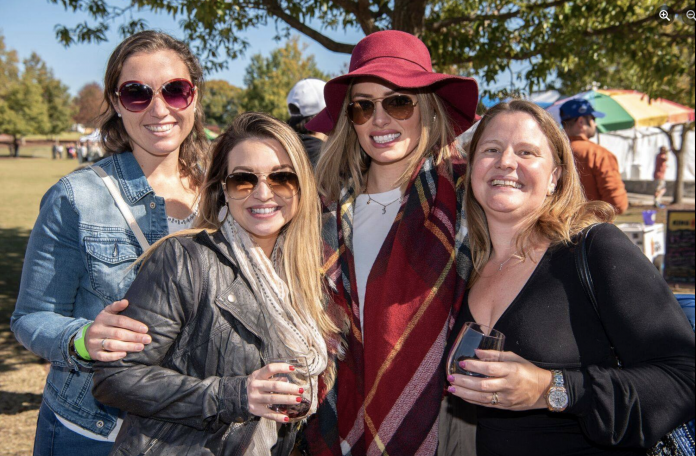 Suwanee Wine Fest returns to Town Center Park celebrating a decade of wine, fall vibes and good times.
Get ready to raise your wine glass and toast to the 10th anniversary of Suwanee Wine Fest! The beloved festival returns to Town Center Park on November 4th, celebrating a decade of serving as the go- to destination for wine lovers near and far. With more than 150 wines to sample, Suwanee Wine Fest is an oenophile's dream, boasting fall vibes, live music, a collection of wine-friendly shopping and food vendors, and most importantly, good times. This year, they're bringing back the popular grape stomping, sponsored once again by local winery Cloudland Vineyards + Winery, and Mary Kate Farmer returns to set the musical mood with lots of country music you can dance to! With the festival just around the corner, think of this as your guide to all that Suwanee Wine Fest has to offer, including a rundown of the must-try wines to add to your list.
All for a Good Cause: Annandale Village
A portion of the Wine Fest proceeds will be donated to Annandale Village, a Suwanee organization that provides care and life assistance to adults with developmental disabilities or traumatic brain injuries and enables them to maintain their independence in the least-restrictive environment possible. It's an extraordinary place and is one of only three residential programs in the United States that offer a full continuum of care. Annandale, however, is so much more. They are life-changers and offer hope for the 197 Villagers who they serve. A portion of proceeds from Suwanee Wine Fest will directly impact Annandale's Villagers and families by investing in state-of-the-art programs and impactful services, while providing excellent care in the most un- restrictive environment.
Returning for 2023: Grape Stomping!
The popular grape stomping station is squishing its way back to the 2023 festival, so get ready to roll up those pants and dive feet-first into barrels of fun! All thanks to Buford's Cloudland Vineyards + Winery, who are once again sponsoring the fun. Ready, set, stomp! The grape-stomping station is open from 1-3:30 p.m.
Live Music: Mary Kate Farmer
Mary Kate Farmer found her love for music at a young age and hasn't let go since. At the age of 14, Mary Kate began her journey pursuing music professionally. Her influences range wide due to her Texas roots and country/rock upbringing. The former Georgia Country's Female Artist of the Year has had the opportunity to share the stage with acts such as John King, Craig Campbell, Hunter Hayes, Chase Rice, Montgomery Gentry and more. Her authentic stage presence and compelling songwriting are what make her performances memorable and entertaining. As she says, "I'm just trying to heal hearts with music." Mary Kate will be on stage from 2-4:30 p.m.
Must try wines at the festival
With more than 150 wines to sample, deciding where to begin can be quite the challenge. Are you in the mood for a red, white, or rosé? If you're feeling overwhelmed, here are some of our top recommendations to kickstart your tasting journey.
Oak Farm Sauvignon Blanc (California)
Bright, varietal and dry, this Sauvignon Blanc presents citrusy notes and aromas of grapefruit and peach. The finish is vibrant and persistent.
Tenuta Santa Maria Valpolicella (Italy)
With notes reminiscent of the Amarone, the wine is a vivid ruby red color. At the nose, intense hints of cherry, blueberry, licorice with lingering accents of cinnamon and pepper. At the palate, soft and warm structured velvet tannins and a very balanced acidity. Long finish with fruity sensations.
Greywacke Sauvignon Blanc
Distinctive, succulent and wonderfully complex, with honeysuckle, honey-preserved ginger, creamy lemon curd, ripe mango and floral notes, plus stone fruit flavors on a rich, smooth and mouthwateringly juicy frame. Reveals hints of spices that linger on the long, expressive finish.
Chronic Cellars Petite Sirah (California)
Buckle up for a Petite Sirah that's equally elegant and powerful. This seductive stunner brings together bodacious flavors of bursting blackberries, orange peel, anise, and a delightfully subtle hint of cacao and baking spices. With structured tannins and a big mouthfeel, this is one you won't soon forget.
Suwanee Wine Fest takes place Saturday, November 4, 1-4:30 p.m. VIP opens at noon. General admission tickets are $65 and increase to $70 on Sept. 18. For more information about Suwanee Wine Fest and to purchase tickets, visit SuwaneeWineFest.com.