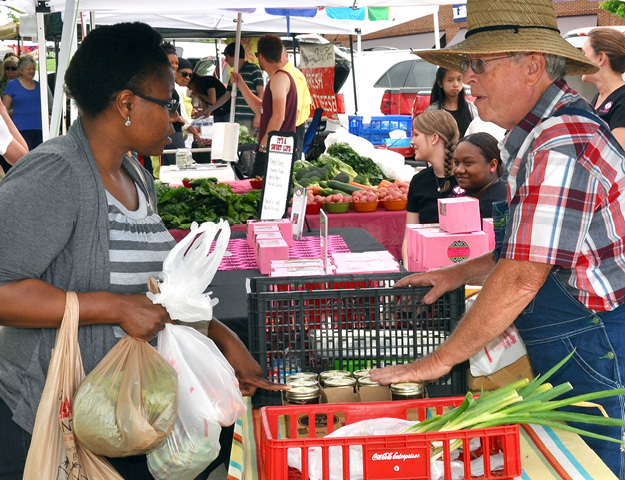 Fresh food lovers can rejoice in knowing that Suwanee is extending the Suwanee Farmers Market through the winter months. The market is scheduled to run the second Saturday of every month from 9am to 11am through April 13th, 2019! Suwanee residents will be able to visit the farmers market and have the opportunity to enjoy fresh local winter produce, such as lettuces, greens, potatoes, carrots, Brussels sprouts, baked goods, and a variety of other delicious, local flavors.
By: Lizzy Kidney
B&B Enterprises Honey
(Flowery Branch)

Bob and Bev Bradbury are known for producing raw wildflower honey that is not only delicious but can also help build up your immune system against allergies. The company also makes sourwood honey which is known for not containing dextrose, making it a tolerable product for many diabetics. B&B grows more than 200 kinds of flowers, 36 kinds of vegetables, 12 kinds of fruit, many herbs, and other trees and bushes. Visit their stand located on Lot
4 for a variety of creamed honey in seven different flavors, raw wildflower and sourwood honey, as well as 100% beeswax candles.
Southern Essentials
(Buford)
Run by Erin and Mark Fantom, Southern Essentials is a local North Georgia company that provides 100% pure therapeutic grade essential oils, natural skin care products, natural deodorants, insect repellant, handcrafted soap and other items based on aromatherapy and the use of essential oils. The Fantoms have been making all of their products at their Buford home for more than 35 years, and each product uses only all-natural products such as cocoa butter, shea butter, and coconut. Visit their stand to purchase diffusers, face creams, deodorants and more! SouthernEssentials.com.
Carrell Farms
(Monroe)
Carrel Farms, Inc. is a family farm owned and operated by David
and Shalley Carrell. They pride themselves on having "unique meat raised right," and are dedicated to providing family and friends with honest, nutrient-dense food. All of the meat the farm sells is free of antibiotics, chemicals, and GMOs. The farm is also home to animals ranging from baby lambs to buffalo, and sometimes invites the public to join them on the farm to see the animals as well as bring coolers to take meat home with them. Visit their stand to purchase grass-fed meats, fish, and other fresh produce. CarrellFarms.com.
Fry Farm
(Bethlehem)
The Fry Farm has been owned and operated by the Fry family for over a decade now. Vicky Fry and her father have been selling their vegetables at the local Suwanee Farmers Market for 11 years. Their produce ranges from rhubarb to popcorn and is all inspected and certified under the Certified Naturally Grown program. The family has built strong relationships with their customers and truly enjoy providing fresh produce to the Suwanee community. Visit their stand to purchase fresh eggs, fruits, vegetables and more! Fry-Farm.com.
Java Genesis Coffee Roasting
(Bethlehem)
Java Genesis Coffee Roasting is a small-batch coffee roaster that has been helping coffee-lovers "discover the fresh roast difference" for over 16 years. Owners, Tom and Juanice Christian discovered home roasting in 2003, and after their coffee quickly grew to become in high-demand, they followed their love for coffee and created Java Genesis Coffee Roasting. From fresh roasted coffee beans to care packages for the troops, Java Genesis has something to keep everyone warm this winter season. JavaGenesisCoffeeRoasting.com.
El Cuate Foods
(Duluth)
El Cuate is a small family business that brings 100% authentic Mexican salsas and tamales to your table. Founded
in 2017, all of their products are made with locally grown vegetables and no preservatives. Aside from the Suwanee Winter Farmers Market, you can also pick up some of their homemade salsa and tamales at the Alpharetta, Smyrna, and Peachtree City Farmers Markets. Facebook.com/ElCuateFoods.
FarmHouse Poundcakes
(Dacula)
For many of us Southerners, poundcake is one of those desserts we just can't live without. From real butter to farm fresh eggs, FarmHouse's pound cakes are made with the finest local ingredients. The bakery rotates its flavors depending on the season, and even features gluten-free cakes. For those unable to make it to the farmers market, poundcakes are also available for purchase through their website at FarmHousePoundcakes.com.