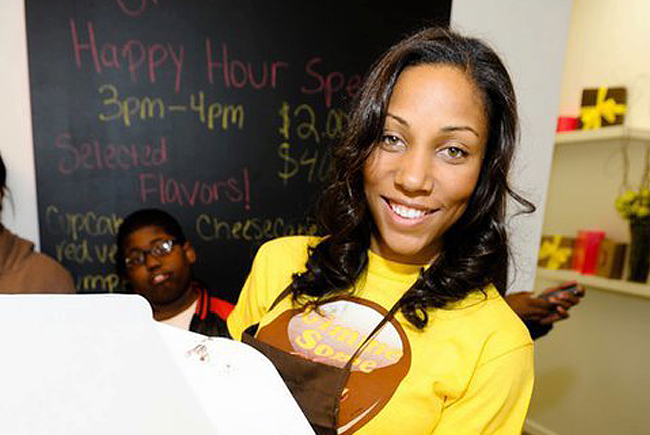 By: Tana Christian Suggs tana@suwaneemagazine.com
Suwanee resident Tamika Tanner and owner of Gimme Some Suga Bakery Bar in Town Center is one busy lady. Not only is she working to bring sweet tasting bakery treats to satisfy everyone's sweet tooth, but she is also an actress, a mother and busy planning her June wedding.
While visiting Suwanee, Tanner said she fell in love and moved to the city about three years ago. After not finding a bakery to satisfy her own sweet tooth, she saw a need and opened Gimme Some Suga Bakery Bar in December 2010. The bakery recently celebrated its one year anniversary. Since opening she said area residents have welcomed the sweet shop.
"They (the residents) love it," she said. "There are so many people who call and thank us for opening." And Tanner added that she loves being in the heart of Suwanee in Town Center and across from the park. Tanner said they are continually creating and bringing customers new sweet treats such as the popular cake pops and are currently working on a layered cheesecake.
As an actress, her busy travel schedule makes it necessary for her to operate her bakery from afar, and thanks to the Internet, she is able to stay on top of things no matter where her acting takes her.
Lately Tanner can be found on the road performing in a traveling production of playwright Theo London's stage play, "Loving Him is Killing Me." The production has been seen in more than 90 cities nationwide with typically one to two shows a day. In March 2010, Tanner became engaged to NFL player Chauncey Davis. Originally the June 2012 nuptials were set to take place in Atlanta, but the venue has changed now that Davis is playing for the Chicago Bears and they plan to wed in Chicago.
"We're very excited," Tanner said speaking of their upcoming wedding but adding that the planning has been a little more challenging with the change in venue. However, Tanner also said she has been planning her wedding since she was 2 years old and has a lot of help from her wedding planner, Akeem Clayton of Atlanta.
"He knows my style and my schedule," she said, "and that helps."
With a wedding in her future, Tanner was eyed by the producers of The Learning Channel's "Say Yes to the Dress." When they first contacted her, Tanner admitted she was a bit hesitant to do the show, but after giving it some thought she decided not only would it be fun, but it would also be a great way for her customers to get to know her.
The episode featuring Tanner originally aired on TLC Nov. 4, but the episode continues to be repeated on TLC.
Even though Davis is now playing for the Bears, Tanner, Davis, their 4-year-old son Chauncey Davis Jr., and Davis' cousin, Dominique Davis who attends North Gwinnett High School, will continue to call Suwanee home
Currently, Tanner is headed back on the road for eight weeks traveling the nation with the play. She can also be seen in an upcoming television movie, "A Cross to Bear."
For more information about Gimme Some Suga Bakery Bar events, cake decorating classes, menu of treats and much more, visit Gimmesomesugabakerybar.com.