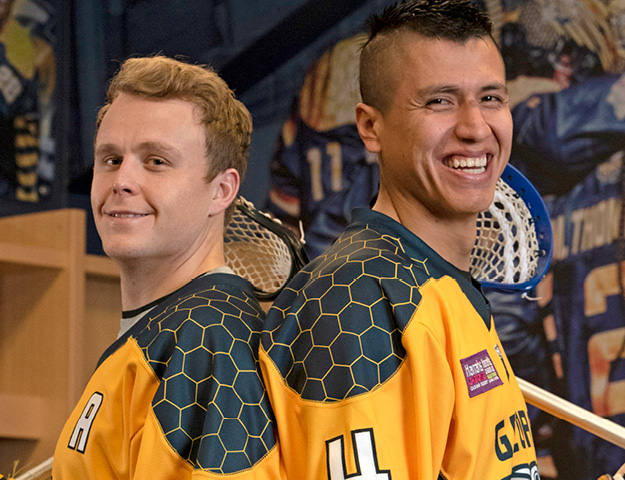 Suwanee Magazine Interviews players and coaches of the 2017 NLL World Champion Lacrosse Team, The Georgia Swarm.
By: Lizzy Kidney | Photos by Karl Lamb
Unbeknownst to most, the City of Atlanta's two-decade championship dry spell was actually brought to an end well before the big Atlanta United win in December of 2018. In just their second season in Atlanta, the Georgia Swarm Lacrosse team didn't waste much time bringing a world championship trophy back to Atlanta in 2017. We had the chance to catch up with the Swarm and get all the details on what to expect going into the 2019 season.
In case you missed it…
The Swarm won the National Lacrosse League World Championship in 2017, defeating the two-time defending champion Saskatchewan Rush with a 15-14 win in overtime of Game 2. Miles Thompson, one of 3 brothers who currently play for the Swarm, scored the game-winning goal after receiving a pass from brother Lyle Thompson. After falling just one game short of defending their title in the NLL Championship in 2018, the Swarm return this season with a vengeance and strong desire to bring the cup back to Atlanta.
Andy Arlotta
Co-Owner and President
In the summer of 2015, Arlotta managed the Swarm's relocation to the Metro Atlanta area after the team spent 11 seasons as the Minnesota Swarm in Twin Cities. In 2019, Arlotta enters his 11th season as co-owner and president of the Swarm. He runs all aspects of the team's day-to-day business operations and even serves on the NLL's board of governors.
Q: Tell us a little bit about your history as well as your family's history with the Swarm.
A: Our family is going into our eleventh year in the business, and this will be our fourth year in Georgia. It was always my dream to work with my dad, so when the opportunity for us to get involved with the Swarm came up, we took a look and said let's give it a shot.
Q: What made you decide to bring the Swarm to Atlanta?
A: We originally had the Swarm in Minnesota, but we wanted to have big Saturday night games and the schedule for the arena out there just wasn't lining up with ours. We came across the Infinite Energy Arena in Georgia and knew this would be a great opportunity for us.
Q: Since you guys are still fairly new to the area, what has fan support been like?
A: Our fan support has continued to increase year after year, and we, of course, saw an increase in our fan base after winning the championship. However, as a newer sports team in the area, we are still looking to grow. We are extremely happy here and love playing for lacrosse fans in Atlanta.
Q: Tell us a little bit about what it was like winning the NLL Championship as an organization and also in terms of the community support you've had afterward?
A: You get into this business to win, and when my dad took over as GM about seven years ago, he really brought his own philosophy and mentality to this franchise. He always said that if we can't win with character and a team who can compete, then we need to get out of the business. Winning a championship with my dad really was a dream come true and we were ecstatic to bring a championship to Georgia.
Q: What are some things you guys hope to accomplish as an organization this upcoming season?
A: We have goals set on a couple different levels. We, of course, want to get back to playing for a World Championship, but from a business standpoint, we also want to increase our ticket sales and grow our fan base. If the team plays well, we hope that more fans will come out to games and help fill this arena.
---
Ed Comeau
Head Coach
Coach Comeau is entering his fourth season as the Swarm's head coach. Internationally, he has won several gold medals in box and field lacrosse. Before coming to Atlanta, Coach Comeau had previously won five NLL World Championships, now six, and was named the 2017 NLL Head Coach of the Year.
Q: How long have you been a head coach in the NLL?
A: I have been coaching in the NLL for 20 years, and I have been a head coach for eight of those years.
Q: What made you want to come coach in Atlanta?
A: I think John Arlotta, Swarm owner, and GM, is a great man and team leader. He really convinced me that he was going to build a winner and made me feel like I would be a part of the Swarm family.
Q: Aside from winning the NLL Championship of course, what has been the most memorable moment as the Swarm's head coach?
A: Besides the championship, opening night here during our first season in Georgia was definitely the most memorable. It showed the kind of fan base we can really have down here and winning in front of a huge crowd at home always makes for a great night.
Q: How has the team been preparing in the offseason?
A: We lost a few players from our team last year, but the draft was good to us this year. The guys work hard on their own and when we get together we introduce our systems and principles. Our training camp was great and competitive and we are ready to get going.
Q: I read that the majority of the players and coaches fly into town a few days before a game. Does that prove challenging practice-wise?
A: One of the challenges in the NLL is that we aren't quite at the point of being full-time yet. The majority of guys have jobs during the week, so they fly in Friday, practice Friday night, play a game Saturday, and then fly home Sunday. It proves hard but I tell people to look at how great the sport is now and imagine what it could be if it were a full-time thing.
Q: What are some of the goals and expectations you have set for the team this upcoming season?
A: I always say we want to win a championship, but 11 teams in the league also say they are going to and the reality is that 10 of those teams are lying. Our goal is to try to improve each and every time, whether it's in practice or a game and we strive towards heavy consistency. We want to be good and great, not mediocre and good.
Q: What do you think is your toughest games this season will be?
A: I think most coaches would say their toughest game is the next game. There are so many good teams in this league, but one of our biggest competitors would have to be Saskatchewan. They are the team we beat in the championship two years ago, and our match-ups have kind of become an East-West rivalry.
---
Shayne Jackson
Forward
After six seasons with the Swarm franchise, Shayne Jackson has earned the nickname "Mr. Consistency." Jackson has played in over 100 career games, surpassed 400 career points and has picked up over 400 loose balls. As a Swarm assistant captain, his coaches and teammates will be the first to tell you that he's one of the toughest, most hard-working and dedicated lacrosse players in the NLL.
Q: How long have you been playing in the NLL?
A: This is my seventh year in total. I played three seasons with Minnesota and this is my fourth with Georgia.
Q: What was it like winning a championship in terms of community support, team morale, etc.?
A: It was great winning something with a group of guys who had one goal of winning it all and to accomplish that was great.
Q: What is it like being an assistant captain on a championship team?
A: I was honored when I was asked to be a captain for this organization. I like to say that although three of us wear letters, everyone on this team has the ability to be a leader.
Q: How do you use that role to help motivate your teammates?
A: I don't think anything you say helps lead a team. I think the best way to be a leader is by your actions, working hard, and setting a good example.
Q: I know you coach at Pace Academy and are very involved in the local lacrosse community here in Georgia. Can you tell us a little about that?
A: Myself and Bryan Cole both live down here full-time, and we were fortunate enough to jump on board at Pace my second year down here. It is a great school and a great program. The kids, the parents, and the team as a whole are great.
Q: What are some goals you have as a team this season?
A: I think if you ask everyone on our team, the main goal is to perform and win championships. Our team knows how to do that and we are just ready to get after it.
---
Lyle Thompson
Forward
Entering his fourth season with the Swarm, Lyle Thompson is currently known as the best lacrosse player in the world. After being the No. 1 draft pick in the 2015 NLL draft, Thompson has gone on to be named the 2017 NLL MVP, NLL Champion's Cup MVP, and received the 2017-2018 Sportsmanship award. Lyle is also successful off the field, opening his own company, Thompson Brothers Lacrosse, with his three siblings.
Q: I read that you and your three brothers all play in the NLL. What is it like playing on the same team as two of them, and then, of course, competing against the other?
A: Playing with my brothers is a special feeling, and hopefully one day we will all be able to play together on the same team. When I'm around my parents, it means a lot to them and they're really proud of us. For me, I've played with Myles my entire life, so we have a great dynamic and work really well together. It's great to train with them throughout the week and then play together on the weekends.
Q: After winning the championship you were named the 2017 NLL MVP. What was that experience like?
A: It was a very cool experience. It was a successful year and anytime I have an accomplishment like that, I have to remember that there are so many other factors besides just me that go into receiving an award like that. I was only a second-year player and I was surrounded by a great team. My coaches instilled a lot of confidence in me and my teammates really allowed me to take on that role as a goal leader.
Q: You've had a lot of accomplishments both on and off the lacrosse field. You and your brothers have your own company, Thompson Brothers Lacrosse, can you tell us a little bit about that?
A: Together, my brothers and I run Thompson Brothers Lacrosse where we try to inspire the next generation through our stories. We run lacrosse clinics throughout the United States and Canada and are partnered with Nike. I am the artist, so I get to design the clothes, sticks, etc., which I really enjoy since I was an art major in college and it allows me to exercise one of my passions.
Q: Speaking of art, you recently had an art exhibit with the Miami School of Art. Tell us a little bit about that.
A: John Arlotta, the Swarm's GM, saw an opportunity for me to come to the Miami School of Art down here, and he recommended I take part in this exhibit. I grabbed my stick and some paint and made a little bit of a mess, but it was a great opportunity. And thanks to John, it has even opened the door for me to go back to art school for three months next fall.
Q: How have you been preparing in the offseason?
A: For us, there isn't really an offseason. There are two professional lacrosse leagues, the NLL and the MLL. Once the Swarm season ends I jump right into the next. I really only get a month to two months of an offseason, but I train every day and it's part of the process that I truly enjoy.
Q: Do you have any goals set as an individual player and then also as a team for this season?
A: I always base my goals off of the previous season. Last season, even though I had my highest scoring season, my shooting percentage wasn't the best. That means that I am scoring more, but I'm also taking more shots in order to do so. To me, those percentages have to be better. I also want to continue to be a leader on this team and help to get us back to a championship this season.