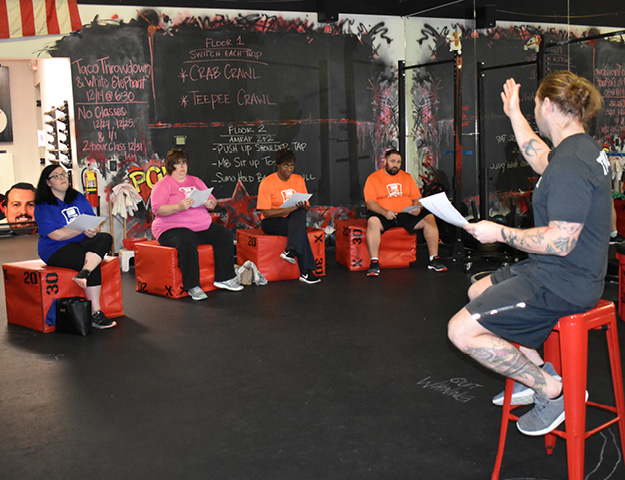 After the success of last year's Get Fit Challenge, in which the contestants lost a combined total of more than 100 pounds and nearly 20 inches, we decided to keep the momentum going into 2019! Once again we reached out to the Suwanee community looking for six people who wanted to reclaim their health and fitness in the new year.
We received entries from moms looking to get healthy so they can keep up with their kids, women who were leaving behind unhealthy relationships to refocus on themselves, as well as a firefighter who wanted to get fit so he could better serve his community. Although it was difficult to narrow it down to only six contestants, we feel confident that we landed on a group who are ready to make a positive change, and who have stories that will inspire the community. During the 2019 Get Fit Challenge, the contestants will be paired with a local trainer, receive nutrition education, as well as support from Suwanee Magazine and the community.
---
STEPHANIE EVANS
STARTING WEIGHT: 270
STARTING BODY FAT %: 49.5%
"Now that two of my kids have gone off to college, I am starting to get back into my career as a project manager. When I applied for this challenge the only thing I could think of was what better project to start managing than myself."
Stephanie's story is one many women in the community can relate to. As a mother of three children and currently caring for her aging parents, she struggles to find the time to put herself first. However, with two of her three kids out of the nest, she now believes it is time to make herself and her health a main priority.
Stephanie entered the Get Fit Challenge with the hopes of getting an opportunity to reset and refocus on herself. Like many of the other Get Fit contestants, Stephanie feels that this competition will give her the accountability she needs to finally make the change and develop a healthier lifestyle. She has worn the caregiving hat for a long time, and we are excited to support her over the next three months as she finally makes herself a priority.
Stephanie will work out at Physique Refinements.
---
MICHELLE W.
STARTING WEIGHT: 325
STARTING BODY FAT %: 53.4%

"I have never stepped foot into a gym before, but it's at the point where my weight is affecting not only myself but also my son. After recently getting out of an unhealthy relationship, I've decided to do this competition to not only change my life but make my son's life easier as well."
Michelle is a school teacher who is new to the Suwanee community and entered the Get Fit Challenge in hopes of giving herself the accountability she needs to make a life change. She has tackled weight loss on her own in the past and knows the impact that weight loss can have on the way you look, act, and feel.
Michelle will work out at Physique Refinements.
---
JENNIFER CLACK
STARTING WEIGHT:227
STARTING BODY FAT %: 50.2%
"I want to get back to where I was pre-baby, pre-stress weight. My goal is to be confident and happy with who I am inside and out!"
Recently single and ready to take back control of her own life, Jennifer entered the Get Fit Challenge looking for a fresh start. She is a Type 1, borderline Type 2 diabetic whose weight has fluctuated over the last 14 years. After overcoming so much, Jennifer wants to get healthy not only for herself but also for her 12-year-old daughter.
Like so many of us, Jennifer has been trying to please others over herself. Ready to finally change that, she is determined to push herself to make a change in her health this new year. Her overall goal throughout the challenge is to lose 40 pounds, tighten up her midsection and, most importantly, get healthy for her daughter.
Jennifer will work out at No Excuses CrossFit.
---
TERRY GROSS
STARTING WEIGHT:235
STARTING BODY FAT %: 37.4%
"I want to lose weight, but not just that. I want to lose BMI. I want to build muscle while losing weight."
Terry recently finished going through the Gwinnett County Fire Academy and is looking to get fit so he's better able to do his job as a firefighter and paramedic. The nature of his job requires that he be ready at the drop of a hat. "I can be called on at any time of the night or day and have to be able to perform in order to take care of the citizens of Gwinnett County," he says.
Terry is hoping the Get Fit Challenge will give him an edge. After all, being in better shape will help him to perform better. And while his ultimate goal is to improve his health in order to better serve the community, Terry is also the father to three young girls, and like many of the contestants in the challenge, wants to be the best parent he can be by first taking care of himself.
Terry will work out at No Excuses CrossFit.
---
ERIKKA CHAMBERS
STARTING WEIGHT: 190
STARTING BODY FAT %: 30.7%
"If you look at me I know you don't think I need to lose weight, but my goal is to lose about 30 to 40 pounds. I really just want to be healthy and to be more confident with myself."
Erikka was diagnosed pre-diabetic just over a year ago but is having trouble making the changes necessary to improve her health. "I have tried to do better but I get frustrated because I don't necessarily see results, and in the meantime, I just continue to gain weight," she says. Erikka is hopeful the Get Fit Challenge will help her get on track to reversing her diagnosis so she can avoid the constant check-ups.
In addition to taking control of her health, Erikka is looking for guidance and motivation in the gym. "I've been doing cardio and light weight lifting for like 10 minutes, but with no one really showing me I don't know if I'm doing it right," she says. "If you look at me I know you don't think I need to lose weight, but my goal is to lose about 30 to 40 pounds. I really just want to be healthy and to be more confident with myself."
Erikka will work out at Crux Fitness.
---
BRIAN MUTZBERG
STARTING WEIGHT: 293
STARTING BODY FAT %: 39.3%
"As my children get older I do not want my weight and health to be a limiting factor in the activities we can do together. I ruptured my achilles almost three years ago and have really let my weight slide since then. I now am in a place where I need to improve my health for my family."
Brian is the father of two young children who hopes that the Get Fit Challenge will be the encouragement he needs to finally get healthy for not only himself, but also for his family. Although Brian has been working out for the last few months, his progress has been limited and he's ready to join a challenge to kickstart his momentum. "My goal is to achieve a weight and endurance that is in no way limiting to anything myself or my family wants to do," he says.
Brian will work out at Crux Fitness.
---
MEET THE TRAINERS
Terry Gatewood
Physique Refinements Personal Training Studio
Since retiring from the Military, Terry became the most sought-after trainer by seniors in the Suwanee community who wanted bone strengthening and flexibility programs. Terry specializes in developing specific training programs for individuals who suffer from Fibromyalgia, Osteoporosis, high blood pressure, high cholesterol and other health and fitness needs. He creates comprehensive transformation training programs for men, women and teens that uniquely help build confidence and meet goals. Physique Refinements Personal Training Studio, 425 Buford Highway, Suite 206, Suwanee. 678-765-2413. www.PhysiqueRefinements.com.
Brandon Brigman
No Excuses CrossFit
Brandon started CrossFit in January 2010, and received his CrossFit Level 1 certification a year later. He has experience coaching beginner athletes and high- level competitors. Brandon has been coaching at No Excuses since 2011, was named the General Manager in March 2014, and became the owner in August 2018. Prior to working full-time at No Excuses, Brandon worked as a sports writer for the Gwinnett Daily Post, covering prep sports. No Excuses CrossFit, 305 Shawnee N. Drive, Suite 600, Suwanee. 770-783-0753. NoExcusesCrossFit.com.
Dan Leblanc
Crux Fitness
With more than 10 years experience in the fitness industry, Certified Personal Trainer and Sports Nutritionist Dan Leblanc opened Crux Fitness in June 2017, implementing the H.I.R.T. (high intensity resistance training) program. H.I.R.T. focuses on targeted strength training for fat loss that breaks down muscle as quickly as possible so the body can naturally restart the rebuilding process. In his career as a trainer, Dan has rendered over 10,000 personal training and nutrition counseling sessions, and taught thousands of group classes. Crux Fitness, 4140 Moore Road, Suwanee. 678-765-2630. OurCrux.com.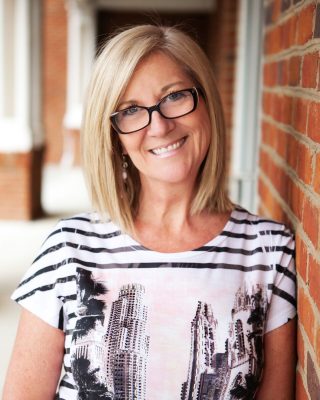 Stephanie Wolfe
Stephanie Wolfe, NBC-HWC is Gwinnett County's only National Board-Certified Health and Wellness Coach. She holds credentials from the National Board of Medical Examiners, and is a Master Certified Health Coach with Dr. William Sears, MD. Her advanced training, professional resources and personal experience have proven successful in assisting her clients to correct health issues, reach weight goals, and optimize wellness at any age or fitness level. She coaches individuals or groups using science-based nutrition information. Her trademark "Coach in your Corner" program ensures her clients never feel alone on their journey. Stephanie offers numerous workshops including Nutrition Essentials, Body Fuel (athletes), Prime-Time Health, Stressbusting, Raising HealthyKids, HealthyKids Camps, Corporate Wellness programs, and much more! The Whole Food Health Coach office/training center is in Suite 201 of The Suite Spot in downtown Sugar Hill across from the E Center. Get the Whole Story from The Whole Food Health Coach today! www.wholefoodhealthcoach.com