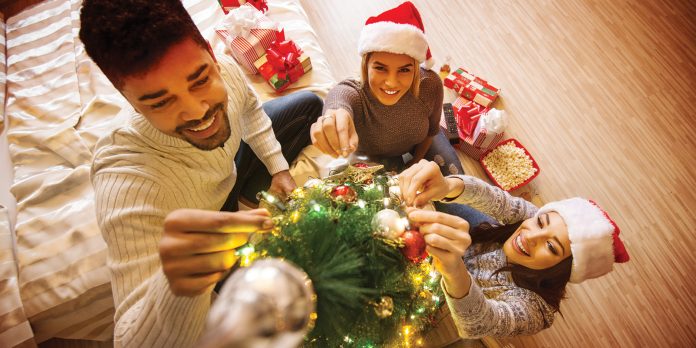 While the holidays are joyfully filled with your favorite foods, family and friends, and all things fun and festive, the hustle and bustle of the season can become quite daunting for some.
By Natalie Garrett, Suwanee Magazine's Resident Party Girl
Add the idea of hosting one of your own holiday parties or gatherings, and that just might be enough to make you dig into the eggnog before the party planning even begins. Thankfully, with a little forethought and preparation, hosting your event doesn't have to be nearly as intimidating as you may think. Follow these four tips to help kick off the party planning process and you'll quickly be on your way to winning the Hostess with the Mostest title among your social circle!
TIP #1: PRIORITIZE
Before you dive into all of the details, make a list of your priorities. Attempting to go above and beyond can become stressful, so don't feel pressured to strive for more than you can comfortably manage. If decorating the entire house is too overwhelming or unrealistic, focus on the high-traffic areas such as the front door, food and drink stations, and guest bathroom. If incorporating games or gift exchanges isn't appealing, opt for something that requires less coordination, yet is still interactive for your guests, like a photo booth!
TIP #2: CHOOSE A THEME
This might be the traditional Southern belle in me, but choose a theme for your party! Something simple and catchy — like "Pumpkins and Plaid" or "Mistletoes and Mimosas" — adds a fun energy and sets the tone for the event. Your instinct might tell you that a theme could make party planning more complicated, but it can actually be helpful! When you have a theme to guide you, you have a better idea of exactly what decorations to shop for, how to style the invitations/e-vite, and what food items to feature.
TIP #3: PLAN AHEAD AND PREP
The more prepared you are, the more confident you'll be. The food is typically the last step completed right before (or while) guests arrive, so make sure to think through the menu in its entirety beforehand. Who's responsible for providing and setting up the food, when and where should each dish be placed, and what serving supplies will you need? What food or beverage items can be prepped the day before? Table and chair arrangements, decorations, and party favors can also be done whenever you have spare time beforehand, so don't leave the full to-do list until the final hour. If you're hesitant on how something might turn out, this will also allow for extra time to work on a plan B. Start early and take advantage of any extra time to reduce any potential rush-induced stress.
TIP #4: HAVE FUN!
You've laid all of the groundwork, now let the rest take care of itself! Don't obsess over making sure the baseboards are scrubbed spotless before guests arrive or that the kids might mess up their church clothes while playing. This is your opportunity to slow down and consume yourself with the spirit of the season. You'll be surrounded by friends and family you care about, so take a breath and enjoy the quality time together. This alone will make your party as magical as the season, despite any and all imperfections.
Cheers!