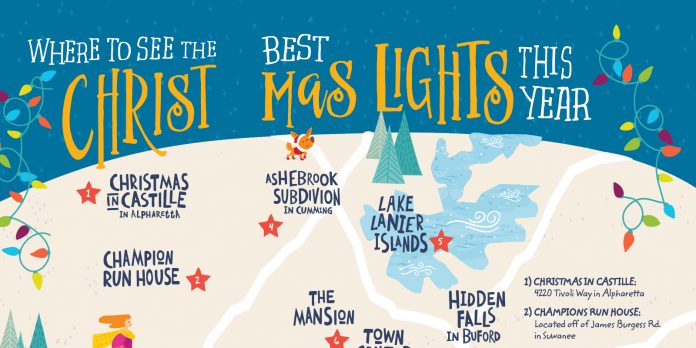 Nothing announces the Christmas season is finally here quite like when those twinkling lights begin to pop
up on homes, businesses and other areas around town.
By Alicia Carter
Some would argue that Christmas lights have become as much a part of the holiday season as jolly ol' Saint Nick himself. After all, are you team colorful blinking lights or team solid white lights? It's a feverous (but friendly!) debate that signifies just how important those little balls of light are to celebrating the holidays.
I would go so far as to say that Christmas lights embody the spirit of the season. They can be fun and flashy or subdued and classy, with either style being equally appreciated in the eyes of the beholder. When I was young, there was nothing like piling into the family car, popping in our favorite Christmas CD (Dr. Dimento's The Greatest Christmas Novelty CD of All Time) and driving through local neighborhoods to find the best Christmas decorations. I've always been drawn to the ultra-colorful, overdone, Clark Griswold level of decorating — the bigger the better, am I right? I like my decorations with a little spunk, the kind that wink to the inner child in all of us who anxiously count down to Christmas morning each year.
Now that I'm older with children of my own, I may have traded The Singing Dogs' rendition of "Jingle Bells" for my own curated Spotify playlist that's equal parts novelty (The Chipmunks Christmas Song) and classic (a little "Mistletoe and Holly" from ol' Blue Eyes himself), but I still look forward to that Christmas lights drive. Each year, I count down to when it's finally the appropriate time of the season to load the kids into the family car for a few laps around town to find the best lights. I admit, I'm probably more excited than they are, but I'll never forget how much fun I had with my family, laughing in the backseat with my brother to all those silly songs, soaking up the best time of the year with the people I love.
In that spirit, we've compiled a list of some of our favorite places to see Christmas lights in and around Suwanee. Sure, the holidays may be a little different this year, but there's no better activity for the times we're currently living in than admiring holiday lights from the safety of your car. However you celebrate the season this year, be sure to surround yourself with the people you love — there's truly no greater gift than family.
1) CHRISTMAS IN CASTILLE: 4220 Tivoli Way in Alpharetta
2) CHAMPIONS RUN HOUSE: Located off of James Burgess Road in Suwanee
3) DULUTH'S CHRISTMAS HOUSE: 2929 Mockingbird Circle in Duluth
4) ASHEBROOK SUBDIVISION: Located off Kelly Mill Road in Cumming
5) MARGARITAVILLE AT LANIER ISLANDS' LAKESIDE LIGHT SPECTACULAR: A walking light show located inside License to Chill Snow Island.
6) THE MANSION ON LEVEL CREEK: 521 Level Creek Road in Suwanee
7) TOWN CENTER PARK: 330 Town Center Ave. in Suwanee
8) HIDDEN FALLS: Hidden Falls Drive off of Hamilton Mill Road in Buford