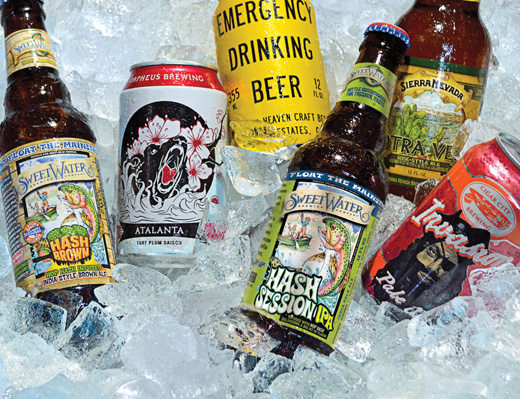 With tailgating season upon us, we asked our friends at SweetWater Brewing Co. in Atlanta what they'll be stocking their coolers with this Fall. They are all about the hash this season (see sidebar). When they're not sipping on SweetWater, they're always excited to sample the goods from other breweries, especially from friends in the South…
WILD HEAVEN EMERGENCY DRINKING BEER:

"The love child of the classic tailgating pilsner and gose"
– Cameron Alme, Bar Operations Manager
ORPHEUS ATLANTA: 
"A little tart, a little fruity and light enough on the alcohol"
– Brian Diggelmann, Social Media Director
SIERRA NEVADA OTRA VEZ:
"Tart refreshing grapefruity goodness"
– JR Risick, Market Development Manager
 CIGAR CITY INVASION PALE ALE:"Light bodied, tropical nose with barely any bitterness. Shotgunnable pale ale"
– JR Risick, Market Development Manager
SWEETWATER HASH SESSION IPA:
Debuted as a spring seasonal in 2016. Due to its popularity, SweetWater brought
back Hash Session IPA back as their newest year round brew! At 4.2% ABV, this session IPA is both highly drinkable and flavorful. Dosed with a boatload of Amarillo Hop Hash for pungent floral, tropical citrusy fruit flavors and a one-of-a-kind chewy, gooey, resiny mouthfeel. A hefty dry hop enhances the potent aromas – Ahtanum gives it orange and grapefruit tones, Crystal for a little kick of spiciness, and El Dorado brings some pear and watermelon characteristics.
ABV:  4.2% IBUs:  55
SWEETWATER HASH BROWN
This hop hash infused India Brown Ale debuted as SweetWater's fall seasonal in 2015.  Resiny, citrusy hops including Mandarina Bavaria, Bravo, Hop Hash, Simcoe and Centennial spice up the rich chocolate and caramel notes from the malt mix.  Available August through October. 
ABV:  6.2% IBUs:  60
What is Hop Hash?

SweetWater pioneered the usage of this little known ingredient. They reached out to their hop suppliers and asked them to dig deep into the pelletizers, scrape them clean, and gather bricks of the leftover pure hop lupulin goodness. Basically, they are harvesting a very concentrated form of hop resin, also known as hash, to cook up these brews that deliver a pungent punch to the palate. SweetWater's head brewer Nick Nock explains: "Hop hash is the leftover resin that escaped from the hop cones going through the pelletizer, which is all too often ignored and left unused. We've created some killer brew recipes using this sticky and potent ingredient; it's been a blast to experiment with, and delivers the biggest hit of hop flavor possible."