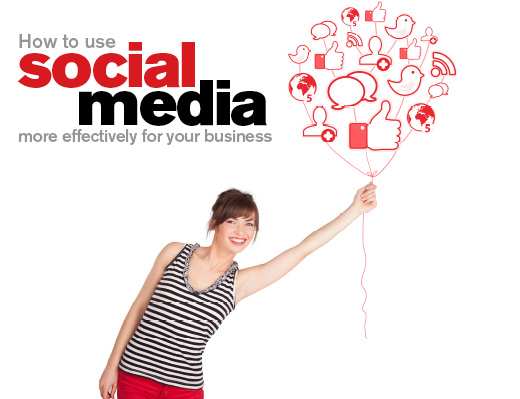 MARKETING TIPS
If you're new to social media for business, looking to communicate with your target audience or revamping your social strategy, incorporate a few of these tips to make the most out of the conversation with your customers…
Setting Up Company Profiles.
Most social media platforms have specific guidelines for creating a profile or page for your business. Facebook, Twitter, Instagram, Pinterest, LinkedIn and even Snapchat are catering to a company's presence on social media. Always create a profile in the format of a business and not as a personal page. This crucial step affects how people find the business on social media, interact with your page, eliminates confusion and gives your company page credibility. Business social profiles share content publically. If your company page is set up as a person, depending on your settings, people may be unable to find your company or brand and see your posts.
Cross-Posting On Social Media.
If you have followers on more than one platform – it's important to mix up the way you post content to these platforms, especially if you're sending out the same message. Posting duplicate content across multiple platforms gives people little reason to follow your business on multiple channels. If you are sending the same message across multiple platforms; for example sharing an event, make sure to tailor each post to that particular audience or social platform.
The #hashtag
The #hashtagwas first introduced in 2007 on Twitter as a way for groups to communicate. Most social networks have now incorporated the use of hashtags – but learning how to properly use them can help to expand your audience and increase your reach with your posts. Create brand awareness by creating a hashtag that is associated with your company and include your branded hashtag with each post. Only include relevant hashtags to your social content or it will come across as spam.
Use social platforms that make sense for your business.
With which social network does your audience primarily engage? Defining this will help your business in creating a social media strategy. Ask these questions to get started: Does this platform relate to the needs of my business? How much time must I devote to have an impact? Don't stress if your business is not on every platform. Start with one you can regularly manage and go from there.
Did you know Google has a social platform besides YouTube?
Google My Business ties directly to Google Plus and serves as the primary place to control your company's Google Maps Listing, Business Profile in Google and gives you a place to also share content. Add a business category, phone number, address, website URL as well as photos and posts to your business' Google Plus Page.
URL shorteners; an easy way to track link engagement.
Ever wondered how many people actually click the link you shared on a social network? Use a URL shortener like bitly.com to find out. A URL shortener is an online application that converts a regular URL (http://) into a smaller format, typically 10 to 20 characters long. These links make it easier for you to manage links by making them more shareable, plus you have the ability to track the engagement your links have.
Twitter – Say it in photos.
Twitter limits each tweet to 140 characters, but if you have more to say, you have the ability to attach up to four photos to any tweet. When you do so, it creates a separate link for that photo that is still included in the 140-character limit, but the photo will appear in the streams of your followers.
Scheduling Social Posts.
Managing social media through tools such as Hootsuite is a great way to schedule time-sensitive posts across multiple social networks in advance. This leaves time for real-time posts and re-sharing content from other businesses. So you can get more out of social media, Hootsuite offers several packages – free or paid – to scale to the size of your business.
Paid advertisements on social media networks.
Advertising on social platforms is great for specifically targeting an audience by interest, location or even age. Facebook is the most popular social network available and there are many different objectives met when running Facebook ads, such as increasing clicks to your website, website conversions and increasing page likes just to name a few. Twitter focuses on promoting your tweets, a great tool for generating traffic to your company blog. If your target audiences are professionals or your industry is B2B, LinkedIn may be your best option for paid advertisements. Target your readers through LinkedIn Sponsored Update Ads by choosing a target audience by industry, company size, professional titles or location.
Social media has become a very powerful tool for businesses to both market themselves and interact with customers on a personal level. But because the digital climate is constantly changing it can be difficult to keep up with the latest trends, features and offerings across every social media platform. To ensure that your business is using social media effectively and the you are maximizing your budget, it is best to leave your online presence in the hands of a professional. Find a local marketing firm that can help you come up with a custom digital marketing strategy to fit the unique needs of your business.
GROW YOUR BUSINESS' ONLINE COMMUNITY

We help you create and manage your social media profiles that give you an opportunity to have natural and relevant dialogue with your customers. We work with you to deliver interesting content, craft successful social campaigns and design online ads that reach and engage your target audience.
VDGatl.com
554 WEST MAIN STREET I BUFORD, GEORGIA 30518
678.482.2270