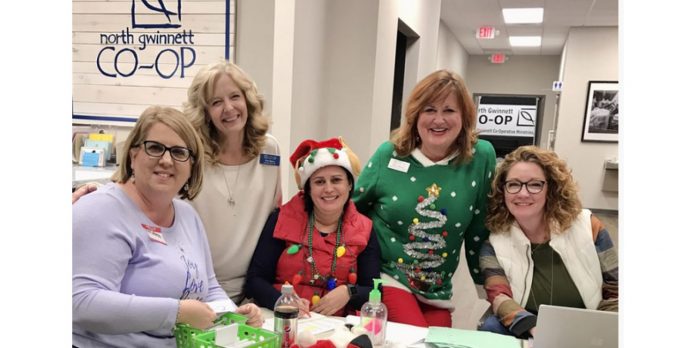 The holidays are a special time of year. There is something magical about the wonder of the season. Beyond all of the hustle and bustle, the Christmas parties, decorating, family get-togethers, gift giving and receiving, and grand holiday feasts, there is the joy of supporting those in need. After all, that is really what the season is all about.
By Angela Veugeler
Below are a variety of amazing local nonprofits and ways to give back to them using your time and talents or finances this holiday season.
Help Children in Foster Care with Jambos
Founded in 2019 and based in Buford, Jambos is on a mission to bring comfort to kids in the foster care system by providing them with brand-new pajamas. The organization partners with our community as well as communities around the world to host pajama drives, collecting thousands of pairs of pajamas to be shipped to children all over the world. They aim to share the comforting feeling that comes from putting on new pajamas with the children they serve. Jambos hosts several pajama drives during the holidays and is always in need of monetary donations. StillFire Brewing is hosting a PJ/DJ party on Friday, Dec. 9, where attendees who donate a pair of new pajamas or make a $20 donation will receive a free half pour. Schedule a photo shoot at Prospect Farms in Lawrenceville and bring new pajamas to donate between now and December 15. To view upcoming events or give to Jambos, visit JambosDonates.com.
Sponsor a Child or Senior this Christmas through North Gwinnett Co-Op
Right here in our community, there are people who are not expecting the holidays to be very bright. They may have fallen on hard times, they may be ill, alone, or unable to work, and therefore unable to provide Christmas for their children. In early October the North Gwinnett Co-Op begins the vetting process and sign-ups for individuals and families in need of help during the holiday season. If you choose to bless someone by sponsoring a child or senior, the co-op will share their wish list along with some basic clothing needs. Gifts need to be delivered by Friday, December 9, 2022. The co-op also collects meal boxes for families for both Thanksgiving and Christmas. Visit NGCoop.org for more information.
Give the Gift of Health with Good Samaritan Gwinnett
Good Samaritan Health Centers of Gwinnett demonstrates the love of Christ by providing quality and affordable primary health care and dental services for low-income, uninsured individuals and families at their two locations in Norcross. Your donation helps the organization restore health, smiles, hope and faith to the families it serves. For more information or to donate visit GoodSamGwinnett.org.
Become a Mentoring Family with Connections Homes
Connections Homes is a faith-based nonprofit organization dedicated to connecting young adults to families. Every year in our country an estimated 85,000 young men and women between the ages of 18-24 are living life unconnected to family or any caring, stable adult. These young people are living on our streets, in our shelters, and in dangerous situations like sex trafficking because they have nowhere to turn. Connections Homes is committed to changing the outcomes for this forgotten population by connecting them with families who will walk with them in life and guide them to a successful future. For more information on becoming a mentoring family or to donate to Connections Homes, visit ConnectionsHomes.org.
Support Creative Enterprises
Creative Enterprises provides employment opportunities along with social and life-skills training to individuals with disabilities. They help individuals maximize their potential and shine with their own unique creativity. Their programs and services are diverse and allow for individual personal growth, along with the opportunity to explore options that might otherwise be unavailable to people with disabilities. For more information on Creative Enterprises or to donate, visit CreativeEnterprises.org.
Donate to The Quinn House's Annual Holiday Food Box Drive
The Quinn House is preparing for their annual Thanksgiving and Christmas Food Box Drive to help local families struggling this holiday season and they need your help. The Quinn House is a Christian ministry for food distribution, clothing and home goods assistance, and men's addiction recovery that has served the Gwinnett County area for more than 30 years. Their key principles are to provide direct assistance for basic human needs; create a nonjudgmental environment where people have a positive experience and feel comfortable asking for and receiving help; and to help people change their inward focus to an outward focus through helping others. In addition to their thrift store and weekly food pantry, The Quinn House assembles and distributes around 500 Thanksgiving and Christmas food boxes to needy families in the community annually. They strive to fill each box with all the items that make up a traditional holiday meal, complete with pies, cakes, and all the trimmings. To continue this wonderful tradition, The Quinn House is requesting donations of $15 gift cards (Kroger, Publix, or Walmart) so the families can purchase a turkey, chicken or ham to make the meal complete. The $15 grocery store gift card donations can be dropped off with Rickie or Pete at The Quinn House main office located at 555 Hurricane Shoals Road in Lawrenceville between 8 a.m. and 4 p.m. Mondays through Saturdays. For more information, call 770-962-0470 or visit TheQuinnHouse.com.
Change the life of a family who has experienced homelessness.
Rainbow Village aims to transform the lives of families experiencing homelessness. Their program focuses on family stability, well-being, financial management, education and training as well as employment and career. Many families arrive at Rainbow Village with nothing. This holiday season, bless one of their families with apartment household items to help them feel at home such as bedding, pots and pans, dishes, towels, flatware and more. Or, purchase a Visa, Mastercard or American Express gift card in $25 or $50 increments that will allow residents to purchase gifts for their children. Visit their website for a list of household items needed, delivery address and for more information at RainbowVillage.org/Holiday-Giving.