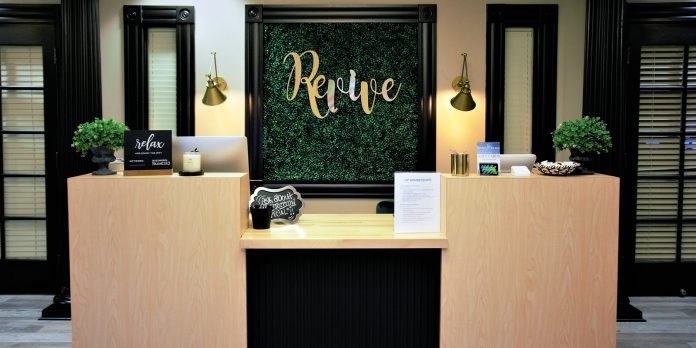 IV therapy is the use of intravenous vitamins, minerals and amino acids to boost one's wellness.
By: Dariane Newby | Photo courtesy Revive IV Lounge
IV therapy has quickly gained popularity around the world and has been more commonly referred to as IV Bars. This is because the IV bags are essentially a "cocktail" or mixture of nutrients created for each client and his or her specific needs. This can include a mixture of extra fluids, electrolytes and nutrients for hydration, increased energy, aiding in weight loss, boosting and protecting the immune system, migraine relief, hangover relief, skin brightening, anti-aging and so on.
When customers visit Buford's Revive IV Lounge they can choose from a menu with a variety of premade IV drips. Customers can select something right off the menu or customize Revive's drips by adding or taking out nutrients. For those who are still unsure, Revive's highly trained nursing staff can help determine what's best based on a customer's specific concerns or needs. Then, nutrients get mixed into an IV bag and an IV is inserted into the vein.
This is all done while relaxing in one of Revive's many comfy and private lounges. Most IV therapies take about an hour. So clients are encouraged to bring their computers, plan to watch TV, or even bring their kids! Revive wants each client to feel like they're at home and can relax, get work done, take a nap, or catch up on their favorite television series. They also offer warm blankets during the services because sometimes as the cold fluids infuse it can cause the body's temperature to slightly drop.
Many people wonder why one would choose this method over taking daily vitamins orally. The answer is easy! When taking oral supplements, much of the supplement is wasted and not absorbed as they travel down the GI tract. Infusing nutrients, however, bypasses the digestive system and instead the nutrients flow directly into the bloodstream making them 100% absorbable by the body and highly effective. Therefore one can begin feeling the benefits immediately.
Many of Revive IV Lounge's clients choose to come in once a month to maintain their wellness. However, you can also infuse nutrients weekly for more specific needs. To maintain wellness Revive offers membership packages to help keep clients on track. Included in these packages is a variety of add-ons and discounts, including nutrient injections and their extremely popular oxygen bar.
Revive IV Lounge is located at 2725 Mall of Georgia Blvd., second floor, in Buford. For more information, visit ReviveIVLoungeBuford.com or call 470-589-1237. Walk-ins are always welcome.