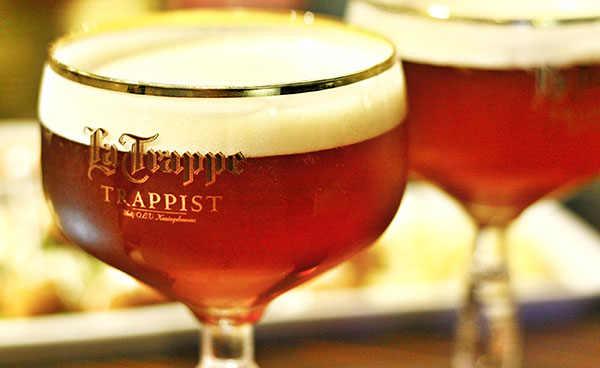 Hello beer lovers, I hope the holidays went well for all of you and you were able to get out of your zone and try some new beers! In this issue I will be discussing Belgian beer! Hopefully, in your conquests of new beer you have heard what Belgium has to offer, or better yet had a chance to try some! Belgian brews are known for their deep and complex flavors, and in many cases, their understated high alcohol content. Arguably some of the best beer in the world comes out of this small country, but there are some American breweries that do a great job working within the parameters of their style. I will walk you through each of their basic categories so you will be able to choose one to your liking next time it counts!
First, let's take a look at the lightest styles: Witbier and Blonde. Witbiers are typically a light yellow to golden in color, with a noticeably cloudy haze throughout the beer, and are lighter in alcohol. Traditionally, this style did not include hops in the brewing process, rather a mixture of herbs and spices to bring out the flavor. These days hops are used, but usually the bitter hop flavor is nowhere to be found. When enjoying a beer of this style you can expect to find flavors of orange peel, citrus, clove, and coriander. Allagash White is an excellent American example, and one of my favorite Belgian Wits is Blanche de Bruxelles, both of which can be found in Georgia. Blondes are a little more basic than their witbeir counterparts. These are pale yellow in color and are slightly sweet and do not have the typical Belgian spice. These beers are extremely approachable and are a good choice for someone just getting into the beer world. Give Leffe Blonde a try next time you are in the mood.
Saisons, or Farmhouse Ales, are next on the list and range from gold to dark amber in color and have a light to medium body. These beers are fruity, have hints of malty sweetness, a touch of earthy spice and a little bit of a sour character. These beers start to climb up in the alcohol content ranging anywhere from 4.5-8.5 percent. Saison Dupont is often referred to as the benchmark for this style and I have to agree. If you have the chance to enjoy one, do not pass it up! Goose Island in Chicago brings us Sofie, which is also an excellent example of the style.
Now we are at the Dubbel, one of the more recognizable styles of Belgian beer. Dark Amber to even red in color, these beers bring notes of dark fruits, cocoa powder, heavy sweet bread and usually a touch of spice. The aroma is quite nice and should be sweet, fruity, a bit nutty, and roasted. Usually we find these beers to be somewhere in the range of 6-7.5 percent. These beers are not bitter, but usually do have a touch of spice to offset the sweetness. If you are into this style and want to drink local, give Cherry Street's Dylan's Dubbel a try! As for a true Belgian offering, how about giving a Chimay Red or St. Bernardus Prior 8 a try!
On to Tripels! Here we have a style that is lighter in color but is huge in flavor and alcohol content. This style is highlighted by spicy and complex flavors, and an ABV ranging from 7-10 percent. On the nose you can expect to find citrus, banana, earthy spice and sometimes a little alcohol. These are medium bodied and bring notes of spice, honey and fruit on the tongue. Tripels are typically a little bitterer than other Belgian beers, but they have a nice malt balance to bring complexity to the table. On this side of the pond I would try Unibroue's La Fin du Monde, and for a real Belgian – the Westmalle Tripel.
Quadrupels, or Quads are the last beers to discuss, and they are the biggest and boldest. I will start off by saying that this is my favorite style of Belgian beer. We are talking about a beer that is dark amber in color and brings a ton of flavor to the table. Some of the overarching flavors we can find in this style are dark fruits, figs, raisins, candied sugar, and usually some earthy spice. These are typically pretty boozy, ranging from 10-12 percent. Much as with a fine wine, these beers open up when they are allowed to breathe for a few minutes and their sweet fruity aromas emerge. From Belgium, I absolutely love St. Bernardus ABT 12 and La Trappe Quad. To be honest I haven't found any Belgian Quad that I haven't liked! From the States you could be very happy with Thee Philosophers from Ommegang or Avery's The Reverend.
Do yourself a favor and see what all the fuss is about with some Belgian beers! Be careful though, Belgian beers are deceivingly high in alcohol, so keep that in mind when you are enjoying them!