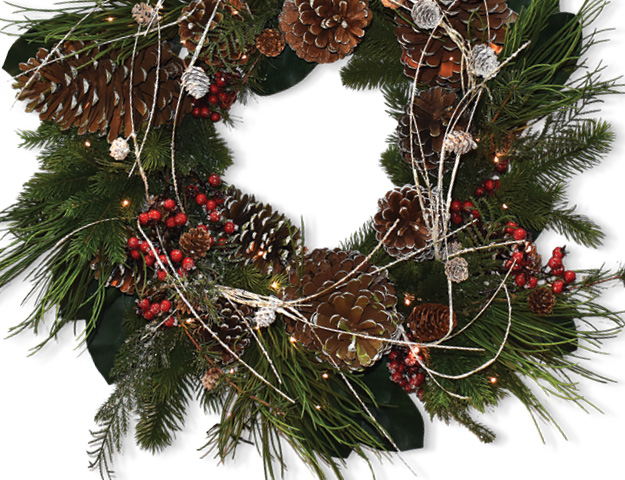 There's nothing like a festive Christmas wreath on your front door to celebrate the holiday season. Whether you're enchanted with the traditional designs or a lush and leafy design, wreaths are an easy way to add holiday cheer to your entrance with little effort.
By: Carol Guest, Owner of Carol Guest Interiors
Making a stunning Christmas wreath is simple. Just gather the right supplies, seasonal embellishments, and a large dose of holiday spirit! Here are a few points to consider as you make your dream wreath.
Size: A wreath should be positioned about one-third down from the top of the door. Standard exterior doors are 36 inches wide and will look great with a wreath 22-24 inches in diameter. For an oversized door, you may want to consider a wreath with a 28- to 30-inch diameter. This larger size will carry the appropriate scale in relation to the door. The larger the wreath, the higher you should hang it on the door!
Color and Textures: Think of the color combination when selecting your stems or flowers. The wreath colors should coordinate with the interior of your home or your chosen theme. Bring in a variety of texture to enhance and create a hearty look.
Style: The style you choose will also be taken from the interior style of the holiday spirit you are creating inside your home. If you like a more bold approach, you may want to place a more robust wreath on the door.
Keep in mind that there are many trends during the holiday season. Your holiday is special to you. Capture your own holiday spirit with joyous memories that you can bring alive every year!