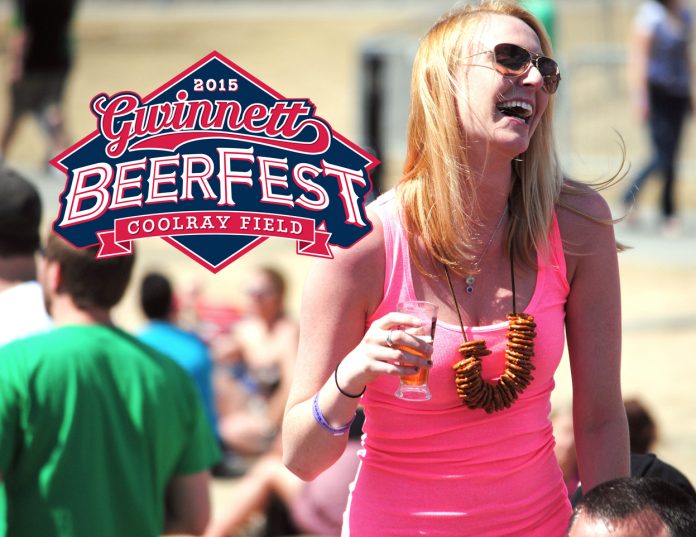 Take me out to the beer fest!
By: Rachel Pillow
With five years of craft beer festivals under their belts, the Event Management team behind the award-winning
Suwanee Beer Fest decided to take on the challenge of bringing yet another mouth-watering, hopped-up and crazy, epic beer fest to Gwinnett! Lo and behold – the inaugural GWINNETT BEER FEST at Coolray Field on September 26th!
Voulunteers will be pouring an abundance of unlimited beer samples that true craft beer lovers will appreciate and enjoy. To kick off everyone's favorite season, there will also be a "Best Of Fall" competition featuring 12 standout craft breweries and their freshest, fall brews of choice. The catch? Only YOU can decide which brewery reigns champion by drinking their way to the top. Powered by DRAFTSERV Technologies, the "Best of Fall" competition will be poured from a self-serve, interactive, high-tech trailer with live leaderboard displays that will tally the results. You can also track the which beer is winning on your mobile device. Pour your fave fall brew and watch as it moves towards the top!
And since the event is on September 26th, you can expect a festive Oktoberfest tent pouring the best Märzen styles around. Yes, lederhosen and dirndls (apparently those are the official names of "beer girl" and "german dude in suspenders" outfits) are HIGHLY encouraged!
Lederhosen, dirndls and cowboy boots, that is. Because, on the field will be two of Georgia's biggest, rising country stars! Atlanta's #1 country station, KICKS 101.5 will be onsite, adding to the "southern party" vibe. Then watch for the dynamic, husband-wife country duo LAUGHLIN to rock the stage, followed by the Georgia-born-and-raised, true country grit, Southern rockers – Daniel Lee Band. Daniel Lee Band has shared the stage with national acts like Colt Fold, Brantley Gilbert, Randy Houser, Lee Brice, Gretchen Wilson and Corey Smith, to name a few, and is quickly becoming a household name in the country world.
As if the thought of tasting unlimited samples of 150+ craft beers wasn't enough to get you pumped, you can also be on the lookout for awesome festival games like human foosball and cornhole, vendors dishing out tasty samples, delicious food offerings in concessions and more! For the true connoisseurs you can get exclusive VIP
passes for 1 hour early admission to the stadium, free parking, and all-day access to the 2nd level where top-secret stuff is going down. And by top-secret stuff we mean: specialty-brewed casks and hard-to-find brews, college football on all the flatscreen TVs, a premium food buffet from 12-2pm and upper-level party deck/suite access where you can look down on all the action below.
VIP tickets are very limited and available now for $95. General Admission tickets start at $40, with prices going up after September 12th.
Gwinnett Beer Fest attendees can enjoy their unlimited samples of 150+ beers without any worries: to encourage safe driving, Pruitt Law is sponsoring 100 designated driver tickets, available free of charge while supplies last, with the purchase of a General Admission or VIP ticket. Gwinnett Beer Fest has partnered with UBER who is offering a FREE first ride (up to $20) for all new users; all you have to do is enter promo code GBEERFEST15 at checkout. There is also complimentary shuttle service for ticketholders to & from the stadium at Tilted Kilt Mall of GA and Tannery Row Ale House in Buford – both excellent spots for pre-gaming, football-watching and after-partying!
A portion of the proceeds from The Gwinnett Beer Fest are benefitting The Chris Singleton Foundation, which supports local organizations and causes such as educational development for at-risk youth in Metro Atlanta. Chris Singleton calls Gwinnett County his home and is a former MLB player and current ESPN 'Baseball Tonight' analyst. He is looking forward to his involvement with the inaugural Gwinnett Beer Fest on September 26th, 2015.
Don't miss this event! Tickets are very limited and available now at gwinnettbeerfest.com.