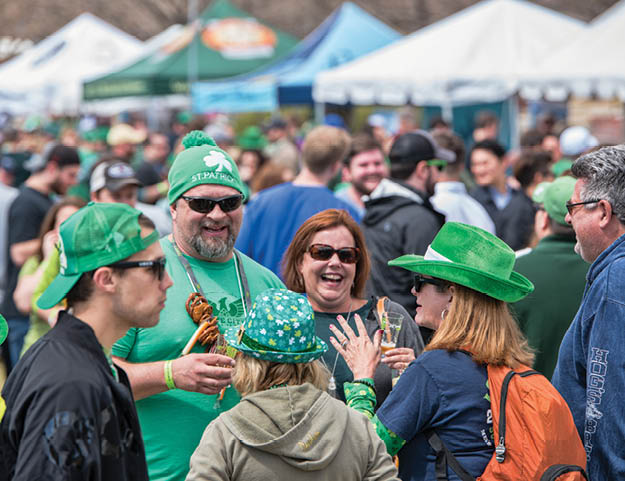 On March 17th, 2018, thousands of beer lovers will once again descend on beautiful Town Center Park for the 8th annual Suwanee American Craft Beer Fest, the biggest craft beer festival in the Southeast. And though it has always aligned itself with St. Patrick's Day, this year's festival will be bigger and better than ever because it's the first year it takes place on the actual holiday, so St. Paddy's-themed revelry will flow freely alongside more than 350 unlimited craft beer samples.
By: Alicia Carter | Photos by Karl Lamb, Paul Perdue
Suwanee Beer Fest is always attempting to outdo itself, and this year is no different. From upping the number of beers on hand to finding new and exciting breweries to add to the lineup, the festival will have a range of pours that are sure to delight both experienced beer drinkers and novices alike. This year, Suwanee Beer Fest organizers are planning for more than half of the brews on hand to be ones that most people either haven't heard of or haven't been able to try before — these aren't the typical beers you'll find lining the shelves of your local grocery store. These are beers that will excite your taste buds and possibly introduce you to your new favorite brewery.
For the third year in a row, Suwanee Beer Fest will represent its home state with an exclusive Georgia Beer Garden, where attendees will be able to sample from more than 30 breweries who call the Peach State home. Many local breweries will make their Suwanee Beer Fest debut this year, including Variant Brewing Company, Good Word Brewing, New Realm Brewing, Akademia, Torched Hop Brewpub, Oconee Brewing Co., and Slow Pour Brewing. There will also be more than 100 national breweries represented throughout the festival who will be showcasing their new and covetable beers to make this a one-of-a-kind tasting experience.
And since there's so much to dive into this year, we've dedicated this guide to breaking down all of the fun to be had. From the Georgia Brew Battle and Home Brew Competition to the VIP experience, live entertainment, games and food, there's a lot to digest. And if you haven't bought your tickets to the festival, log on to suwaneebeerfest.com and snag them before they sell out!
---
…..
…
…
---
LIVE ENTERTAINMENT
There are two types of lineups that truly make a beer festival. The first is a lineup of great breweries pouring quality beers — check! — and the second is a lineup of live entertainment that will turn your drinking shoes into dancing shoes — double check!
This year two performers will be gracing the Suwanee Beer Fest main stage. Singer/songwriter Joe Hall is fresh off his highly enjoyable set at Suwanee Wine Fest and ready to rock again. Born and raised in Dacula, Georgia, Joe has had a lifelong passion for music. He has opened up for country stars such as Bill Gentry and Heidi Newfield, and is sure to get the Beer Fest crowd up on their feet dancing!
In addition to Joe Hall, Atlanta's favorite party band, The Geeks, will also be performing. What started out as a local cover band dressing up for Halloween turned into the increasingly popular, party rockin' entertainment outfit with a strong foundation of "guilty pleasure" songs — perfect for a beer-drinkin' crowd who knows the adage "it's 5 o'clock somewhere" is one to live by.
---
FUN AND GAMES
This year's festival will see the return of Giant Jenga and Peach State Cornhole (both activities that pair well with beer), but it's also adding Xtreme AirBalls to the fun. Festival attendees can jump into a large inflatable ball for some friendly competition — think the hamster wheel version of a sumo suit. There will be a portioned-off section of the park dedicated to fun, so get your drinking buddies together for some friendly competition. Just don't spill your beer!
---

THE 2018 VIP EXPERIENCE
This year's VIP tent, sponsored by Choice One Urgent Care, is designed with the true beer connoisseur in mind. There will be a selection of 30+ beers, including one-offs, casks, specialty brews and more. A small sampling of available beers includes Lazy Hiker's Twentymile IPA, Hi-Wire's Citra Gose, and Good Word's Golden Unicorn Mango Milkshake IPA.
Marlow's Tavern, known for being the "best of the best" in American tavern fare, is back and will design a menu exclusively for the VIP tent. Marlow's has offered a sneak peek of the menu, which includes beer cheese with pretzel bread, shrimp and grits, herb-marinated chicken, sausage with Creole sauce, bourbon bread pudding, and a ham carving station.
Dimensional Design, a local design and branding firm, returns as a sponsor and has partnered with event organizers to create a one-of-a- kind experience to the VIP area. With exclusive beers, a meal catered specifically for VIP ticket holders, and one hour early entry to the festival, this experience sets the standard for beer festivals.
---
HOME BREW COMPETITION
The 7th annual Suwanee Beer Fest Home Brew Competition sees over 300 unique home brewed beers entered each year, with categories such as Light Lager, Pilsner, Light Hybrid and Speciality Beer. Last year, Best in Show Winner was Sean Stephenson with his Imperial Stout.
Beers in this competition are judged based on a strict set of criteria, including: mouthfeel, aroma, appearance, flavor and overall impression. The highest score possible is a 50 – which judges have yet to award. Judging for this BJCP (Beer Judge Certification Program) begins on Saturday, March 10th, with the winners of each category moving on to compete for Best in Show on the day of the festival, March 17th. The "Best in Show" victor will be crowned on stage at the event. For more information on how to enter the competition, visit suwaneebeerfest.com.
Home brewing is a mix of passion, art and science. For those who are interested in learning more about how to brew and want to consider entering the competition next year, Brew Depot offers "Home Brewing" and "Wine Making" classes that will appeal to those who want to try it out as a hobby or are thinking about it as a career.
---

2018 GEORGIA BREW BATTLE
Suwanee Beer Fest is once again giving the power to the people with its annual Georgia Brew Battle, where local attending breweries will put their best beer forward to compete for the title of Georgia's Best Beer. Each festival attendee will receive a token upon entry that they can then use to cast a vote for their favorite Georgia brewery. Peruse the Georgia Craft Beer Garden and sample from more than 30 local breweries like Jekyll, Bluetarp, Cherry Street, Monday Night, Wild Heaven, Creature Comforts, Steady Hand, Scofflaw, Reformation and more, who will be pouring alongside Suwanee Beer Fest newbies Dry County Brewing's Neon Berries Berliner Weisse brewed with blackberries took home the title at last year's fest. like From the Earth, Slow Pour, Oconee, Good Word, Variant, and New Realm, among others. Once you've had your fill, simply place the token in the bucket of your chosen beer and they'll tally the results near the end of the festival to crown the top brew.
The winner will take home the coveted Golden Cup Trophy — and bragging rights, of course. 2017's reigning champs Dry County Brewing will be back. Will they reclaim the throne? Let the best brew win!
---
BE SAFE!
The 2018 Suwanee Beer Fest organizers are dedicated to the safety of all festival attendees, and want to ensure safe travel for everyone with the following options:
RIDES: Uber has set up a code for first time users for a free ride up to $20: RideSBF18. Go to get.uber.com/go. Lyft will be onsite and available to help festival-goers book rides on the spot.
FREE SHUTTLES:
Twisted Taco Suwanee
3433 Lawrenceville-Suwanee Road
Twisted Taco will provide free parking and a shuttle to and from the festival for ticket holders.
Tannery Row Ale House
554 W. Main St., Buford
Tannery Row will run a shuttle to and from the festival and offer free parking. Join them after the festival for their St. Patrick's Day party with live music, food, drink specials and more.
LODGING: Comfort Inn & Suites 678-714-7707 2945 Lawrenceville-Suwanee Road Offering festival attendees an exclusive discounted rate of $89 per night. Just mention Suwanee Beer fest when booking!
---
BENEFITING COOPER'S CREW
While there is much merriment to be had at Suwanee Beer Fest, the event organizers are also dedicated to giving back and supporting the community and will donate a large portion of proceeds to local charities. This year's benefiting organization is Cooper's Crew, a Suwanee- based organization created in honor of Cooper O'Brien, who lost his battle to a rare form of cancer at the young age of 14. Cooper's Crew provides funding for research and development to find a cure for childhood cancer as well as scholarships for young men and women facing challenging circumstances.
So while you're sipping samples of your new favorite craft brew or participating in a hopped- up version of an Irish jig, remember that your participation in the festival helps support the Cooper's Crew Fund and the Cooper O'Brien Scholarship Fund, which grants scholarships to three graduating seniors at North Gwinnett High School each year who have overcome unique hardships. Please join us in raising funds and awareness for childhood cancer and to celebrate Cooper's legacy. For more information on Cooper's Crew, visit CoopersCrew.org.
---