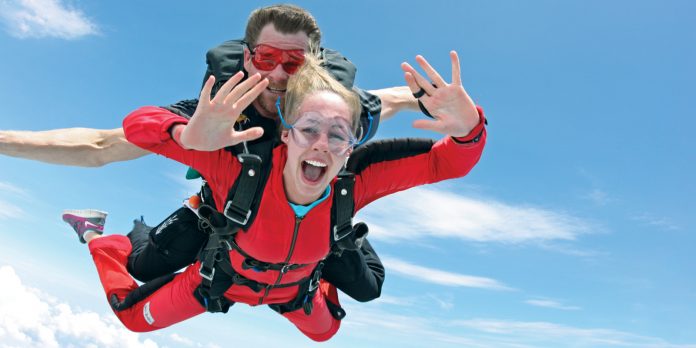 Your guide to the best outdoor activities for the type of adventure you crave.
For the last few months our community has been forced to hunker down indoors in an attempt to keep our families healthy and safe. As we begin to emerge from our homes the desire for adventure is stronger than ever, that's why we've created a handy guide to help steer you toward the best adventure activity for you!
START HERE: Section 1
Do you have a need for speed?
Yes: Stay on Section 1
No: Go to Section 2
Roller Coasters
Adventure Rating: Adrenaline Rush
After waiting in line for any substantial amount of time, you finally make it to your seat in the car, strap in and wait for the slow climb up that first hill. As you ascend the track with the telltale "clink-clink-clink" soundtrack of one of the few slow portions of the ride, your heart beats faster, hands raised in the air as you anticipate that first free fall. Finally you reach the peak of the hill and as the nose of the car slowly tips over to the other side you suddenly race down the track while your body feels like it hovers in space, then you twist, turn and loop-de-loop before the ride finally ends with a subtle jerk to a stop right back where you started. You jump out of the car and race to the next one ready to do it all over again.
GIVE IT A TRY: Six Flags Over Georgia
More information at SixFlags.com/overgeorgia
Ziplining
Adventure Rating: Adrenaline Rush
There's nothing quite like your first zipline experience. You pop on a helmet and a harness, clip in, and stand at the edge of a platform. Somehow, it seems to be a lot higher from up there than it looked from the ground. But after working up the courage, you take a deep breath, grip the handles, and leap from the platform. You fly over the treetops before the brakes kick in, and the guides pull you safely onto the next platform. Exhilarated, you can't believe your first zipline ride ended so quickly – and you're ready for the next one.
Section 2
Do you mind getting wet?
Not at all: Stay on Section 2
Keep me dry: Go to Section 3
White Water Rafting
Adventure Rating: Adrenaline Rush
Forward! Backward! Lean in! Not only does one need to be seeking an ultimate thrill to go white water rafting, one must also be a good listener (if you weren't nervous before, are you now?). You're suited up and grouped up in an inflatable raft and positioned along the left and right sides, with your guide in the center of the back. The guide is reading the waves and shouting commands for you to follow (which are rehearsed and perfected before you even get near the water, don't worry!). You'll quickly get the hang of the motions and working together as a team while anticipating who might get ejected from the raft — or the possibility of flipping the entire raft. After speeding down the river in what feels like no time at all, dodging rocks and dipping into waves for a refreshing splash, you'll wish the river never ended.
Scuba Diving
Adventure Rating: Ultimate Thrill
The ultimate way to explore what lies below the water's surface! For this adventure, you will need professional training and certification if you haven't already had it. From the stern of the dive boat on a small island in the Caribbean, take a giant stride into the ocean and slowly descend. What a wonderful feeling of weightlessness! At the bottom, you find a giant puffer fish looking for food, then shine your light at the coral to find a green moray eel hiding in a cave, discover a tiny arrow crab in a giant purple sponge and look to your left to see a pair of spotted eagle rays digging in the sand. Such a sense of wonder and adventure! After 45 minutes of exploration, it's time to slowly ascend. Perform your 15 ft. safety stop for three minutes and back onto the boat it is. This surface interval can't pass fast enough so you can get back into the water and see what awaits on the ocean floor for your next dive!
GIVE IT A TRY: 20,000 Leagues Scuba and Aquatics
More information at 20000LeaguesScuba.com (see below)
Tubing Behind a Boat
Adventure Rating: Adrenaline Rush
Who would have thought being dragged across a lake and launched off into the air when you can't hold on any longer would be so fun? At first glance, tubing is like riding a roller coaster on the water. You put your life jacket on, jump onto your tube, and prepare to hold on as the boat takes you in circles and over waves. With varying thrill levels, this no-skill-required water activity is perfect for people of all ages
Feet on the ground or flying through the air?
On the ground: Stay at Section 3
Fly like a bird: Go to Section 4
Hiking
Adventure Rating: Easy Peasy
Just put one foot in front of the other as you navigate the trail — whether you opt for a more relaxing summit with great views or a rugged terrain with a steep incline, hiking is a great way to enjoy the great outdoors and all the spoils of Mother Nature. If it's a more leisurely hike, take the time to identify plants, spot wildlife or find hidden treasures along the way. Adventurous hikers can find spots to rappel, places to climb or steep trails to navigate. Be sure to count your steps and whatever you do, invest in good hiking boots!
GIVE IT A TRY: Stone Mountain Park
More information at StoneMountainPark.com (see below)
---
Section 4
Hot Air Balloon 
Adventure Rating: Easy Peasy
An exciting alternative to sight-seeing — views from a floating basket! Even enjoyable for those with acrophobia (and/or claustrophobia), hot air balloons are often much larger in person than they appear, which offer ample room for movement and personal breathability space. You can stand toward the outside if you dare, or more toward the inside — whichever makes you feel more comfortable. The heat fires up, the ropes are untethered, and you begin to very slowly lift into the air. Your 360-degree views begin to widen as you gradually rise and you take a deep inhale as all of the noise and business of life on the ground fades away, leaving you able to soak in the beauty around you. You'll gradually lower back down until you're anchored back to the earth, and jump out of the basket feeling a sense of renewal.
GIVE IT A TRY: Balloon Atlanta
More information at BalloonAtlanta.com (see below)
Bungee Jumping
Adventure Rating: Ultimate Thrill
The idea of putting yourself into a situation in which you feel uncomfortable (but still safe) is a strange but exciting thing. Bungee jumping is truly an adrenaline rush like no other. You go through a training course on proper ways to jump and listen to the instructor tell you best practices, but honestly, nothing prepares you for the actual moment. You build up courage to walk out and stand on that platform, and your knees suddenly feel weak as you look down 160 feet. Giving into your fear may seem like the best thing to do, but before you know it you are off that bridge and free falling toward the river below, bouncing upward just as you are about to hit the water.
GIVE IT A TRY: Track Recreation Center in Pigeon Forge
More information at FunattheTrack.com
Skydiving
Adventure Rating: Ultimate Thrill
You excitedly (or anxiously) wait, seated in a small aircraft, as the pilot takes you higher and higher above the clouds. Once you've reached an elevation of 14,000 feet, the aircraft door opens and you slide toward the door and position yourself seated, facing outward, with your legs hanging over the edge. You begin to rock back and forth — 1, 2, 3 — then you tuck your head and arms in close to your core and roll forward into the open air. As soon as you flip and are facing the ground, you extend your arms and legs out and float in what mimics a strong wind tunnel, not even feeling the descent. Once you've free fallen for about a minute, you pull the 'chute, which forces your legs to drop so you can then glide, enjoy the incredible views, and steer the 'chute toward the ground to prepare for a smooth-as-possible landing. Your feet hit the ground and then you're guaranteed to be ready to do it all over again!
GIVE IT A TRY: Skydive Spaceland Atlanta
More information at Atlanta.SkydiveSpaceland.com (see below)
---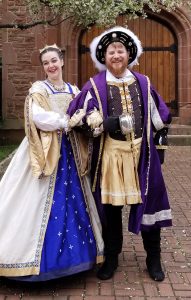 2020 Georgia Renaissance Festival
Feast, Shop and Play Like Royalty
Each weekend this fall from October 10 through November 22, you can step inside the gates of Newcastle and find yourself transported back to 16th-century England! The 2020 Georgia Renaissance Festival's 32-acre village is filled with over 150 artisan craft shoppes, 10 stages of endless entertainment, wonderful pubs and taverns, plus food galore! You'll laugh at the antics of the costumed characters, try your skill at carnival-style games, and enjoy human-powered rides for kids of all ages. Did we mention food? Giant roasted turkey legs, fish and chips, hearty ales, mead, and more – a feast fit for Royalty! It's a full day of fun, food, and entertainment for the whole family. The 2020 Georgia RenFest – Get into it!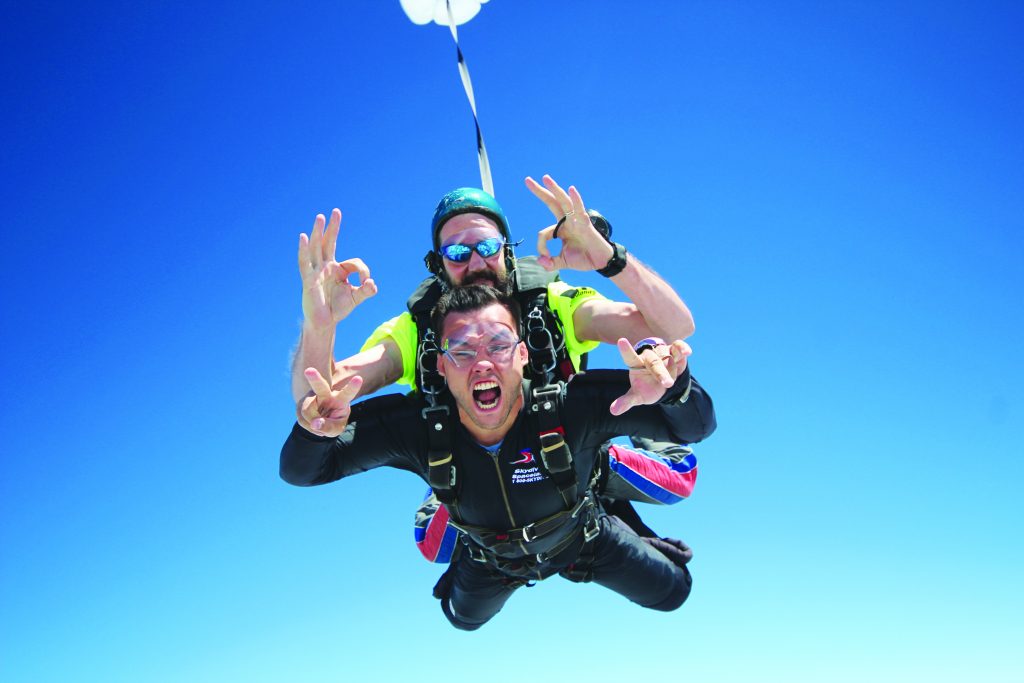 Skydive Spaceland
The Skydiving Thrill of a Lifetime
Family-owned and operated Skydive Spaceland Atlanta is a completely remodeled, high-capacity skydiving center just 55 miles northwest of Atlanta. Noted as one of the world's most progressive skydiving training centers, Skydive Spaceland Atlanta offers the thrill of a lifetime with gorgeous views of the North Georgia hill country! Jump out of a perfectly good airplane from up to 14,000 feet and then freefall at 120 mph! Skydive Spaceland offers group rates as well as a special rate for military (active and retired), first responders (police/fire/EMS), and healthcare workers: $169 (reg. $219). Gift certificates are available.
770-748-2200
1195 GRADY ROAD, ROCKMART, GA, 30153
SkydiveSpaceland.com
---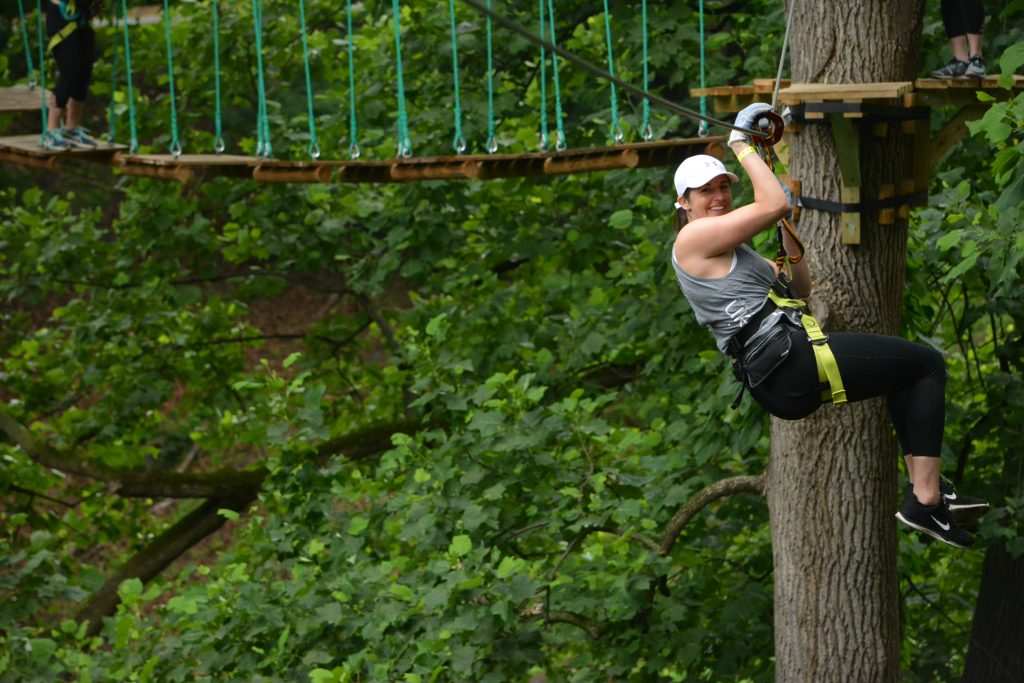 Treetop Quest
Climbing Fun for the Entire Family
Treetop Quest's two metro- Atlanta adventure parks offer a welcome escape from the hustle and bustle of everyday life. Tucked into the forests of Buford (at the Environmental and Heritage Center) and Dunwoody (inside Brook Run Park), both locations are conveniently located for an adventure close to home.
The parks feature a multitude of treetop elements including zip-lines, sky bridges, Tarzan swings, cargo nets and other obstacles. Treetop Quest boasts a "challenge by choice" motto so participants can climb at their comfort level. Courses start low and easier for kids as young as 4 and advance gradually, reaching heights of 60 feet with challenging obstacles for adults. During the entire course participants wear a harness and use a belay system that stays connected to the lifeline.
At Treetop Quest Gwinnett there is an additional harness- free activity, Spider Quest, with 25 obstacles, tree houses and a giant slide suspended above a giant safety net. The Gwinnett park in Buford also features a free-fall from the end of a course and Level 5 for the boldest climbers. The most loved zip-lines are 200 feet long and are sure to summon the excited adventurer out of the whole family, sullen teenagers included!
Leave your screens for a few hours and enjoy some time with friends and family immersed in nature. Treetop Quest is open weekends from March through November and daily during the summer.
TREETOP QUEST GWINNETT
404-277-6113
2020 CLEAN WATER DRIVE, BUFORD, GA 30519
gwinnett@treetopquest.com
TREETOP QUEST DUNWOODY
2341 PEELER ROAD, DUNWOODY, GA 30338
770-365-0356
dunwoody@treetopquest.com
---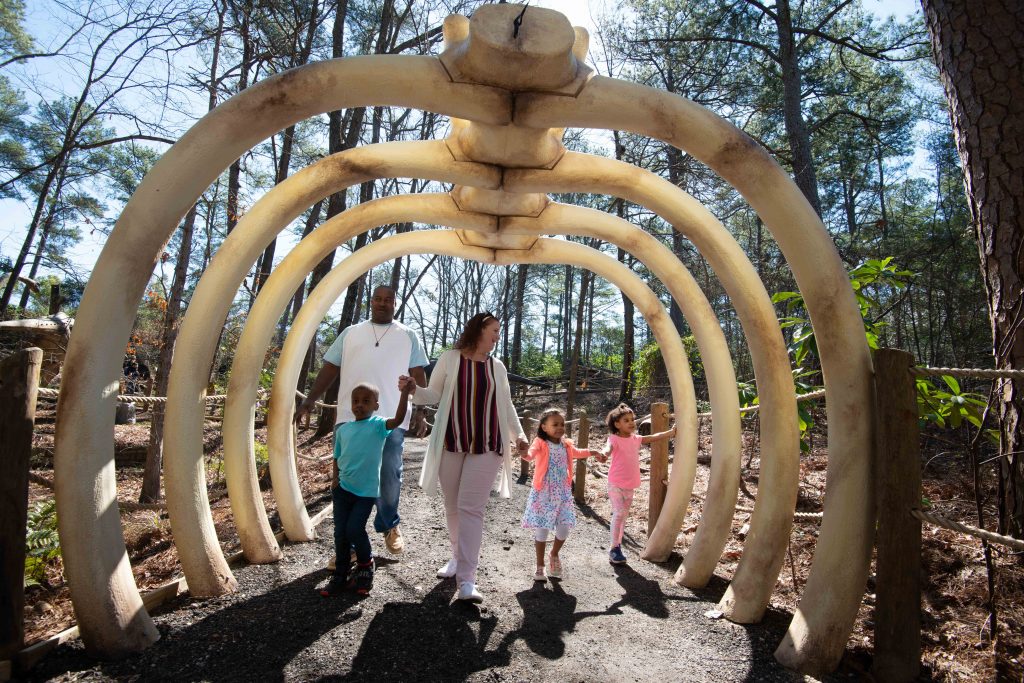 Stone Mountain Park
One of the Top Historical Attractions in the Country is also Georgia's Most Popular Attraction
Home to the world's largest freestanding piece of exposed granite, Stone Mountain Park also features a historical Memorial Carving, the world's largest relief sculpture. The 3,200-acre park includes more than a dozen attractions, historical and natural sights, two Marriott hotels, Georgia's largest campground, two championship golf courses, and expansive natural woodlands with hiking trails. Minutes from downtown Atlanta, Stone Mountain Park is directly off U.S Highway 78 and is easily accessible from Atlanta.
After a 65- to 230-million-year hiatus, a few Jurassic giants are returning to Georgia's most visited attraction this spring. Families can choose their own adventure at the all-new Dinosaur Explore, a prehistoric creature experience at Stone Mountain Park.
Guests will step back in time and embark on an exciting adventure at Dinosaur Explore which features more than 20 life-size dinosaurs moving and roaring like their ancient ancestors. Located on wooded trails, this captivating creature collection includes many prehistoric favorites: a giant Tyrannosaurus Rex, a gentle, plant-eating Brachiosaurus towering overhead nearly two stories tall, a Stegosaurus known for its powerful spiked tail, a three-horned Triceratops, a winged Pteranodon and more!
The all-new Dinosaur Explore is included with an All- Attractions Pass, Mountain Membership or Pre-K Pass. All-Attractions Passes also include access to the park's family fun attractions such as Summit Skyride, Geyser Towers®, SkyHike®, Scenic Railroad, Historic Square and Farmyard, Discovering Stone Mountain Museum and more. For more information and to purchase tickets, visit StoneMountainPark.com.
770-498-5690
1000 ROBERT E. LEE BLVD, STONE MOUNTAIN, GA 30083
StoneMountainPark.com
---
Balloon Atlanta 
Soar to New Heights of Adventure in a Hot Air Balloon
From skimming across a lake to floating thousands of feet in the air, Balloon Atlanta offers balloon flight adventures that you'll love! Covering the North Georgia area from Douglasville to Gainesville, including Alpharetta, Marietta, Canton, Roswell, and Cartersville, Balloon Atlanta pilots are professional, safe, and fly for the love of flying balloons. It's their passion!
770-928-4426
BalloonAtlanta.com
---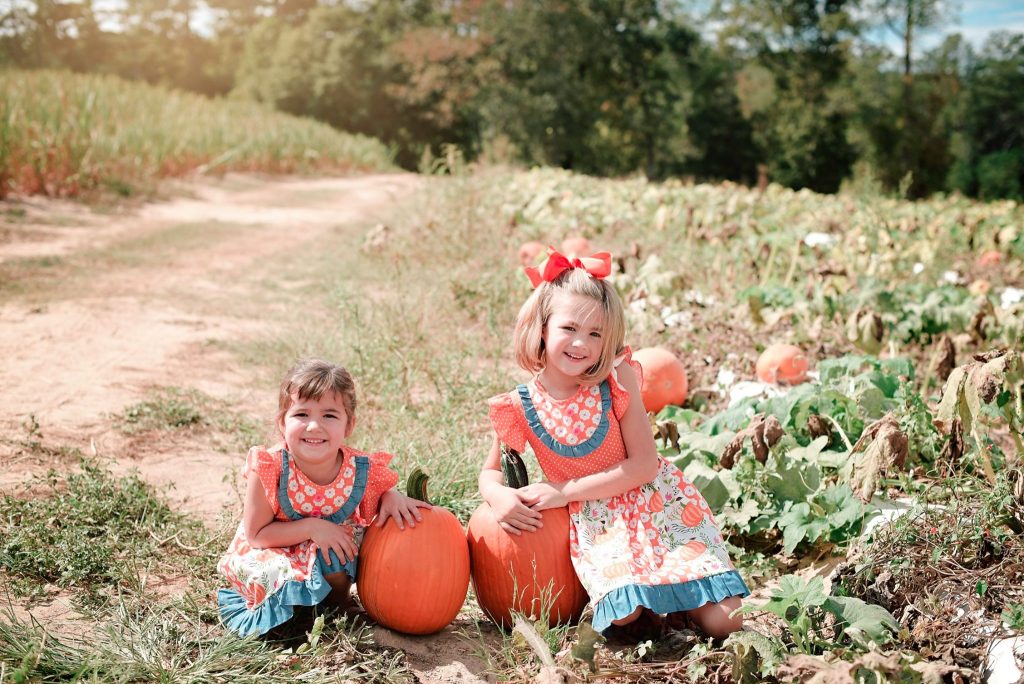 Mitcham Farm
Real Farm, Real Food, and Real Fun for All Ages!
In the fall, family activities include exploring a giant corn maze, visiting the pumpkin patch, enjoying the hayrides, petting zoo, play area, bonfire pits, mountain slide, giant bounce pillow, delicious food, and more. In the spring and summer, you can pick your own strawberries, blueberries, blackberries, or peaches. The farm market has fresh produce, homemade ice cream, fresh donuts, boiled peanuts, kettle corn, and more! Groups are welcome. Check their website for upcoming festivals and event info.
770-855-1530
797 MACEDONIA CHURCH ROAD OXFORD, GEORGIA 30054
MitchamFarm.com
---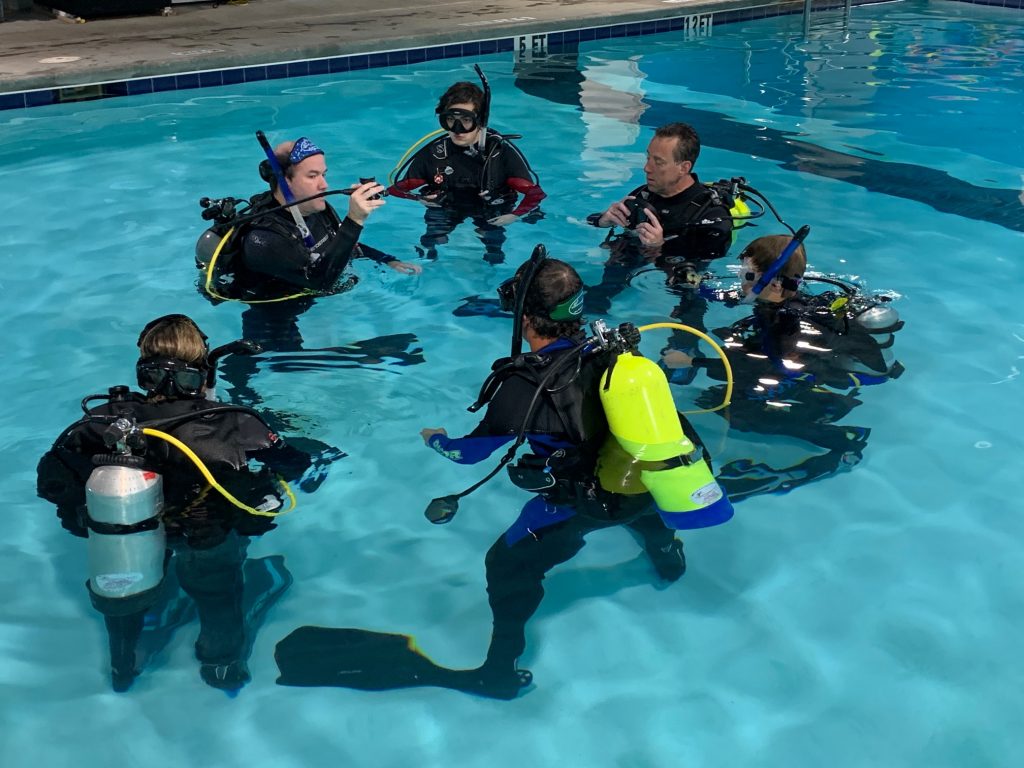 20,000 Leagues Scuba and Aquatics
A Full-Service Scuba Diving Experience for the Whole Family
20,000 Leagues Scuba and Aquatics are your certified pros in the scuba diving community. They offer a full-service scuba diving experience with a unique combination of technical expertise, business expertise, fun and water! Their motto, "Dive Buddies for Life," comes from their passion to share what they love with all of their new dive buddies.
20,000 Leagues faithfully serves the greater Atlanta area for all of its diving and snorkeling needs. Their instructors have been teaching for a combination of more than 100 years and are willing to dive anywhere that has water — from the dark waters of Cooper River to the pristine water of the Red Sea.
Look for their brand-new location in Alpharetta, opening in mid to late 2021 on Flynn Crossing Drive next to the Flynn Crossing Shopping Center with the expanded 20,000 Leagues Scuba and Aquatics retail store and the brand-new Splash Aquatic Center!
770-752-0002
5184 MCGINNIS FERRY ROAD ALPHARETTA, GEORGIA 30005
info@20000leaguesscuba.com