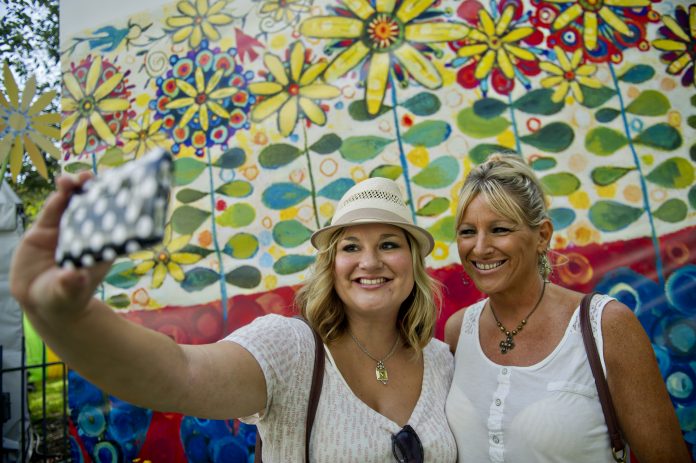 We survived the hottest Georgia summer in recent memory and now it's time to celebrate the beginning of the best part of the year! Gather your sweaters, boots, hats, and pumpkin spice lattes because the fall season is right around the corner — and it can't come soon enough!
By Alicia Carter
To celebrate, we've pulled together a list of local fall fun, including pumpkin patches, festivals, corn mazes, haunted houses, and more that are sure to have you reveling in not only the dip in temperatures, but also the kickoff to the highly anticipated fall festival season. Hooray!
Corn Mazes
BUFORD CORN MAZE
The Buford Corn Maze provides a labyrinth of fun for families looking to ring in the season with good oldfashioned fall-time festivities. The 5-acre maze has been named one of the best corn mazes in the country by Country Living magazine for three years in a row and boasts hayrides, a pumpkin patch, haunted forest, pony rides, concessions, and an animal viewing area! Mark your calendar for Labor Day weekend, when the husk-filled maze opens for the 2022 season. Sept. 3-Nov. 13, hours vary depending on day, 4470 Bennett Road, Buford, bufordcornmaze.com
JAEMOR'S HARVEST CELEBRATION
Starting mid-September through the first weekend in November, Jaemor offers a fall farm experience that includes hayrides, farm slides, a petting zoo, a pumpkin train, apple cannons and concessions — as well as a mini-maze for those who want a quicker visit. It's a fall-time extravaganza, all centered around Jaemor's annual corn maze. Sept. 10-Nov. 6, hours vary by month, 5340 Cornelia Hwy. (Highway 365), Alto, 770-869-3999, jaemorfarms.com
UNCLE SHUCKS
Located in Dawsonville, Uncle Shucks is best known for its elaborate 15-acre corn maze. Spend the day exploring the farm grounds and then enjoy fun activities like pumpkin picking, a jumping pad, tire mountain, kids maze, wagon ride and more. For the more adventurous, be sure to check out The Dark Rows, Uncle Shucks' new and improved haunted nighttime adventure through the corn patch that's illuminated only by the glow of the moon. Sept. 10-Nov. 13, hours vary by month, 125 Bannister Road, Dawsonville, uncleshucks.com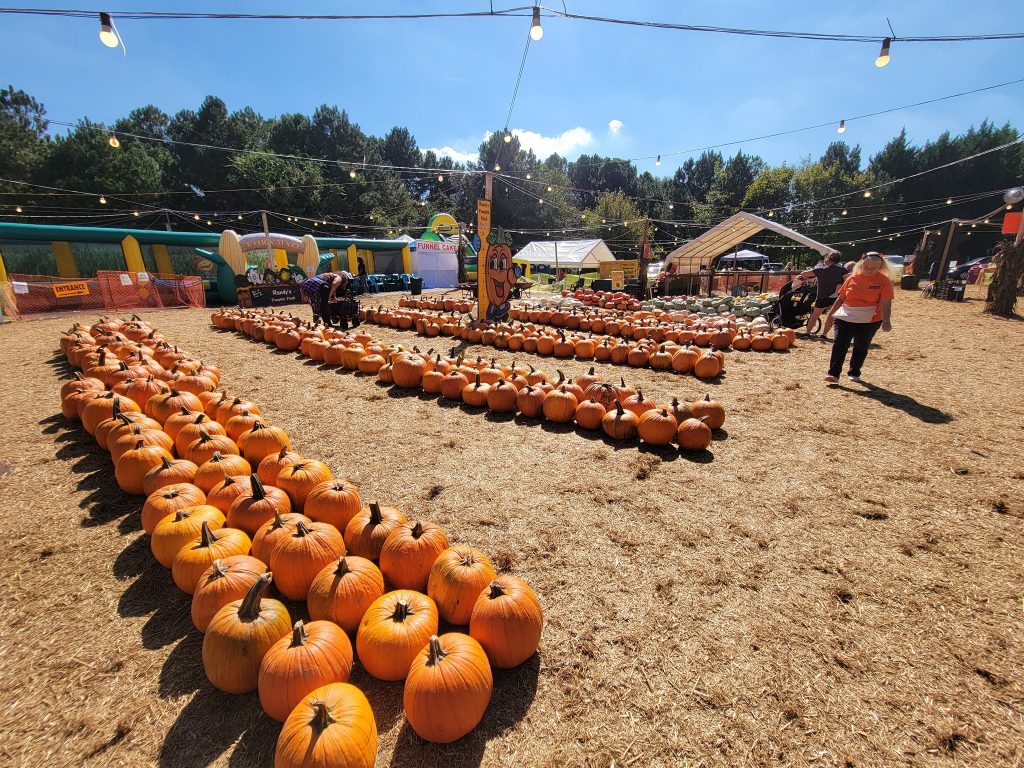 Pumpkin Patches
RANDY'S PUMPKIN PATCH
Located in Lawrenceville, Randy's Pumpkin Patch is a local favorite with tons of pumpkins along with fun activities for the kiddos, including a petting zoo, bounce houses, a train ride and more! Come back for the winter holidays when the area transforms into a Christmas tree farm. September-October. 1460 Lawrenceville Hwy., Lawrenceville, randyspumpkinpatch.com
BURT'S FARM
The North Georgia mountains provide a picturesque backdrop for Burt's Farm, a family-run farm that dates back to the 1800s. In 1972, the Burt family started growing pumpkins, which they sold from a stand in their own front yard for 20 years before expanding in 1991 into the beloved destination it's known as today. Although pumpkins (which range from tiny 1-pounders to massive gourds weighing in at more than 150 pounds!) are the star of the show, Burt's also provides hayrides for the kiddos and stocks an on-site country store with fresh-baked goodies and everything you need to decorate your home for the fall season. The patch opens for the fall season in September. Visit their website for more details. 5 Burt's Pumpkin Farm Road, Dawsonville, shopburtsfarm.com
WARBINGTON FARMS
Warbington Farms is a third-generation family farm that has opened its doors to the community. Visit the farm to explore the corn maze during the day or, for the more adventurous, challenge yourself to conquer the maze at night! Once you find your way out, visit Warbington's pumpkin patch to pick out the perfect pumpkin or spend time at the Fun Park featuring a "hey" ride, petting zoo, giant inflatables, and more! The 2022 season kicks off in September. Friday and Saturday, 10 a.m.-10 p.m., Sunday, 10 a.m.-5 p.m., 5555 Crow Road, Cumming, warbingtonfarms.com
Carnivals
CUMMING COUNTY FAIR AND FESTIVAL
The Cumming County Fair and Festival is always at the top of many locals' lists for fall-time fun and features daily attractions, concerts, carnival rides, and lots of fun carnival food. Check the website for a complete list of events, free admission days, and discount nights. Oct. 6-16, hours vary, 235 Castleberry Road, Cumming, cummingfair.squarespace.com
GWINNETT COUNTY FAIR
The Gwinnett County Fair is packed with fun events, including pageants for all ages, concerts, and of course, awesome carnival rides and food. The fair opens its gates to the public Sept. 15-25. Hours vary for the exhibit Hall and carnival. 2405 Sugarloaf Parkway, Lawrenceville, gwinnettcountyfair.com
GEORGIA STATE FAIR
Located at Atlanta Motor Speedway, the Georgia State Fair is worth the drive and features carnival rides, awesome foods, pony rides, a petting zoo, magic show and more! The State Fair is fun for the whole family! Sept. 30-Oct. 9, hours vary, 1500 Tara Place, Hampton, georgiastatefair.org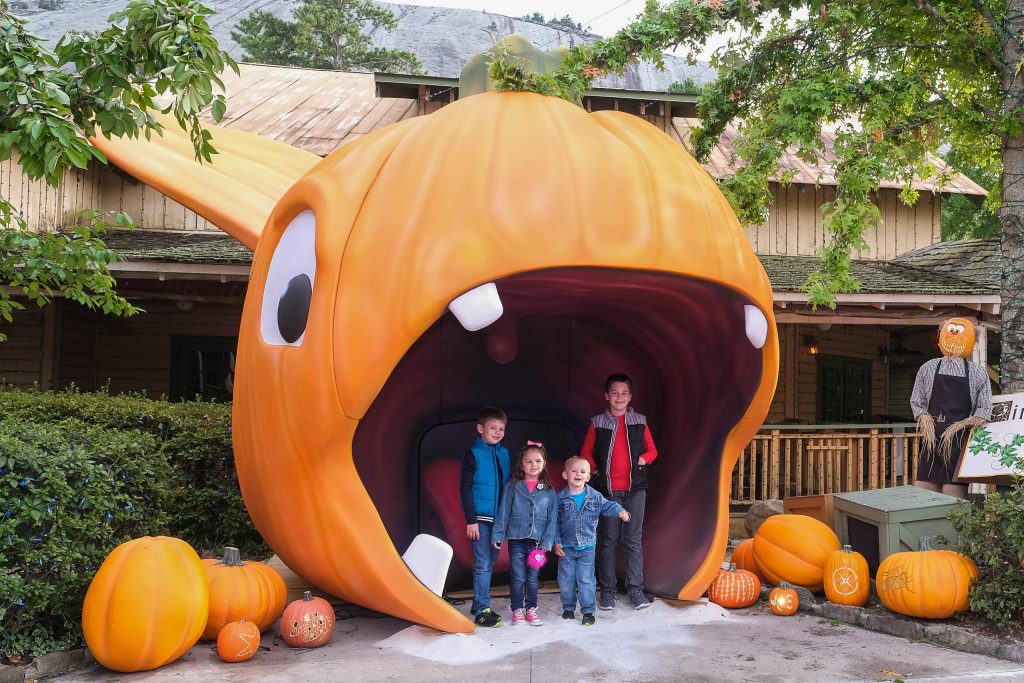 Family Fun
Staff Pick: DULUTH FALL FESTIVAL
September 24-25
Saturday: 9 a.m.-7 p.m.; Sunday: 8 a.m.-5 p.m.
Voted Best of Gwinnett and Reader's Choice many times and Best Large Festival in the Southeast, the Duluth Fall Festival is the largest festival in the Southeast with no paid staff and more than 400 volunteers. The festivities kick off on Saturday, September 24, in downtown Duluth with a huge parade at 10 a.m., followed by more than 300 booths of arts and crafts, food, and sponsors. Sunday begins with a Peachtree Road Race-qualifying race at 8 a.m., followed by Worship on the Green by Duluth First United Methodist Church. There will also be entertainment, booth shopping and food. Pro tip: Plan to ride one of the 12 FREE large shuttle buses from three area schools so you won't have to worry about parking. For more information visit DuluthFallFestival.org.
Staff Pick: SUWANEE FEST
This annual two-day celebration of community returns to Town Center Park September 17-18 for an event that is truly out of this world! Nearly 200 vendors and exhibitors, numerous entertainment acts, and an amazing parade are just some of the highlights of this beloved fall tradition. Bring the kiddos — they will love it! Saturday 9 a.m.-7 p.m., Sunday Noon -5 p.m., Town Center Park, suwaneefest.com.
Staff Pick: SUWANEE CHILI COOK-OFF & MUSIC FESTIVAL
Saturday, November 12, noon-5 p.m.
Suwanee welcomes its first annual Suwanee Chili Cook Off & Music Festival. This event is a fundraiser for Project Green, a local children's nonprofit that helps sponsor children to summer camps, school excursions, and other educational programs. The Suwanee Chili Cook-Off & Music Festival is a fun, family-friendly community festival featuring a chili cook-off with one overall prize winner, a runner-up and people's choice award for chili. The cook-off is an official ICS certified cook-off, which means the top winner will receive a certified cook-off certificate from ICS, plus qualification and paid entry into the World Open Chili Challenge (amateur division) at the WCCC. In addition, the festival will host local and regional vendors, artists, a Family Fun Zone with activities for children of all ages, food trucks, and live music from local Atlanta area bands. The Suwanee Chili Cook-Off & Music Festival is free to attend and enjoy for all. Chili tasting armbands will be available for sale for $10 per person the day of the event. To become a sponsor or vendor email kim@aliveexpo.com or call 770-806-7492. To participate as a chili cook (amateurs to professional welcome) contact info@chilimusicfestival.com. The vendor lineup and a schedule of performers will be available online at ChiliMusicFestival.com.
Staff Pick: SUWANEE TASTE OF BBQ & MUSIC FESTIVAL
Saturday, October 8, 10 a.m.-6 p.m.
The Suwanee Taste of BBQ & Music Festival returns to Town Center Park for its fifth year on Saturday, October 8. The festival is a community event featuring local vendors, an artist market, live music from local, regional, and international up-and-coming artists, a Kids (and Family) Fun Zone with activities for children of all ages, and of course, the Taste of BBQ! In the Taste of BBQ area, attendees will be able to taste some delicious barbecue from festival vendors as well as purchase full plates. Taste tickets are $1 each and will be sold by Project Green to raise money for the Kids Summer Camp program. The Suwanee Taste of BBQ & Music Festival is free to attend and is a fundraiser for Project Green, with BBQ samples ranging from 1 to 4 tickets each. For more information or to become a sponsor or vendor, email kim@aliveexpo.com or call 770-806-7492. The vendor lineup and a schedule of performers can be found online at AliveExpo.com/Festival.
DULUTH HOWL ON THE GREEN
This event is meant for the whole family — even your dogs! — and will be filled with lots of entertainment, food, and sweet treats! As it gets dark, watch for fire dancers, mystical creatures, and aerialists who hang from the Festival Center Stage while dancing characters light up the night! Oct. 29, 5-9 p.m., duluthga.net
YELLOW DAISY FESTIVAL
Stone Mountain's Yellow Daisy Festival features more than 300 artists and crafters along with fabulous festival food and artist demonstrations. Visit the all-new Yellow Daisy Vintage Village, located at the lower meadow of the Yellow Daisy Festival, featuring curated antiques, collectibles, home goods, and decor. Sept. 8-11, 1000 Robert E Lee Blvd, Stone Mountain, stonemountainpark.com
LAWRENCEVILLE'S BOO FEST
Calling all ghouls and goblins! The City of Lawrenceville will host an evening of thrills and adventure at the Lawrenceville Lawn with fun for the whole family. Collect goodies along the Treat Trail as you visit booths decorated by local businesses, organizations, and community members. Enjoy trickor- treating fun without crossing streets or walking near traffic! This event is free to attend. Friday, Oct. 28, 8-10 p.m.,..Lawrenceville Lawn, 210 Luckie St., Lawrenceville, downtownlawrencevillega.com
STONE MOUNTAIN PARK PUMPKIN FESTIVAL
Stone Mountain's Pumpkin Festival is a family-favorite event that features some of your favorite classic storybook characters! After the sun goes down, enjoy the new nighttime parade and plenty of other new not-so-spooky glowing experiences. There's even a pie eating contest. Select dates from Sept. 17-Oct. 30, 1000 Robert E Lee Blvd., Stone Mountain, stonemountainpark.com
Staff Pick: SUGAR RUSH ARTS FESTIVAL
The eighth annual Sugar Rush Arts Festival returns to downtown Sugar Hill on October 15 and 16, and features visual and performing arts, food, music, history, and family fun. David Nail performs a free, general admission concert at The Bowl on Saturday at 3 p.m. The two-day event will be fun for the whole family! Saturday, 10 a.m.-6 p.m.; Sunday, noon-6 p.m. For more information visit cityofsugarhill.com/sugar-rush-arts-festival.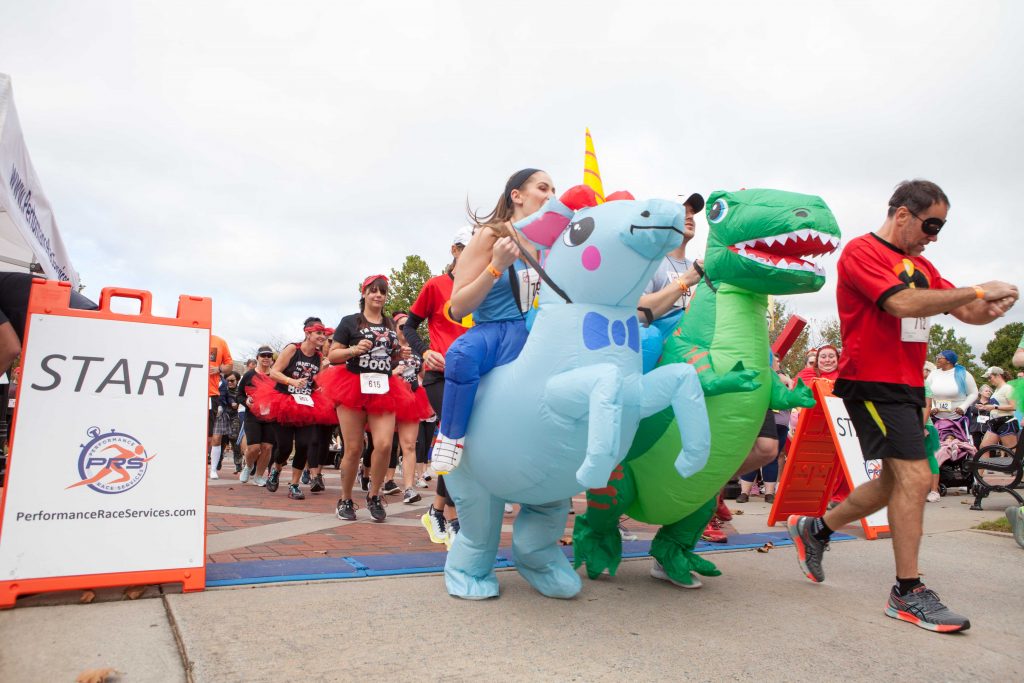 Adult Fun
Staff Pick: SPOOKY SPIRITS 5K
October 15, 11 a.m.
The second annual Spooky Spirits 5K returns to Suwanee's Town Center Park on Saturday, October 15. Presented by the team behind the award-winning Suwanee Wine Fest, this Halloween-themed race offers a cocktails and costumes twist on the traditional 5K and is sure to get you in the spirit of the season — literally. This timed, Peachtree Road Race-qualifying event is fit for anyone, whether you are a competitive runner trying to beat your personal record, or you're simply looking to sip and stroll with your closest cocktail-loving friends. Just choose the ticket that channels your Halloween spirit — either nonstop or with "spirit" stops — and we'll all cheers together at the finish line! Every runner will also get to take home an official Spooky Spirits 5K long-sleeve T-shirt, medal, and souvenir glass to brag about your well-deserved accomplishment. It's going to be a frightening good time! October 15, 11 a.m. Town Center Park, spookyspirits5K.com
Staff Pick: THE VILLAGE HAUNTED EXPERIENCE
September 30-October 31
Friday & Saturday: 6:30-11 p.m.
The Georgia Renaissance Festival's outdoor haunt experience returns this September and October. The two-part event incorporates a carnival-style midway with games, food, beverages and music in an area called The Courtyard, along with a ticketed walkthrough outdoor haunt called 'The Village', sure to give you a good scare! Sept. 30- Oct. 31, Fridays and Saturdays, 6:30-11 p.m., 6905 Virlyn B. Smith Road, 13storieshauntedhouse.com/village
OKTOBERFEST IN HELEN
Helen's 51st annual Oktoberfest brings people together from all over the country and is listed as one of the top Oktoberfest events in the country because of its authentic atmosphere. This festival is all about German traditions with Germanstyle bands from around the country along with authentic food, drinks and dancing, and is fun for the whole family. This Oktoberfest is the longest running in the United States and festivities will run Thursday- Sunday throughout September and daily from Sept. 29 to Oct. 30, hours and prices vary each day. helenchamber.com/oktoberfest.html
NETHERWORLD
Consistently voted one of the top haunts in the nation, NETHERWORLD is an annual Halloween rite of passage for those brave enough to enter. The haunt recently announced its new themes for 2022: The Undying Horror and Parasitic. In the Undying Horror, an ancient monstrosity that has been concealed in the chaos of a deadly storm launches massive tentacles to the surface corrupting everything they touch! A worn group of survivors fight their way past the legions of Wraiths and Netherspawn to defeat this nightmarish creature. In Parasitic, a bizarre parasitic plant-based lifeform infects people with mind-controlling spores and unleashes an army of carnivorous plant and fungusbased creatures. Don't let it get you next! Sept. 23-24 and 30, Oct. 1-31, Nov. 4-6 and 11-12. Sunday- Thursday, 7:30-10:30 p.m.; Friday-Saturday, 7 p.m.-midnight. 2076 West Park Place Blvd., Stone Mountain, fearworld.com