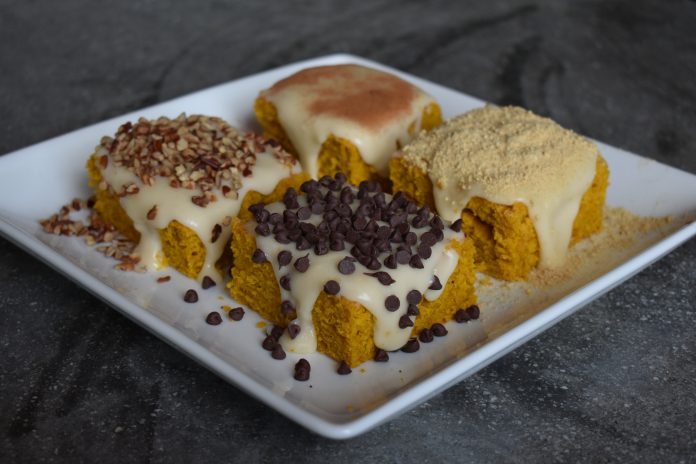 By Natalie Garrett
Pumpkin spice latte or hot apple cider? Apple picking or pumpkin carving? Pumpkin pie or apple pie? Last fall, my husband and I took a day trip to Mercier Orchards in Blue Ridge (which I highly recommend, BTW!). We explored the gorgeous grounds, sampled delicious wines from their tasting room patio, and uncontrollably filled up a buggy's worth of apple-themed goodies from their general store and bakery. I posted a few photos on Instagram with the bold caption: "Apple over pumpkin as the superior fall flavor." As comments began rolling in and conversation buzzing, it was in that moment that I discovered there truly is a divide between apple lovers and pumpkin aficionados. As you can probably assume by now, I don't find myself falling far from the apple tree… but, I won't let that sway today's topic as I share a few ideas for the season that are sure to appease both sides of the debate.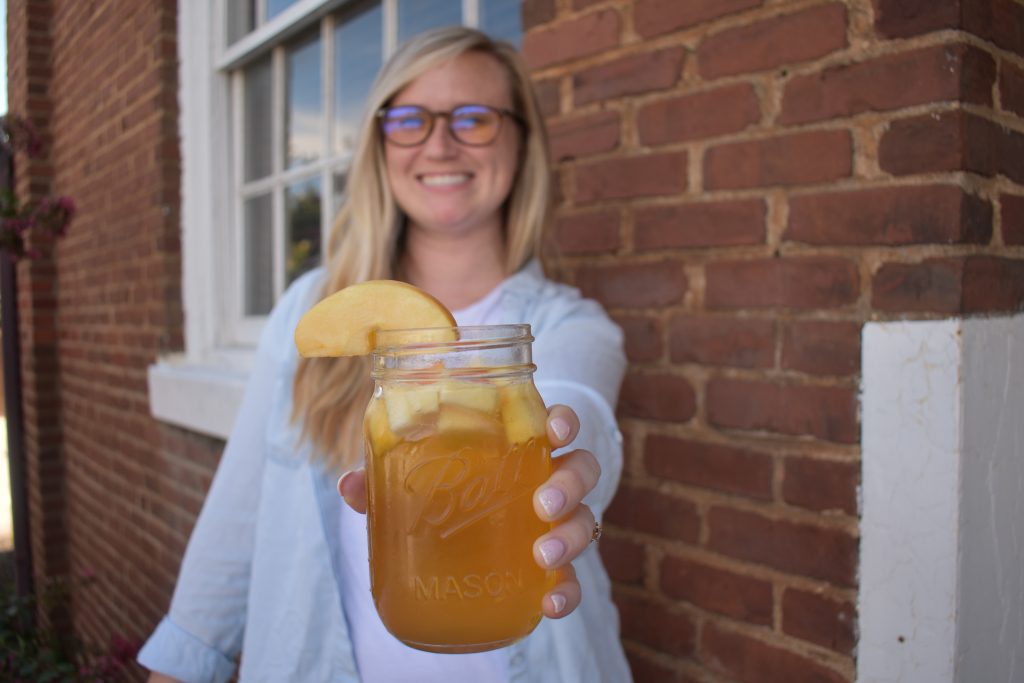 Apple Pie Punch
I love this drink recipe because, (1) it offers a refreshing version of apple pie filling (yum!), (2) it can be easily adapted for both an alcoholic and non-alcoholic batch, and (3) it's completely hassle-free, especially when planning for a crowd! Plus, it includes diced apples – so it's basically healthy, right? I recommend serving them up in mason jars and garnishing with an apple slice on the rim of the glass for an extra touch of all the festive fall feels! Your guests, grown ones or little ones, won't be disappointed.
Ingredients
– 4 cups apple cider
– 1 cup pear or mango nectar
– 3 cups ginger ale
– 1 apple, diced (I'm partial to honeycrisp!)
DIRECTIONS: Mix together the apple cider, pear or mango nectar, and ginger ale in a punch bowl or pitcher. Toss in the diced apples and enjoy! It's as simple as that. To turn this into an adult beverage, replace the ginger ale with 1 bottle of extra dry champagne.
Adapted from the original recipe found on SugarApron.com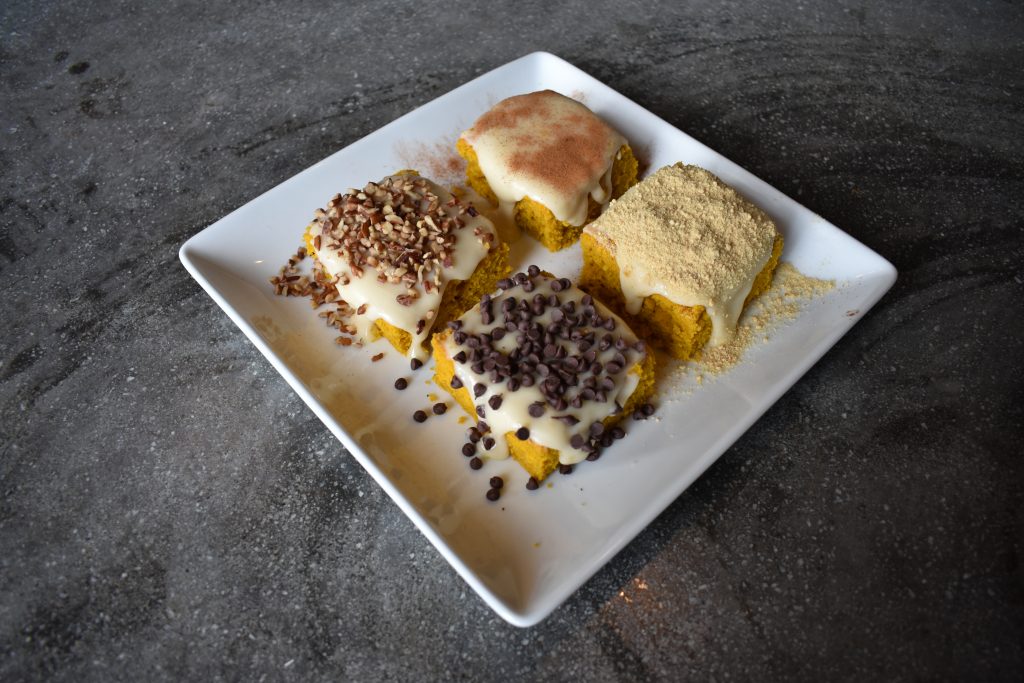 Pumpkin Bars
These pumpkin bars are slightly dense compared to your standard cake, making them ideal for cutting into bar-size treats. Plus, the more concentrated consistency helps to pack in the flavors that highlight the taste and elevate the aroma of pumpkin. Smother with a smooth, cream cheese icing and adorn with your choice of topping(s) for the ultimate pumpkin delight!
Dry Ingredients
– 2 cups all-purpose flour
– 1 cup granulated sugar
– 1 tsp. baking powder
– 1 tsp. cinnamon
– ½ tsp. salt
– ½ tsp. baking soda
– ¼ tsp. ground ginger
– ⅛ tsp. ground cloves
Wet Ingredients
– 15 oz. can 100% pure pumpkin
– 2 eggs
– ½ cup vegetable oil
– 1 tsp. vanilla Cream Cheese Icing
– 1 cup powdered sugar
– 4 oz. cream cheese
– 3 tbsp. butter
– 1 tsp. vanilla
Optional Toppings
– miniature chocolate chips
– crushed pecans
– crumbled graham crackers
– cinnamon
DIRECTIONS: Preheat oven to 350 degrees. In a medium-sized mixing bowl, whisk together all dry ingredients. Using a stand or hand mixer on medium speed, combine all wet ingredients until light and fluffy. Reducing the mixer to low speed, slowly add the dry ingredients into the wet ingredients until thoroughly combined. Transfer pumpkin batter to a 9"x13" baking dish generously sprayed with non-stick cooking spray. Bake until a toothpick comes out clean, about 30 minutes. Meanwhile, prepare icing by softening the cream cheese and butter in microwave for about 30 seconds. Stir to combine. Add powdered sugar and stir until smooth. Lastly, add vanilla and stir once more. Allow the cake to cool completely. Pour icing over the top and cover with your favorite topping(s).
Adapted from the original recipe found on FrugalMomEh.com
So, whether you find yourself to be a pumpkin-holic or a member of AA (Apples Anonymous), we want to know which side you're on! Make sure to tag us on Facebook or Instagram — @SuwaneeMagazine — as you partake in any pumpkin or apple decadents this season. Happy fall, y'all!