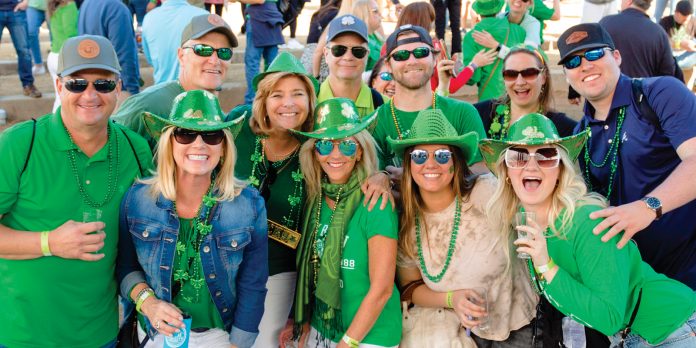 By Lizzy James
The Suwanee American Craft Beer Fest has been the ultimate craft beer tasting experience for over 10 years and now they have the award to prove it. We all knew the festival was all that and a pretzel necklace long before officially being crowned the Country's Best Beer Festival by USA Today in 2022. Simply put, it's craft beer heaven where aficionados and casual drinkers can come together to bond over samples of more than 400 craft beers from breweries from around the country. Pair that with St. Patrick's Day shenanigans and it's your golden ticket to beer paradise.
Suwanee Beer Fest returns to Suwanee Town Center on March 18 and the team is pulling out all the stops to make it the best year yet! Doubling as metro Atlanta's largest St. Paddy's party, the festival features an unheard of selection of over 400 craft beers from more than 100 breweries. Stouts? Check. Porters? Yep. Sours? You betcha. Blondes? Gotta love them! In addition to the smorgasbord of samples, festival-goers will enjoy live music, amazing local food and shopping vendors, backyard games, and so much more! Each year festival organizers work to one-up the previous year's event, and as they celebrate being crowned the best beer festival in the country, they're certain to have a few new surprises up their sleeve. (Did we mention leprechauns on stilts?!) Keep reading for your exclusive guide to why you don't want to miss out on this year's fest!
First Timers
400+ beers to sample. Yes, you read that right! This year event planners have added even MORE beer to their impressive roster. Check out a few of the new breweries that will be at this year's fest:
BEARDED IRIS BREWING
Nashville, Tennessee
Bearded Iris proudly hails from Nashville, Tennessee, where Paul Vaughn and Kavon Togrye, two Nashville natives and longtime friends, opened its doors in 2016 with the help of co-founders Matt Miller, Anna Togrye and Chanda Grubbs. Since opening, Bearded Iris has been one of the fastest growing breweries in the state and is now the second largest craft brewery in Tennessee. Due in no small part to the brewery's renowned flagship Homestyle IPA, which represents the No. 1 bestselling craft four-pack in Tennessee according to recent Nielsen/IRI data. Since its founding, Bearded Iris has been named one of the top five best new breweries in America by USA Today, and garnered accolades from Men's Journal, Sports Illustrated, Garden & Gun, Craft Beer & Brewing, Thrillist, Punch, Paste Magazine, and BeerAdvocate, among others.
BIGGERSTAFF BREWING
Atlanta, Georgia
Biggerstaff Brewing Company is located in Atlanta's historic Old Fourth Ward, right on Edgewood Avenue. Head Brewer Ian Brown specializes in New England-style IPAs, sours, and stouts, but is also adept at brewing traditional and sometimes obscure styles. Before joining Biggerstaff, Ian brewed for Southern Brewing Company in Athens, Georgia, and Charles Towne Fermentory in Charleston, South Carolina. They're sure to have an impressive lineup at this year's fest!
COCHRAN MILL BREWING
Fairburn, Georgia
Cochran Mill Brewing, located in Fairburn, is a small community brewery with the purpose of bringing people together to exchange ideas and build meaningful relationships over a tall, cold beer. With a rustic motif, and a location right on the edge of metro Atlanta, it is the perfect place to escape the grind of the city and feel what real Southern hospitality is all about. With family-friendly community events, bartenders who know your name after just a few visits, and well- balanced handcrafted beers, Cochran Mill Brewing is a place that will make you feel at home.
SOUTH MAIN BREWING
Watkinsville, Georgia
South Main was born in 2019 at a local Rotary Club meeting by founders Dutch Guest and Brock Toole and accelerated through COVID. They are the first brewery in their area to open in the old wire manufacturing plant that has recently been turned into the mixed- used development "Wire Park." Serving up to 20 beers on tap, it's a very active taproom and plans for expansion are underway! The brewery is adding a to-go bar in the new food court with the opening date estimated to be this spring. This won't be just their first appearance at Suwanee Beer Fest, it will be their first appearance at any beer festival. Let's give them an awesome welcome!
STATS BREWPUB
Atlanta, Georgia
STATS Brewpub was born to create a unique dining opportunity for guests in Downtown Atlanta. With three bars, a rooftop deck, full-service kitchen, and TVs throughout, this is the ideal spot to spend a day watching the sport of your choice. STATS brews several year-round beers ranging from crushable lagers to flavorful IPAs, as well as truly unique and flavorful seasonal offerings.
903 BREWERS
Sherman, Texas
Deeply rooted in originality, high quality, and community, 903 Brewers prides itself on solely offering its best to the best (you). Acting on their dream of sharing their love of creating a great beer with folks who mean the most, 903 Brewers is the product of the perfectionism and persistence of founders Jeremy (also head brew boss) and Natalie Roberts. Cultivating its craft since 2013, 903 beer is noticeably crafted with impeccable care. 903 Brewers first made a name for itself with the beloved The Chosen One Coconut Ale and Roo's Red Ale. Now, with an array of year-round, seasonal, and special release beers, craft beer enthusiasts are sure to find their flavor.
---
Best of the Fest
A few of the Great American Beer Fest award-winners that will be at this year's fest.
White
Allagash Brewing, Portland, ME
Gold 2020 and Silver 2021
This award-winning interpretation of a Belgian- style wheat beer is brewed with oats, malted wheat, and raw wheat for a hazy "white" appearance. Spiced with a special blend of coriander and Curaçao orange peel, Allagash White upholds the Belgian tradition of beers that are both complex and refreshing.
Tucker Lager
Tucker Brewing, Tucker, GA
Gold 2021
This Helles lager is a Bavarian specialty. Crisp, clean and crushable, Tucker Lager is the perfect balance of sweet and bitter. Refreshing light aromas of bread and honeysuckle packed in a frothy head.
Sunny Little Thing
Sierra Nevada Brewing, Mills River, N.C.
Bronze 2022
Bask in the Sunny Little Thing, a wheat ale made with citrus for a radiant flavor that's bold yet easygoing, and balanced by a soft and smooth finish.
Taco Tuesday
Monday Night Brewing, Atlanta, GA
Bronze 2022
A light, crisp crusher for any day of the week. This Mexican-style lager has a touch of sweetness with a smooth finish. It's the ultimate pairing for tacos, but it works with all other types of food, too. Like fajitas. Or burritos. Or enchiladas.
Orange Diva
StillFire Brewing, Suwanee, GA
Bronze 2020
Orange Diva is brewed with a base of white wheat, Pilsner malt and oats. Curacao orange peel and coriander are lightly added for complexity, and a Belgian yeast completes the profile for a fragrant, delicate, refreshing summer beer. The addition of Blood Orange in just the right amount amplifys and adds to the delicious orange character in a very pleasant way. No garnish required for this diva.
Tectonic
Hutton & Smith, Chattanooga, TN
Bronze 2022
Get ready for a blast of hop presence — citrus, pine, and tropical aromas highlight this beer. It has a juicy and crisp mouthfeel with medium plus bitterness and hop flavor similar to the aroma.
---
Festival Contests
2023 Homebrew Contest Sponsored by Brew Depot
The 2023 Suwanee Beer Fest Homebrew Competition will see more than 300 unique home- brewed beers entered this year, all within the category of Suwanee Beer Fest's America's Cup Homebrew Competition. This means that all beers entered will be American- style beers including IPAs, American stouts, American lagers, strong ales and more! Home-brewed beers in this competition are judged based on a strict set of criteria, including mouthfeel, aroma, appearance, flavor, and overall impression. The winners will compete for Best in Show on the day of the festival, and the winner will be crowned on stage!
2023 Georgia Brew Battle
After Georgia Beer Company's big win last year, Suwanee Beer Fest organizers are, once again, giving the power to the people with their annual Georgia Brew Battle. Attending Georgia breweries will offer up their most popular beers to compete for the title of Georgia's Best Beer. Each person attending the festival will be given a Brew Battle token at the entrance with the opportunity to cast their votes for their favorite Georgia beer.
Once you've made your way through the Georgia Beer Garden and sampled from more than 70 Georgia breweries, simply place your token in the bucket of the brewery that has your favorite brew. All tokens must be in by 4 p.m. sharp so the Beer Fest team can tally up the votes. The top five beers will then be judged by official BJCP judges and a winner will be selected. The winning beer will be announced before the end of the festival and will take home the highly coveted Golden Cup Trophy. May the best beer (and brewery!) win!
---
St. Paddy's Festivities
Suwanee Beer Fest doesn't hold the title of The Biggest St. Paddy's Party In Metro Atlanta for nothing! Festival attendees always show up dressed head-to-toe in St. Paddy's green with kilts, shamrocks, green beards, and whatever else puts them in the festive beer-drinking spirit. This year's festivities include:
Bagpipe Player
Everyone's favorite bagpipe player will return to welcome festival attendees into the park with the sweet sounds of bagpipes. Get into the festive spirit as you make your way to your beer destination!
Annual Costume Contest
For those of you coming decked out in your St. Paddy's gear, enter yourself and your friends into the 2023 Suwanee Beer Fest Costume Contest. In order to participate, sign up at the main stage by 2 p.m. the day of the event. The contests will begin at 2:30 p.m. and will be based on the following categories: Best Beard, Best Costume (male and female), Best Kilt, and Best-Dressed Couple. Winners will be announced for each category and will receive AWESOME prizes from our vendors and sponsors!
Photo Ops
If you didn't get a picture, did it even really happen? Fun photo ops will be all around the park. Keep your eyes out for giant inflatable leprechauns, leprechauns on stilts, see- through beer glasses, and some of the best St. Paddy's Day costumes you have ever seen! Take a moment to snap a picture and post it on social media. Don't forget to tag @suwaneebeerfest. The event staff will pick their favorite tagged photo on Monday, March 20, and the winner will receive two VIP tickets to the 2024 Suwanee Beer Fest.
*PRO FESTIVAL TIP: Make sure to add a pretzel necklace to your wardrobe the day of! These bad boys will help soak up the unlimited beer samples so you can keep partying all day long.
---

Live Music
Event coordinators are kicking off this year's festival with not one, but TWO bands to keep you entertained all day long! As the gates open, Two Metre Rovers will be jamming out on the main stage to welcome festival attendees to the event.
TWO METRE ROVERS
Two Metre Rovers is the Irish alter ego of one of Atlanta's favorite cover bands, the Six Foot Ramblers. The band is an outgrowth of the Ramblers' love of folk and rock music and their deep respect for the storytelling found in Irish ballads. The contributions of artists like the Clancy Brothers and Tommy Makem to the American folk revival in the 1960s acted as a musical land bridge for the Two Metre Rovers to begin their exploration of the rich heritage of Irish music. From heartfelt laments to tales of raucous fun, Two Metre Rovers take the audience on a journey of some of the best-known Irish songs both new and old. While the Rovers may be one of Atlanta's newest Irish folk/rock bands, the selection of infectious Irish music is sure to make everyone feel a bit Irish deep down inside.
RADIO 80s BAND
When it's time to put down your beer and put on your dancing shoes, Radio 80s will be performing on the main stage from 3-5 p.m.! Radio 80s delivers a must-see show performing not just the usual Top 10 songs you hear from other '80s tribute bands, but songs that go beyond making you realize how much more there was to love about the greatest decade of pop/ rock music! You'll hear the all-time greatest hits by bands like Bon Jovi, Journey, Foreigner and Prince, as well as songs you forgot you loved from artists like Toto, Mr. Mister, Cutting Crew, Duran Duran, Howard Jones and so many more! No silly costumes! No big wigs! No bad spandex! Just amazing vocals, incredibly talented musicians, and high-energy fun!
*Pro Festival Tip: Make sure to head to the main stage around 2:30 p.m. to check out your fellow festival attendees in the costume contest. They make them WORK for their prizes and it is a show you don't want to miss. Then stick around to jam out to your favorite hits with a few thousand of your closest friends! 
---

Fun and Games
This year's festival will see the return of Giant Jenga and Peach State Cornhole (both activities pair great with beer). Plus, new to the festival this year is mini golf! Grab your favorite beer samples and make your way to the mini course to show off your golfing skills. A portion of the festival will be dedicated to all the fun, so be sure to grab your drinking buddies for some friendly competition.
---
VIP Experience
This year's VIP tent is designed with the true beer aficionado in mind. The festival has partnered with Dimensional Design, a local design and branding firm, to create a one-of-a- kind VIP experience featuring high-end finishings, comfortable seating, and live music from Jon Isaac (noon-1 p.m.). Plus, there will be an exclusive selection of more than 35 beers, including 903 Brewing's White Chocolate Raspberry Cheesecake Slushy, Woodchuck Cider's Out on a Limb Chocolate Raspberry Imperial Stout and StillFire Brewing's Withershin Walter's Old Ale, which recently won first place at the Atlanta Cask Ale Tasting.
After drinking all that beer, VIP attendees can take a break to pad their belly with a delicious catered meal from Marlow's Tavern. This year, the culinary team from Marlow's has created a new menu (keeping the fan favorite, shrimp and grits) and will be serving up three delicious courses in the VIP tent starting when the gates open. With
an hour early entry, a meal catered by Marlow's Tavern, exclusive beers, music, and incredible atmosphere, the VIP experience is sure to set a standard for beer festivals everywhere.
*PRO FESTIVAL TIP: VIP attendees get to enter the fest AN HOUR EARLY! We recommend hitting your favorite Georgia breweries first to cast your brew battle votes before general admission opens!
---
Drinking for a Cause
While there is much merriment to be had at Suwanee Beer Fest, the event organizers are also dedicated to giving back and supporting the community and will donate a large portion of proceeds to local charities. This year's benefiting organization is Cooper's Crew, a Suwanee-based organization created in honor of Cooper O'Brien, who lost his battle to a rare form of cancer at the young age of 14. Cooper's Crew provides funding for research and development to find a cure for children's sarcoma cancer. So, while you're sipping samples of your new favorite craft brew or participating in a hopped- up version of an Irish jig, remember that your participation in the festival helps support the Cooper's Crew Fund and the Cooper O'Brien Scholarship Fund, which grants scholarships to graduating seniors at North Gwinnett High School each year who have overcome unique hardships. Please join us in raising funds and awareness for childhood cancer and to celebrate Cooper's legacy. For more information on Cooper's Crew, visit CoopersCrew.org.