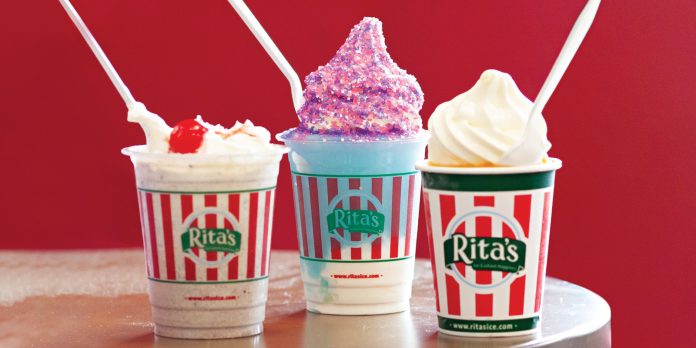 Suwanee's Rita's serves up delicious scoops of Italian ice and custard creations made fresh every day.
By Alicia Carter | Photos by Melissa Manderson
Rita's has been been serving scoops of delicious Italian ice and custard creations to happy Suwanee families for more than 15 years. As one of the charter members of Suwanee Town Center, the shop opened in 2007, the same year as the park, and has become a staple in the community. Locals flock to Rita's for its endless flavor combinations and sweet confections, as well as its amazing customer service. After all, Rita's slogan is "Ice. Custard. Happiness," and they serve all three in droves — or freshly made waffle cones, if that's more your thing.
The Bartow family took over the Suwanee location in 2022, and has continued to build upon the shop's rich and delicious history. Husband-wife team Jim and Barbara Bartow, along with their daughter, Mary, who serves as the shop's manager, are dedicated to continuing Rita's exceptional reputation for sweet treats and even sweeter service. After officially officially opening for the 2023 season back in February, the Bartows are excited to once again serve as our community's favorite local sweet spot.
A Sweet History
While Rita's may have officially established itself as a Suwanee favorite back in 2007, the original Rita's got its start in 1984 when a former firefighter began selling Italian ice from the front porch of his home in Philadelphia. He named the shop after his wife, Rita, used his mother's recipes, and eventually began expanding into the area. Since then, Rita's has grown into a worldwide franchise, with 600 stores in the U.S. and internationally, and is now one of the most beloved frozen treats around. Even with all of the growth and success, each shop still emphasizes quality and makes their ice fresh every day with real fruit, ensuring each customer leaves feeling happy and satisfied.
Taking over the already established Suwanee location was no small feat for the Bartows, but they happily accepted the challenge. "We moved here from Atlanta 27 years ago," Barbara says. "We love the kindness of our neighbors. Suwanee Town Center is such a pretty, positive, fun place, and we love being a part of the happiness."
Rita's quality of product is unmatched, with strict franchise standards for product freshness put into place after perfecting the recipe and techniques over 40 years. Plus, Rita's has worked hard to establish itself as a happy place to treat yourself! The "treat team" is trained to offer exceptional service by offering samples, suggesting treats, and happily (and patiently!) answering any questions you may have.
The Goods
With more than 60 flavors to choose from, Rita's Italian ice is a true standout. The shop offers 12-16 flavors daily, with selections changing each day. With so much variety, there's an opportunity to try something new each time you visit. Mary says their most popular ice flavors are mango and cotton candy, which are available every day. Other popular choices include strawberry, cherry, Georgia peach, Swedish Fish, blue raspberry, piña colada, and chocolate. New flavors for 2023 include gummy bear, frozen coffee, peach ring, frozen lemonade, and blueberry lemonade. In the mood for ice but want a creamier option? Check out their cream ices, such as coconut cream, cheesecake, root beer float, and strawberries and cream. They also have a sugar-free option available every day.
While the ice is nice, sometimes only a frozen custard will do. Creamier than ice cream, custard has a rich and delightful texture that's smooth and satisfying. Rita's has a stellar lineup of hand- scooped custard with 12 daily rotating flavors. Their most popular custard flavors include Cookie Monster (with cookie chunks), mint chocolate chip, mint Oreo, strawberry, Reese's peanut butter mudslide, banana cream pie, apple pie, and cookie dough. New 2023 flavors include Mexican chocolate, peach cobbler, pineapple upside down cake, pumpkin pie, and tiramisu.
If you can't decide between an ice and a custard — choose both! The gelati is one of Rita's most popular treats and features layers of custard and ice. Mary says she would recommend a gelati to a first-time customer because it's the best of both worlds. Plus, you can mix and match flavors to come up with your own custom order!
Even with all the fun flavor creations, sometimes a soft-serve custard in a cone or cup just hits the spot. And while this may seem like a simple treat, the waffle cone is not to be missed! Unlike other places around town, Rita's makes their own waffle cones and bowls fresh daily. Any time you step into the shop you'll smell the sweet smell of waffle batter being heated on the iron, a tasty reminder of the freshness of each of their treats.
Don't forget to top your frozen creation with one of Rita's many toppings, including sprinkles, Oreos, chocolate chips, cookie dough, brownie bites, pie chips, nuts and more. You can also opt for their milkshakes, concretes (soft-serve custard with toppings blended in), blendinis (frozen ice and custard blended together), mistos (blended liquid custard and ice), and frozen drinks in any ice flavor. They also have take-home treats, like custard cookie sandwiches. Basically, if you can dream it, Rita's can probably make it.
A Suwanee Staple
There's no doubt that our beloved Rita's is in good hands with the Bartows. From their delicious custards and Italian ice, to their involvement in local events and continued support of local schools, the Bartows have worked hard to keep Rita's a step above the rest. It's a popular local hangout where families can come for a sweet treat, local high schoolers can get their first job experience, and kiddos can load up on extra sprinkles and smiles. A true win-win for all.
Rita's is located at 340 Town Center Ave. in Suwanee Town Center. For more information, call 678-765-2889 or visit RitasSuwanee.com.