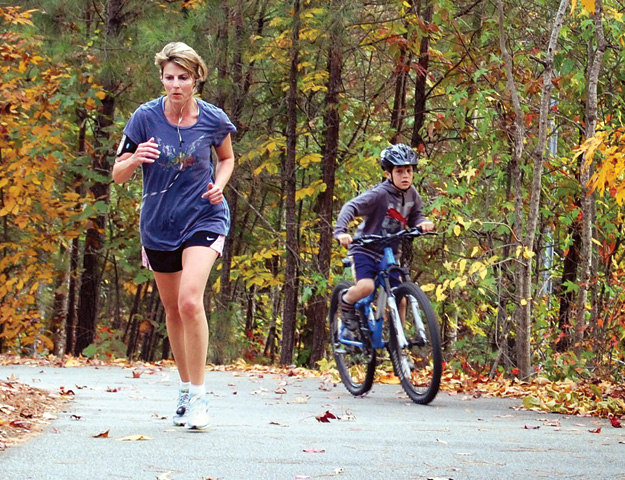 It's the beginning of a new year, which means most of us have set lofty goals for ourselves — "new year, new me" as the saying goes. We often plan to get healthy, lose weight, or commit to some other health- related "resolution." Although we mean well, sometimes those big goals fall to the wayside because gym memberships are too expensive or intimidating, or we come up with another excuse related to inconvenience. Thankfully, there are plenty of ways to get active right here in Suwanee. We've highlighted five local ways to get moving in the new year, from hoofing it on the Greenway to taking up a friendly game of disc golf.
By: Alicia Carter
1. Hit the Greenway
The first step to getting active is to simply get moving! In fact, it's been reported that just 20 minutes of walking a day can lower your chance of premature death by almost a third while reducing your risk of dementia, cancer, and cardiovascular disease. Walking has many other proven health benefits, including improving your mood and boosting your vitamin D, which keeps your bones, teeth and muscles healthy. While taking a lap around your neighborhood or heading over to the local high school to jog around the track are good ways to get started, we suggest taking advantage of the Suwanee Greenway, a hard-surface, multi-use trail that begins at George Pierce Park and runs along Suwanee Creek all the way to Suwanee Creek Park, with several access points along the way. On any given day you will find a number of people getting their steps in on the trail, which follows along four miles of wooded areas, wetlands and wildlife habitat making for an attractive backdrop to an afternoon stroll.
2. Rent a Bike for a Day
Biking is an excellent low-impact exercise that has the added bonus of being good for the environment. As with any physical activity, there are a myriad health benefits, including increased muscle strength and flexibility, improved joint mobility, decreased stress levels, improved posture and coordination, and reduced anxiety and depression, among other benefits. Don't have a bike? No problem. The Suwanee Bike Share Program launched in 2016 and is a fun and accessible way to explore Suwanee on two wheels. Simply download the Zagster smartphone app to rent a bike for up to three hours for free. Each additional hour costs $3 per hour, with a maximum daily fee of $30. Riders must be at least 18 years old and provide their own helmets. There are two bike share locations in Suwanee: one at Town Center and another at Suwanee Creek Park. Signage explaining how to use the bike share program is placed at each station to orient new users to the system. For additional information, visit zagster.com/Suwanee.
3. Disc Golf
Suwanee is home to many parks filled with walking trails, playgrounds, open fields and more that offer a number of ways to get active. But only Suwanee Creek Park is home to disc golf, a game that evolved as an offshoot of the Frisbee craze when people began aiming Frisbees at different targets, such as trees, trash cans and light poles. According to the Disc Golf Association, disc golf is similar to regular golf, but instead of using golf clubs and balls aiming for a hole, disc golf players use golf discs and aim for a disc golf basket, a pole extending up from the ground with chains and a basket where the disc lands. The Suwanee Creek Disc Golf Course is a short, technical course that is good for beginner to moderate level players. So instead of kicking back on a lazy weekend in the recliner with a bowl of snacks, consider taking up a new sport for some family fun. More information available at Suwanee.com/Services/Parks.
4. Join a Group Run
Group runs are a great way to exercise in a social setting. While running is often thought of as a solo sport, joining a group run will give you access to experienced coaches and scheduled workouts that will help you stick to a training schedule and become a better athlete. They are also fun and motivating because you're surrounded by people who all have a common goal: to become better runners. Suwanee's Big Peach Running Co. hosts group runs on Tuesdays (6:30 p.m.), Thursdays (6:30 p.m.) and Sundays (7:30 a.m.). If you're new to running, consider attending one of Big Peach's "TransFORMed Running Engaged," a two-and-a- half-hour clinic where you'll learn dynamic warm- up and cool-down techniques, skills and drills to help transform your running, and other running basics. Check Big Peach's website for the next scheduled clinic or to sign up for a run: bigpeachrunningco.com/ locations/suwanee.

5. Run a Half Marathon
The Suwanee Half Marathon has been an annual tradition since 2015. This year's race will take place on Sunday, February 10th, beginning at 7:40 a.m. on Main Street (across from the library). If you aren't ready for a half marathon but want to get a few miles in, check out the Old Town 5K which takes place the same day. Consider that the race will benefit the Suwanee Public Arts program, and participants will receive a medal and a long-sleeve technical shirt (Old Town 5k participants will receive a short-sleeve technical shirt). The first 250 half-marathon participants will receive a special blanket. New to marathons? Helpful tips include: arrive to the start line early; pace yourself to preserve your energy for the entire race; and be sure to fuel up before the race with a carb-rich, low-fiber and easy-to- digest breakfast the morning of the race. For more information about the Suwanee Half Marathon, visit SuwaneeHalf.com.