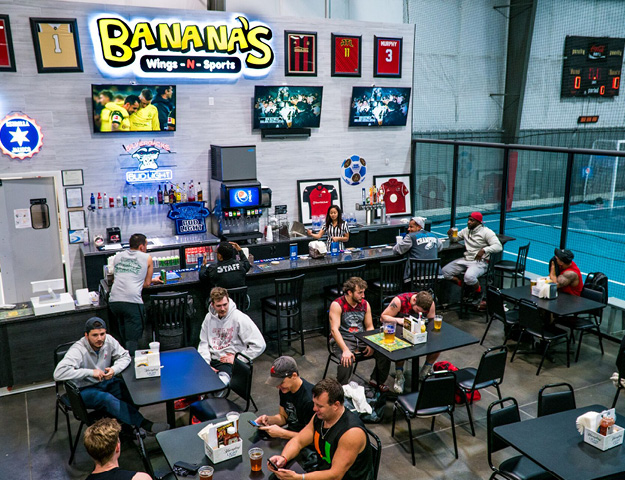 LOCATED IN THE ATLANTA SILVERBACKS INDOOR ARENA, BANANA'S PROVIDES SPORTS LOVERS WITH A SAFE, KID-FRIENDLY ENVIRONMENT THAT MAKES WATCHING THE GAME FUN FOR THE ENTIRE FAMILY.
By: Lizzy Kidney | Photos by Byron Beckwith and Dash Digital
Imagine a sports bar that is actually surrounded by sports. Wouldn't it be nice to enjoy the big game on a 20-foot TV while your kids run around and play? At Suwanee's newest sports bar, all of this is the norm.
Tucked away in an industrial area near Suwanee Town Center, Banana's is the ultimate sports lover's paradise where the recreational sports create an atmosphere that makes watching the game and grabbing a bite to eat fun for the entire family. Setting itself apart from others in the area, the sports bar features the largest TV in Suwanee, and recreational areas to entertain kids and adults alike.
"I wanted Banana's to be the complete sports package for restaurant patrons," says General Manager Byron Beckwith. "Since we are located in the Atlanta Silverbacks Indoor Center, we offer the man-cave environment for guys to not only watch sports but physically play them as well. We host viewing parties on our 20-foot TV for the community, and on top of all of that we also offer a safe, kid-friendly environment."
Banana's features a bar area, three TVs to watch the latest games and a few beers on tap. The restaurant area is enclosed by see-through walls, so parents can see their kids from all angles of the facility, with the left side of the complex open to children visiting the restaurant at all times. Kids can entertain themselves with a mini bowling alley, a basketball court for free throws, as well as a large indoor soccer field that can be used for pickup games of football, soccer, and kickball.
"We wanted community members to feel comfortable letting their kids run and play while they enjoyed their meal," Beckwith says. "It was important to us that we not only offered parents a fun night out, but we also gave them the opportunity to bring the kids."
Another thing that sets Banana's apart from other local restaurants is that it's quite literally a sports bar. The Atlanta Silverbacks Indoor arena is home to many indoor adult leagues, with games going on almost every night.
WINGS AND MORE
Aside from the atmosphere, the food is a big hit with restaurant patrons, especially their wings. From Lemon Pepper to Tongue Tranquilizer, all 12 of Banana's wing sauces are handmade for 2-3 hours each day.
Not a wings fan? No problem. The sports bar also features menu items like the Bacon All the Way Burger — a half-pound burger piled high with triple bacon, lettuce, tomato, onion, and Banana's burger spread. Another popular menu item is the Philly Cheese Steak with thinly sliced rib-eye grilled with onions, peppers, and Swiss cheese. And with the recent additions of desserts like the Molten Lava Cake, Banana's menu continues to grow.
"We wanted to keep our menu simple at first, so we could make sure to perfect it before adding on additional items," Beckwith says. "All of our food is fresh and never frozen, and that's something that we take great pride in."
Banana's also offers happy-hour specials like 65 cent wings, rotating $3 domestic pints as well as $4 craft/ imported pints between 5 pm and 8 pm Monday through Friday.
FAMILY EVENTS
Banana's also hosts plenty of community events that are fun for the entire family. With the largest TV in Suwanee and three additional TVs throughout the restaurant, Banana's is the perfect spot to host viewing parties for major sporting events.
Starting in February of 2019, the restaurant will begin offering movie and date nights where parents can drop their kids off for a night of fun. The small fee will include a meal from Banana's, playtime and supervision with the Atlanta Silverbacks indoor coaches, and a movie shown on the 20-foot TV.
The Atlanta Silverbacks Center has been in the community for more than 16 years and the new family-oriented restaurant also prides itself on being heavily involved in the Suwanee community. All of the restaurant and facility employees are hired locally, with some even staying through high school, college, and beyond.
At Banana's, restaurant patrons are immediately immersed into a sports lover's paradise. The atmosphere and delicious food make watching the big game a fun experience for everyone.