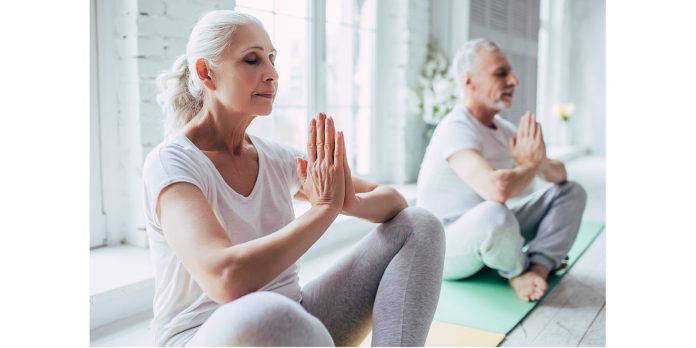 Active dates to help you get your sweat on with your sweetie!
By Lizzy James
When most people think of date night, they think of things like going out to eat, catching a movie, or even just a romantic candlelit dinner at home. However, if you're someone who loves getting up and moving, that kind of date might seem a tad bit mundane. Did you know it's actually SUPER easy (and fun!) to get in a great couples workout while also spending time with the one you love?! From a sunset cuddle on a view-packed mountain to an adventurous rock climbing date, we've got you covered!
Go for a hike
Fitness Level: 5/10
Romance Scale: 8/10 (higher if you pack a picnic)

First date jitters? Hiking is an excellent time to talk and get to know each other without feeling the pressure. Plus, taking in the sights along the way helps fill in any moments of awkward silence. Looking for a hike close to home? Head to the East Palisades on the Chattahoochee River for a great, scenic hike! The trail climbs to several lofty peaks with outstanding views of the river, especially come sunset — trust us, don't forget your hammock!
Take a couples yoga class
Fitness Level: 7/10
Romance Scale: 7/10
There are SO many great (and romantic!) benefits of taking a couples yoga class. From stretching your levels of trust to strengthening your communication, couples yoga can have a positive effect on your relationship that extends far beyond the physical benefits. Many yoga studios, like our friends at To Life! Yoga and Pilates in Buford, offer couples yoga classes on and around Valentine's Day! 554 W. Main St., Suite 150, Building B, 470-279-4183, ToLifeYogaandPilates.com
Go indoor rock climbing
Fitness Level: 8/10
Romance Scale: 6/10
If you're into adventure, are all about trying new things, and love a physical challenge, rock climbing could be the perfect activity date for you and your sweetie! Looking for a place to climb? We recommend our friends at Adrenaline Climbing in Suwanee! Perfect for climbers of all levels, simply walk in and get climbing after a short orientation. 460 Brogdon Road, Suite 100, 770-271-1390, AdrenalineClimbing.com
Throw some axes
Fitness Level: 5/10
Romance Scale: 3/10
Axe throwing is a great way for couples to learn a new skill, have fun and keep fit — we're talking a great workout for your lats, shoulders and core! While the sport is growing increasingly popular, most people still don't know much about it, or haven't tried it before, so it can earn you serious date points for creativity and open mindedness. Try Axe Master Throwing in Sugar Hill: 225 Peachtree Industrial Blvd., Suite 103, 404-692-3667, AxeMaster.com/sugar-hill
Take a spin class
Fitness Level: 8/10
Romance Scale: 5/10
For those competitive couples who keep each other going, why not take a spin class together? While it might not be the most romantic activity on our list, you could up the ante in the romance department by booking a couples massage to ease those tired muscles afterwards. We recommend checking out Real Indoor Cycling in Suwanee for a fun and unique take on a spin class. 3550 Lawrenceville-Suwanee Road, Suite 108, 7770-899-6136
Try a dance class
Fitness Level: 6/10
Romance Scale: 9/10
There is something so romantic about dancing in the arms of your sweetheart, isn't there? Signing up for dance classes can be fun, sexy, and a date night that can become a weekly tradition! Art is Motion offers class packages that will teach you and your partner dances such as salsa, ballroom, and even swing dancing. Try one of their two locations: Norcross (1560 Indian Trail Road, Suite 109) and Buford 4965 Lanier Islands Pkwy., Suite 102). For more information, call 678-577-2823 or visit ArtisMotion.org.
Do a ropes course
Fitness Level: 7/10
Romance Scale: 7/10
Aerial obstacle courses provide a fun opportunity for you to take your date to new heights — literally! Our friends at Treetop Quest offer different rope courses where you can test your skills as you climb among the tree tops and zipline through the sky. 2020 Clean Water Drive, Buford, TreetopQuest.com/gwinnett