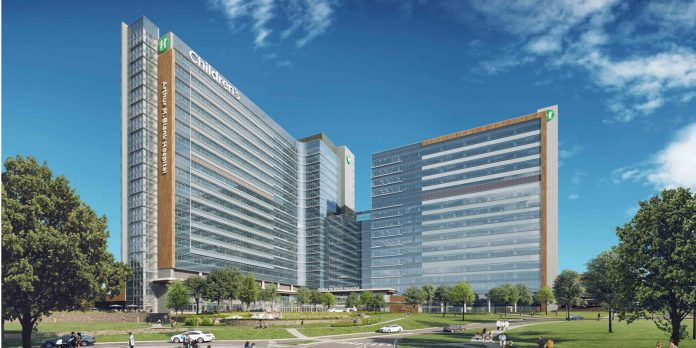 Children's Healthcare of Atlanta announces Arthur M. Blank Hospital, a new state-of-the-art hospital to open in Brookhaven in 2024.
By Alicia Carter | Renderings Courtesy Children's Healthcare of Atlanta
In October 2020, Children's Healthcare of Atlanta announced plans for a new state-of-the-art hospital located at the northeastern corner of North Druid Hills and I-85 in Brookhaven. The hospital is the largest healthcare project in Georgia history, and will provide greater access to specialized pediatric healthcare for children and their families. The new hospital, which is slated to open in 2024 and will replace Children's Egleston Hospital, has been named Arthur M. Blank Hospital following a generous $200 million donation from the Arthur M. Blank Family Foundation. The donation is the largest in Children's history and the single largest naming gift to a freestanding pediatric hospital.
Noted Atlanta philanthropist Arthur M. Blank is known to many as the co-founder of The Home Depot and owner of the Atlanta Falcons, Atlanta United, Mercedes-Benz Stadium, and more. Many may not know, however, that Blank is one of Children's biggest supporters, and has previously donated nearly $10 million to the pediatric healthcare organization in addition to being actively involved with patients in various activities and fundraisers since 2001.
In a press release announcing Arthur M. Blank Hospital, Blank stated: "It's a great honor for me and my family to be connected to Children's, and a great honor for us to be connected to a system that has dealt with research, illness and disease for the most precious commodities that we have in the world, our children. Children's is one of the greatest pediatric hospitals in the United States. The work they are doing right here in our backyard will make a difference forever, and that's very meaningful to me, my family and our associates."
The 1.5 million-square-foot hospital, spanning more than 70 acres, will include one tower with two wings and will focus on cardiac, hematology, oncology, and transplant services, as well as house additional operating rooms, specialty beds, and diagnostic equipment to meet patient needs. In short, it is a huge leap forward that will enable Children's to continue its mission to help children overcome medical challenges and get back to what's most important: being a kid.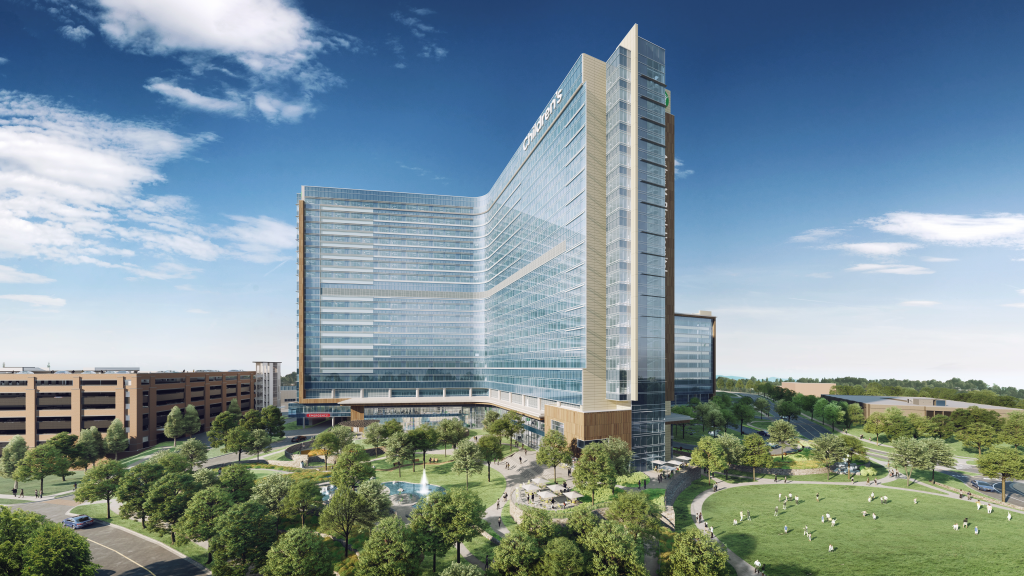 A Family-First Approach
According to Children's, the transformative $1.5 billion project combines "inviting and innovative, healing and high tech," and is designed specifically with kids and their families in mind. The hospital's impressive list of features includes more than 400 patient beds, allowing Children's to treat more kids as the region grows. The hospital's layout also takes advantage of the research- proven healing effects of nature with 20 acres of greenspace offering exposure to nature and miles of walking trails. In addition, more than 75 percent of patient rooms will have therapeutic views of the garden. Groundbreaking innovations include 3D printing capabilities to design lifesaving treatment options, a Special Care Unit for the treatment of patients with highly infectious diseases, three cardiovascular operating rooms, and an inpatient dialysis unit.
As monumental as these advancements are, the most thoughtful and encouraging element of Arthur M. Blank Hospital is that it was truly designed with children and their families at the forefront. The new hospital will include more family-friendly spaces, including larger, private rooms so parents can comfortably stay with their children. Extra thought was put into patient and family amenities throughout the hospital, including kitchenettes, child life activity rooms, laundry facilities on every floor, dedicated sleeping rooms, and a business center to help normalize a family's routine as much as possible during their stay. The hospital's planned playgrounds, playrooms, libraries, and school-support spaces will allow for kids to feel like kids.
As the parent of a child with complex medical needs, I know firsthand how important it is to have access to a prestigious hospital like Children's. At the same time, I've also experienced the loneliness and stress that an extended stay at a hospital brings. I've been the mother who has spent weeks in a hospital room sleeping on a recliner to a symphony of beeps and around-the-clock vital checks. I've snuggled up next to my son with a laptop in hand, trying to sneak in some work before rounds. I've purchased many meals from the cafeteria and walked the halls among the other parents, patients and families. Through it all, the team at Children's has always been exceptional. This new hospital is a testament to their dedication to not only the health and well-being of the children they serve, but also their families, who will remain by their child's side throughout their stay.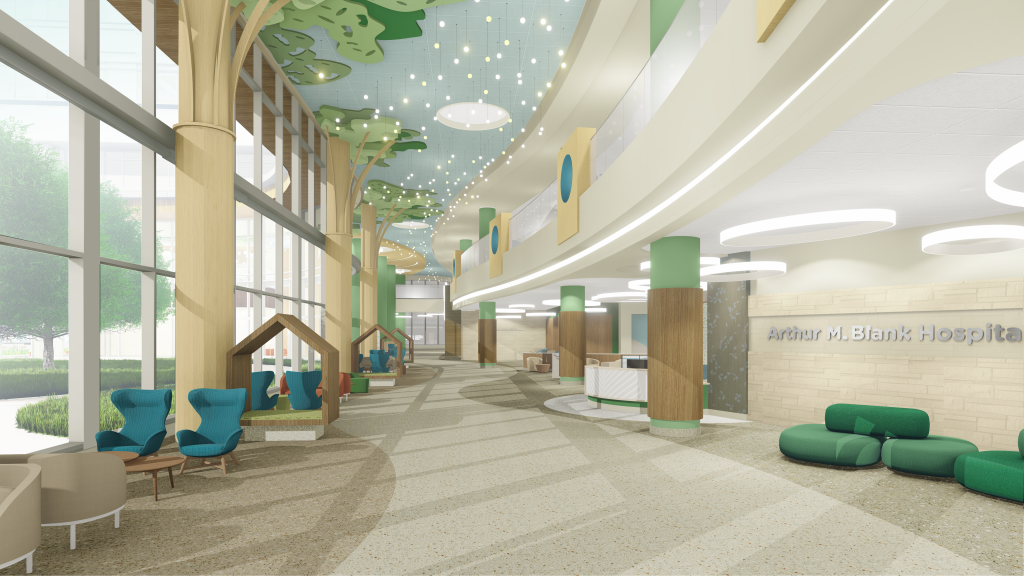 In fact, the team at Children's went above and beyond to anticipate patient needs by constructing a mock hospital to help plan their design. Utilizing an empty, 114,000-square-foot warehouse, Children's built one of the largest, full-scale hospital mock-ups in the country — made entirely out of cardboard. Once the mockup hospital was constructed, the team ran a series of tests and simulations with more than 400 of their operational leaders, clinicians and, perhaps most importantly, patient families to help inform the design of Arthur M. Blank Hospital. No detail was too small or too large to consider, from the distance between operating rooms and the Emergency Department to smaller details like the exact contents of cabinets in a patient room. The cardboard hospital enabled the team to test and then retest every inch, ensuring that no stone was left unturned to the benefit of patients and their families.
A bright future
Georgia is fortunate to be home to Children's Healthcare of Atlanta, one of the greatest pediatric hospitals in the country. The announcement of Arthur M. Blank Hospital is a promise to Georgia families that Children's will continue to provide the best, most advanced pediatric care possible for generations to come. While we all hope to never need these services for our children, knowing that we have exceptional and accessible pediatric healthcare so close to home helps us all rest a little easier.
For more information about Arthur M. Blank Hospital, visit CHOA.org/give.