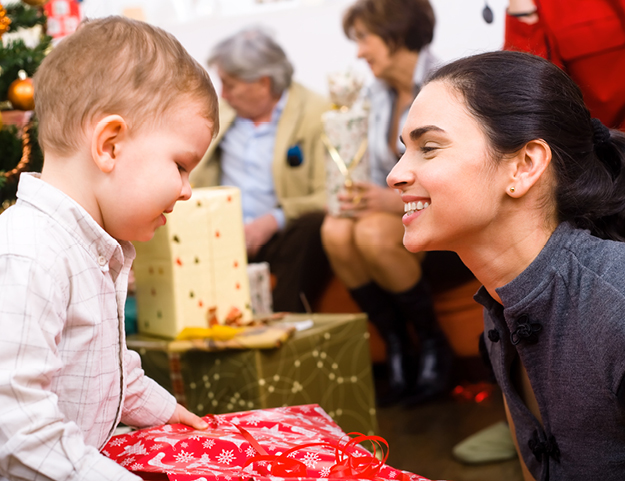 Caught up in the ballyhoo of the holiday season? From shopping and family gatherings to holiday portraits and other activities, Thanksgiving and Christmas traditions can generate a lot of spending and, sometimes, a lot of stress. But it's important not to lose sight of the true charitable nature of the season of giving.
By: Alicia Carter
Whether it's by donating a toy to a child who may not get a visit from Santa, or helping to prepare a meal for a family who otherwise may have gone without, there are plenty of ways to make an impact during this special time of year.
#1. Donate a Toy to Lift Up Atlanta's Christmas Toy Drive
Lift Up Atlanta works to help meet the basic needs of homeless and low-income families in the metro Atlanta area through safe housing, food and clothing donations, as well as other services that help support education and empower growth through self-sufficiency. Lift Up Atlanta will host a Christmas Toy Drive this holiday season with a goal to provide new toys for 500 children in need — and you can help! Between November 27 and December 20, donate a new, unwrapped toy to any of the drop-off locations listed at their website, Mail donations to Lift Up Atlanta, Box 1745, Hampton, GA 30228, or submit a financial contribution at liftupatlanta.org.
#2. Sponsor a child or senior for Christmas and feed a family with North Gwinnett Co-op
Last year, North Gwinnett Co-op distributed more than 1,500 holiday meals to individuals in need. This year, they've set a goal to distribute more than 1,700 meal boxes to the community for Thanksgiving and Christmas. Help North Gwinnett Co-op reach this goal by providing a complete meal box or a donation of $50 to sponsor a holiday meal box for a family. In addition to helping feed families this holiday season, be a charitable secret Santa by sponsoring a child or senior for Christmas. Sponsor a child by donating a winter coat (if needed), set of pajamas, one outfit for school or church, one pair of shoes, and a toy (not to exceed $30). Sponsor a senior by providing a winter coat (if needed), robe and/or pajamas, clothing or household need, one pair of shoes (if needed), and personal care items. For holiday volunteer shifts, a list of meal box items and other needs, visit northgwinnettcoop.org.
#3. Donate a Gift to Friends U Need's Wish List
Friends U Need is a nonprofit day program in Buford for special needs adults who have "aged out" of all government-funded programs. The FUN Club works to enrich the lives of these adults by providing a place where they can socialize with friends and be a part of the community. As a small organization, Friends U Need benefits hugely from the support of its community. This holiday season, make an impact in the lives of the FUN Club by donating an item from their "wish list," including books, arts supplies, large puzzles, paper towels, plastic cups and more. Make a donation at their website, friendsuneed.org.
#4. Donate to Georgia SPCA for Georgia Gives Days
Located in Suwanee, The Georgia SPCA is a nonprofit pet rescue organization that aims to reduce the number of healthy animals who are euthanized in Georgia by offering adoption programs, low-cost spay and neuter procedures and promoting responsible pet ownership. Georgia SPCA asks the community to consider giving to the organization for Giving Tuesday, which this year is being combined with Georgia Gives Day on November 28, rallying around the message of "Please Give So They Can Live." Visit georgiaspca.org for more information.
#5. Donate to The Hope Clinic
The Hope Clinic is a nonprofit clinic that provides medical care to those with limited or no access to health care in Gwinnett County. As temperatures cool and seasonal ailments see an uptick, consider donating time or money to help the Hope Clinic provide high-quality medical care to those in need. For more information, visit hopeclinicgwinnett.info.
#6. Donate to Eagle Ranch
Located in Flowery Branch, Eagle Ranch provides a stable home environment for children in crisis while emphasizing education and counseling, with the ultimate goal to reunify children with their parents. Eagle Ranch could not meet this goal without the work of their volunteers, who help with groundskeeping, meal preparation and administrative help, as well as the generous monetary contributions from the community. Visit eagleranch.org for more information.
#7. Donate to Gwinnett Children's Shelter
The Gwinnett Children's Shelter is a nonprofit residential care facility that provides services for homeless children along with their young mothers. Community members can make an impact this holiday season by contributing to their list of needed items, including cleaning supplies, laundry detergent, paper towels, toilet paper and bedding. The shelter also needs volunteers to help prepare lunch and dinner on the weekends. For more information about donating and volunteering, or to see the full list of needed items, visit homeofhopegcs.org.
#8. Donate to Annandale Village
Annandale Village provides progressive life assistance to adults with intellectual and developmental disabilities and acquired brain injuries in an effort to help them maintain their independence. The nonprofit has many volunteer opportunities, but you can also make an impact during the season of giving by donating items included in their wish list, such as socks, jackets, art supplies, personal care products, bedding, gift cards, office supplies and more. For the full list, visit annandale.org.