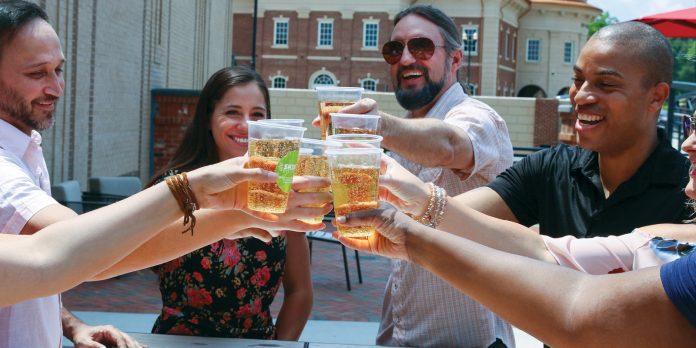 There's a buzz going around about the sweet and savory city on the hill. You know about Gwinnett's best concert venue, The Bowl amphitheater, that brings concerts like Joan Jett and the Blackhearts and The Commodores to downtown Sugar Hill. You've heard about
the gorgeous Art Deco-style Eagle Theatre and the $2 Tuesday movie series, concerts and live performances. You may have visited the beautiful E Center and your kids have probably asked you to take them to the Splash Park. But have you gotten a taste of the sweet city's shine?
The Shine District
The SHINE District represents "Sugar Hill's Intersection of Neighborhoods and Entertainment." It's a nod to the history of moonshining on the Chattahoochee with a highlight of the growing downtown focused on the arts and entertainment.
The SHINE District, which incorporates the E Center, Splash Park, Bowl and other downtown landmarks, is the destination for entertainment and the arts as well as culinary and brewing crafts. Local ordinances' decision to allow for the entertainment district gives visitors the opportunity to enjoy their beverage from new businesses and Indio Brewing. The idea is for patrons to purchase alcoholic beverages from local downtown vendors within the SHINE District and ask for those libations to be poured into a to-go cup branded with the official SHINE sticker. Once they've been given that branded cup, they are free to take their SHINE drink anywhere within the district, including the Bowl, Splash Park, or E Center plaza.
Unique Dining Options
And Sugar Hill's downtown is full of unique dining options perfect for pairing with all palates. Rushing Trading Co. serves up gourmet coffee, biscuits, soups, salads, and sandwiches, charcuterie trays and cocktails. Stop by for breakfast, lunch or a great cocktail in a cozy setting (or take it to-go). Nearby, Central City Tavern offers an upscale sports bar feel anchored by a diverse lunch and dinner menu featuring items like grouper tacos, burgers and wings of all flavors. Their creative cocktail list as well as an extensive range of brews on tap combine with large screen TVs and outdoor dining space to create the perfect environment to watch the game or catch up with friends and neighbors. Knuckies Pizza and Hoagies makes gourmet hoagies and delicious pizza. Swing by Knuckies for a hoagie anytime. Pizza by the slice is available during their lunch hours or take home an entire pie to share (or not) for dinner. This sweet corner restaurant is all about the community and those in it and would love for you to stop in to say hello with a "knuckie" fist bump.
Indio Brewing continues to flourish with an exciting and continuously updated beer menu. Alongside their beer catalog comes a full calendar of unique events like goat yoga and themed trivia to participate in while enjoying a cold beer. Whether it's their Sour Patch Sour or Tangerine Haze they've got the brew for you.
With dining options for all tastes and a slate of summer events, Sugar Hill brings together culinary classics and community experiences for a taste of summer that is sure to please.