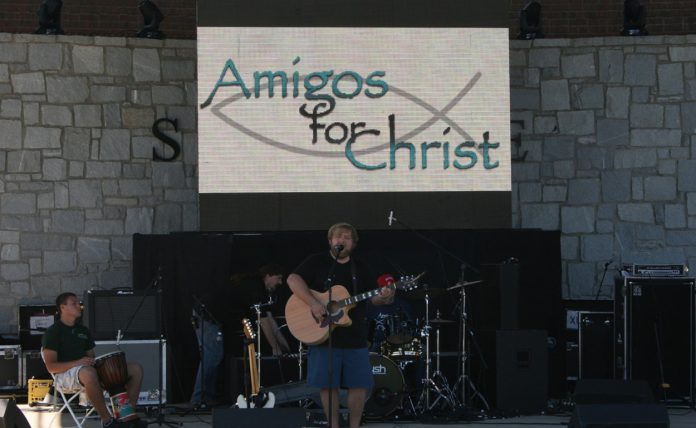 Celebrate Service Music Festival – October 6, 2012
Live Music, Running, Biking, Corn Hole, Frisbee AND Cupcakes for all!
By, Mary Mastrogiovanni
Community Outreach Coordinator, Amigos for Christ
Suwanee Town Center Park is the backdrop for a fall event that delights all the senses!
The 8th annual Amigos for Christ Celebrate Service Music Festival will be Oct. 6, 2012 at Town Center Park. The festival features six affordable events including a 5K Run/Walk, a Family Bike and Learn Ride on the Suwanee Greenway, a Coed Soccer 4 v 4 Tournament, a Corn Hole Tournament, Ultimate Frisbee and a Cupcake Challenge – fun for all ages and abilities. In addition, the best in local performers will rock the stage from morning until dark. Other festivities include an inflatable wonderland, an outdoor fountain and lots of green space. Food vendors and Town Center restaurants will satisfy any hungry appetite, and the festival is pet and environmentally friendly.
This year's festival highlights the stark reality that 800 million people in the world lack access to clean, abundant water and the organization hopes to raise awareness and support to provide 25 miles of water pipe distribution from wells drilled in rural NW Nicaragua. During the event festivalgoers can learn about the cause through displays and activities throughout the park.
The festival aims to draw about 10,000 visitors and volunteers.  Tessa Sulimirski, volunteer coordinator, needs plenty of volunteer help to keep things rolling.
"It's a great opportunity for my family to help those less fortunate and enjoy a fun day at the same time," Sulimirski said.
To volunteer for the day or to register to compete in an event at: www.amigosforchrist.org/festivaleventinfo.html. For more information about the clean water projects in Nicaragua or the Festival, contact mary@amigosforchrist.org. It's a day not to be missed!