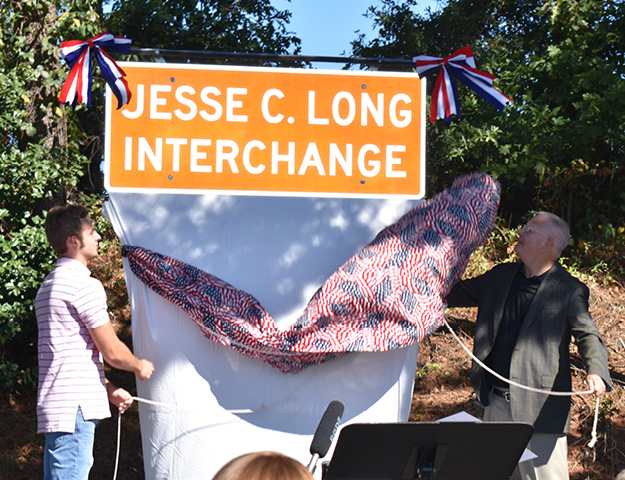 Gwinnett County visionary and funder of Greater Atlanta Christian School, Jesse Long (1932-2014), was honored on September 18 with the official naming of I-85 at Indian Trail Road, Exit 101, as the Jesse Long Interchange. With a vision and love for Gwinnett County, Long broke ground on what would become the Greater Atlanta Christian School in the rural part of southern Gwinnett in the early '60s.
"Jesse saw something that the rest of us couldn't see. Back then there was nothing here but two farms and an old clay road," says Bill Long, Jesse's brother. "But Jesse had a vision. He saw a future and activity, and most importantly, children who could receive a Christian education. He believed in Gwinnett County, and this sign will represent Jesse and everything he stood for. Today, over 5,000 graduates from GAC have followed out his vision and are serving in some way."
In 2018, Greater Atlanta Christian celebrates its 50th year just a half-mile from the now Jesse Long Interchange and is a thriving educational community with 34 state-of-the-art buildings that are home to 1,600 Pre-K through 12th grade students.
The GAC of today is both in heart the same and quite different. The school has redesigned its historic buildings with beautiful and learning-focused environments. Among those advancements are award-winning redesigned Middle School and High School centers, and new facilities such as the Art and Design Center, Environmental Center, STEM Buildings, Performing Arts Center, and a number of beautiful indoor and outdoor athletic facilities for the successful Spartan teams.
"We're thankful for our history, resources, and the way allies across Atlanta have supported us for decades," says new GAC president Dr. Scott Harsh. "Yet research makes it clear that great teachers make all the difference, and we know it's the caliber, heart, and longevity of our faculty that make GAC the amazing school it is today."