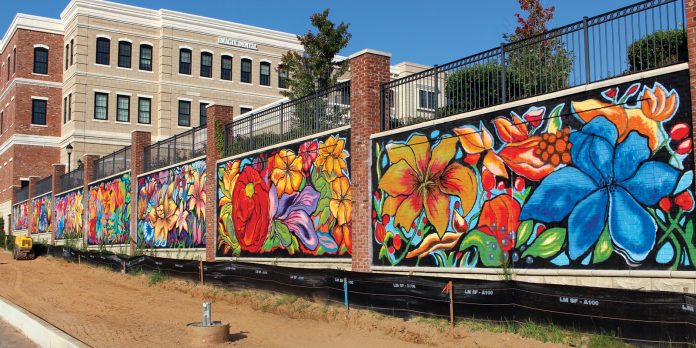 More and more murals are popping up around town, making Suwanee and its surrounding cities more vibrant with every brushstroke.
Story by Alicia Carter
After a quick drive around our community, you'll notice one thing to be true: Public art is on the rise, especially in our revitalized downtown areas. And that's a good thing! Public art extends out of the gallery space and out into the real world, making it accessible to a wider audience to enjoy. It also enlivens public spaces throughout the community, transforming them from cookie-cutter spaces to destinations alive with color, design and dimension. "Public art enhances the culture of a community: It's timeless, impacts generations, and is accessible to everyone," says Toni Shrewsbury, the City of Suwanee's Special Projects Coordinator. "Art is a true differentiator, and has become Suwanee's niche."
More than just places to take the perfect Instagram photo, public murals are visual manifestations of a community's personality as seen through an artist's eyes. We are lucky to live among a number of amazing murals decorating buildings all around Gwinnett. Here, we've compiled a list of some of our favorites of those murals throughout Suwanee and beyond.
Murals in Suwanee
Time to Blossom (pictured above)
A new colorful floral design covers a 180-foot-long by 10-foot-high brick retaining wall along Buford Highway near Town Center Park. Created by artist Corey Barksdale of Atlanta, "Time to Blossom" was funded in equal parts by the Gwinnett Creativity Matching Fund Grant and the City of Suwanee. The wall space was donated by the O'Brien family.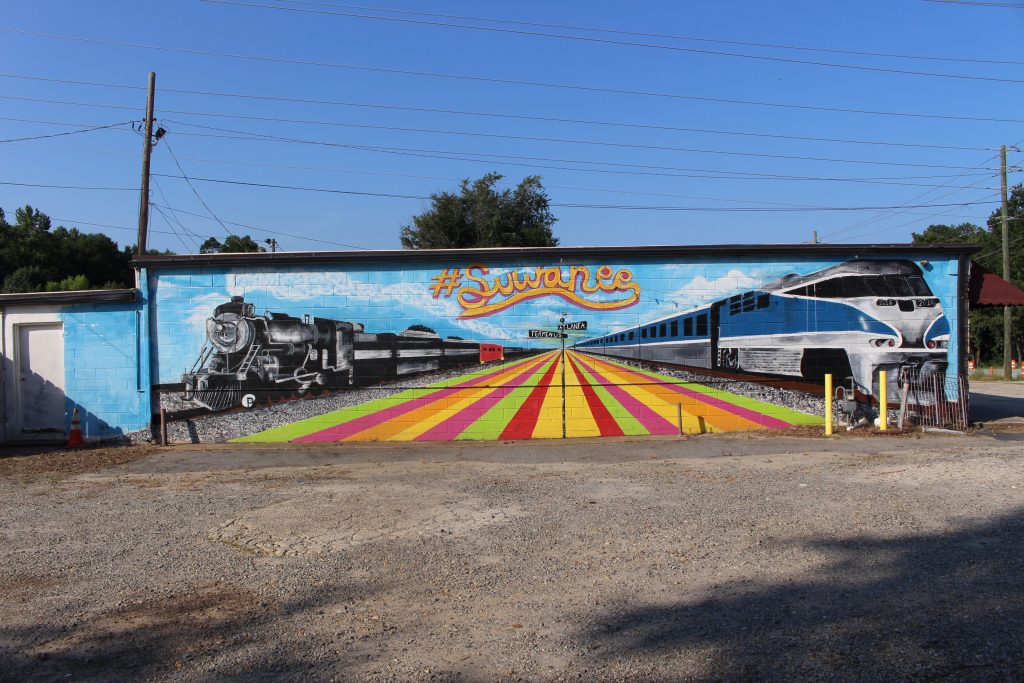 The Evolution of Suwanee
Located on the side of Garland Brothers Building at the intersection of Buford Highway and Lawrenceville Suwanee Road across from Town Center, "The Evolution of Suwanee" was painted by North Gwinnett High School graduate Alexandra Sorto. Sorto wanted to represent the City of Suwanee, and included a train from the early 1800s (when the town was established) and another from 2016, when the mural was created. She also says it contains a number of hidden Easter eggs related to hot topics of the time.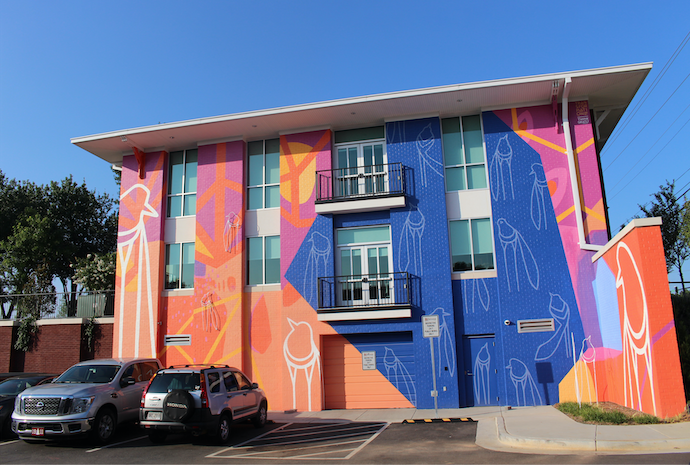 Transformation
This three-story mural at the Municipal Court building is entitled "Transformation" and was painted by Hapeville artist Lauren Pallotta Stumberg. This mural was funded as part of the construction project through Suwanee's Developer 1% for Public Art Initiative, which encourages developers to use one percent of construction costs to include a public art component within their projects. "Transformation" represents the City's own one percent commitment for the Municipal Court building renovation.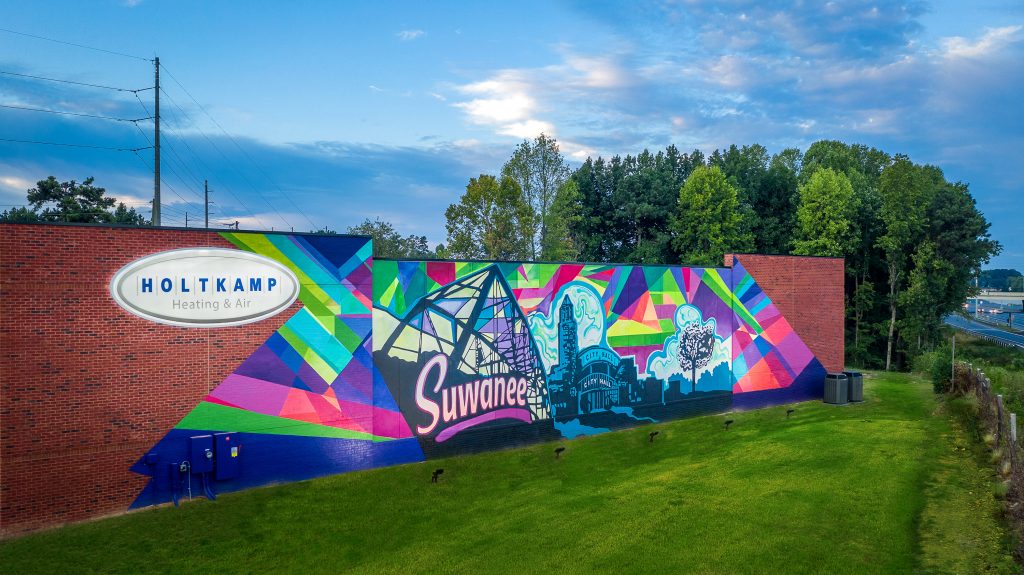 Holtkamp Mural
A colorful sight for commuters on I-85, the mural on the side of the Holtkamp Heating and Air building has been a well- known Suwanee landmark since 2019. Chicago artist Jason Watts spent four weeks bringing the mural to life on two sides of the building, and features Settles Bridge, representing the past, which then leads viewers into the present with the iconic Suwanee City Hall that serves as the center of the community today. A secondary mural on the south-facing side of the building captures the energy and vibrancy of the music, arts, and parks scene in Suwanee.
---
Murals in Duluth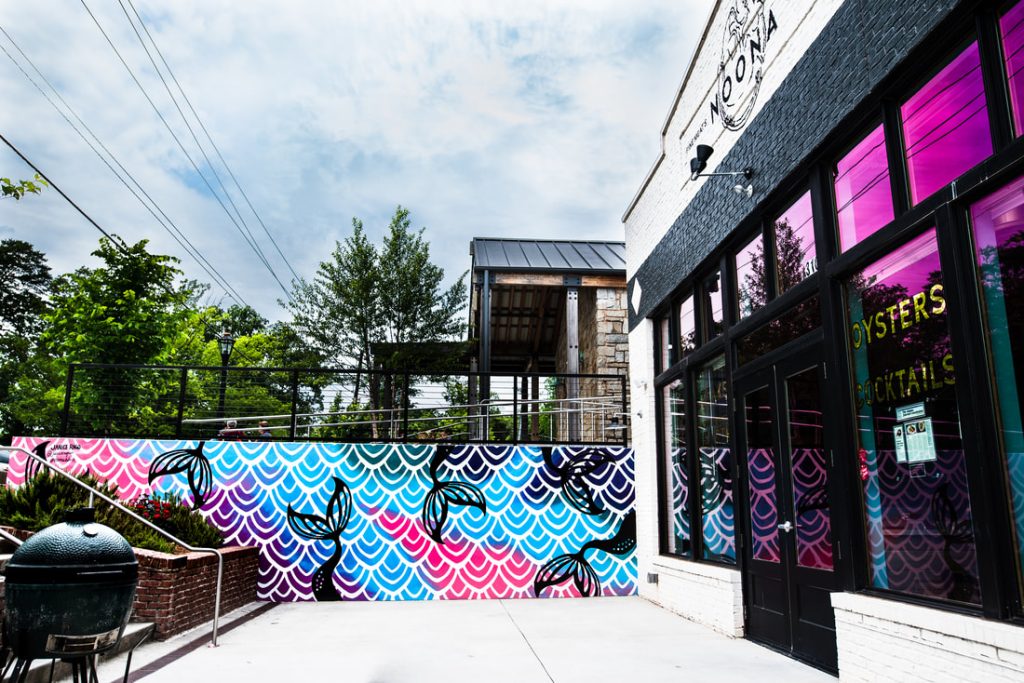 Mermaid Tails
This one-of-a-kind maritime mural covers the patio of downtown Duluth's Noona Meat & Seafood. Created by local artist Janice Rago in 2019, this piece compliments the fresh and local ingredients used at Noona and is a unique addition to downtown Duluth.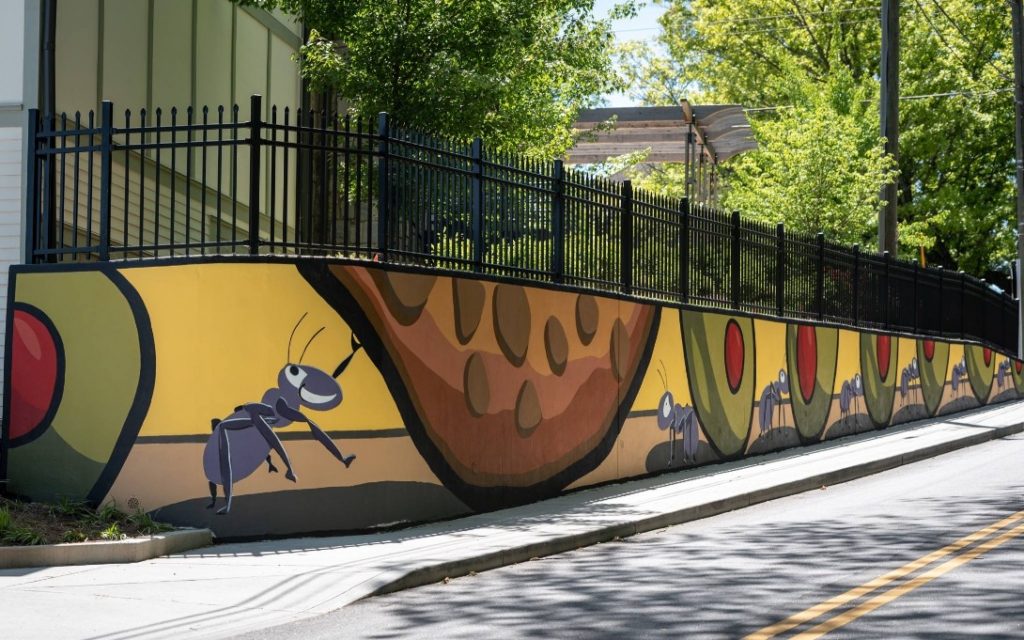 Dream Big
Created in 2018, this mural by artist Brenda Ehly depicts a cohort of ants embarking on a routine mission. According to Ehly, "While the majority immediately get down to the business of meeting their quotas and the expectations of those at home, a lone ant dares to dream on a grander scale — the day- to-day checklists of life can sometimes feel like pushing a boulder (or an olive depending on one's stature) uphill."
Chocolate Lady
Located on the side of the Chocolaterie Luxury Chocolates building in Downtown Duluth, "The Chocolate Lady" is a local landmark created by artists Elizabeth Ashworth and Garry Limuti in 2017. According to the artists, the Chocolate Lady is "every woman with as much mystique as the Mona Lisa."
---
Murals in Sugar Hill
Sugar Hill's old City Hall building is home to two murals: The Sweet Life and The History of Sugar Hill.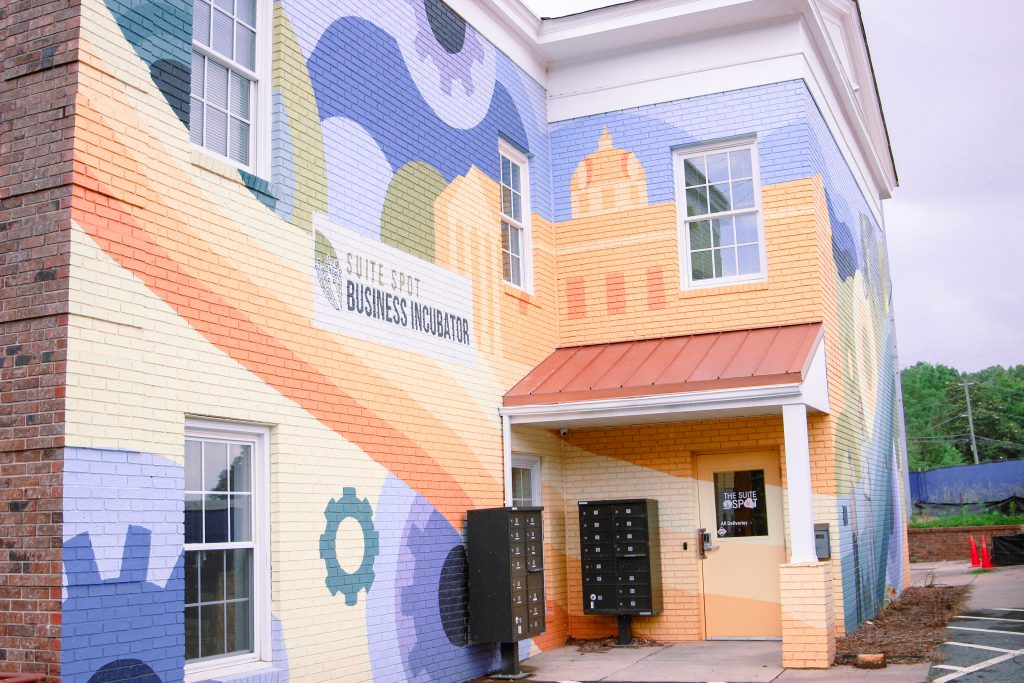 History of Sugar Hill Mural
Created by artist Chris Walker in 2017, the History of Sugar Hill mural features a "series of illustrations that serve as a timeline of Sugar Hill history: modern-day City Hall, the wagon that lost its wheel (the namesake of Sugar Hill), Carol and Walter Mangum (Mangum's Grocery), the Shelley-Howerton home (the oldest home in Sugar Hill) and some of the area's earliest residents, gold miners."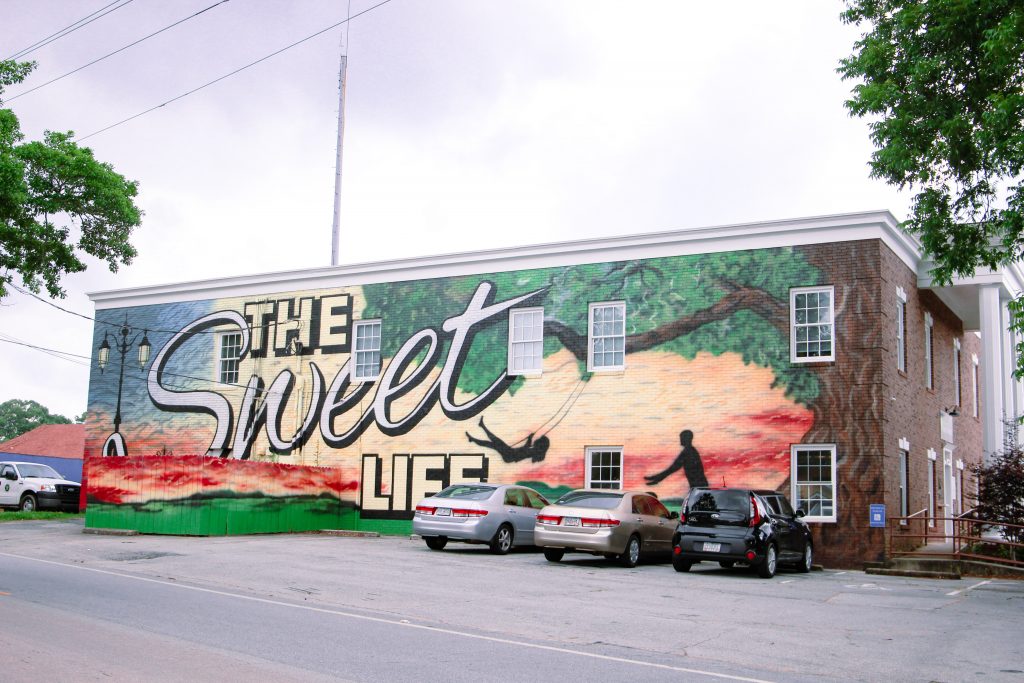 The Sweet Life
In 2017, the City of Sugar Hill unveiled "The Sweet Life" mural created by local artist Jennie Osiek. The large, colorful mural is located on the old City Hall building, now home of the Suite Spot, a small business incubator offering co-working space and dedicated workspaces. The previous year, the City of Sugar Hill sent out an RFP calling on local artists to submit their renderings for the City's first official mural. Out of 20 different renderings submitted, a public arts committee selected 10 finalists to then be released to the public for voting. Of those finalists Osiek's mural won. Speaking about the mural, Osiek said, "I wanted to portray an active and happy community, but something that is also pleasant and calming. I incorporated the tree to tie it into the City's logo. This was probably the most heartfelt project and community-based project that I've ever done."