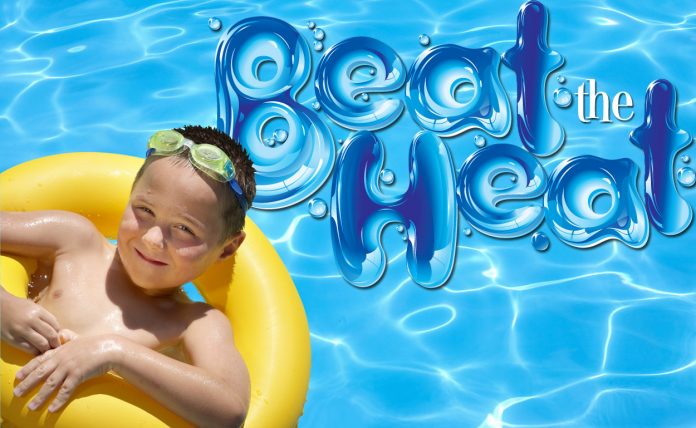 The South is known for a lot of wonderful things. Among them include southern hospitality, sweet tea, the shade of big magnolia trees, the sweet smell of honeysuckle…and then there's the sweltering heat and humidity during the long summer days!But just because we live in the South, doesn't mean we have to endure the heat. With a little bit of planning, Suwanee residents can still have a memorable, active and fun summer. So at Suwanee Magazine we came up with some fun ideas to help Suwanee families…
BEAT THE HEAT IN SUWANEE:
Escape the heat and catch a movie and a meal at Suwanee's Movie Tavern located at Horizon Village. The Movie Tavern offers a premium movie-going experience that caters to adults but is also family friendly. The unique experience at Movie Tavern offers an in-theatre dining experience featuring first-run movies combined with a wide range of chef prepared menu selections.
Visit a cool and quiet sanctuary of knowledge and books, your local Library. The Suwanee branch of the Gwinnett County Public Library is conveniently located right on Main Street and summer events include the summer reading program for kids and teens and much more.
For seniors ages 50 and older who want to learn about using a computer or keep their computer skills strong, perhaps the summer is a good time to beat the heat by taking a class at the Gwinnett Senior Learning Center located in the community center at George Pierce Park or
Bethesda Park.
While avoiding the heat, take some time to celebrate art and more at your local museum. The Gwinnett Environmental and Heritage Center, located in Buford where instead of soaking up rays, visitors can "soak up science." Described as a unique place for science and nature, the facility includes environmental education, passive recreation, and cultural exploration. Or catch the latest exhibit or view the 'Works From the Permanent Collection' at the Hudgens Center for the Arts.
To keep young children out of the heat, head to Interactive Neighborhood for Kids, located just a short drive away in Gainesville, Ga., where role-playing and learning go hand in hand and exhibits are designed to engage young minds. Most importantly, children can have fun in the climate controlled environment.
If you're craving some physical exercise, there are a menagerie of places to run, jump, climb and play ball without being exposed to the summer heat.
Jump into Sky Zone, Suwanee's new trampoline park. Activities are fit for all ages and fitness levels, and jumpers are sure to have a 'soaring' good time on the wall-to-wall trampolines. You can also stop by the ultimate indoor play center, Catch Air. Or join and take an exercise class at one of Suwanee's many fitness centers.
Does cabin fever have you and your family feeling like climbing the walls? You can do that in Suwanee, too. Get climbing to new heights at Adrenaline Climbing, Suwanee's indoor rock climbing experience located on Brogdon Road.
If bowling is up your alley, then Oasis Bowling in Buford may be your location to spare you of the summer heat while having loads of fun.
Looking for organized team sports? Your game is on at Suwanee Sports Academy or at the Silverbacks Indoor Suwanee facility. Other cool ways to get moving include signing up for a dance class at one of the many dance studios in and around Suwanee, such as Suwanee Academy of the Arts.
If you're feeling artsy and creative, sign up for an art class at one of the many art studios such as Wonder Colors or Anita's Artscool or feel some cool clay between your fingers as you create a masterpiece at Peace, Love and Pottery or the Creative ClayHouse. Or plan a fun evening of painting with friends at Masterpiece Mixers.
If you must be outside, perhaps it's best to spend the day where you can cool off in the water. Take a swim in your neighborhood pool or get wet and cool down in Big Splash, the interactive fountain, located in Town Center Park. Another option for a day of water and fun is to load up the car and head to Lanier World at Lake Lanier Islands.
For those who like to walk, run, or bike be sure to avoid the hottest part of the day with an early morning or late afternoon stroll, jog or ride shaded by the canopy of trees at the Suwanee Greenway. And don't forget to take in Suwanee's SculpTour while you're in and around Town Center Park.
Shopping Suwanee's local retailers makes a great way to escape the heat. And for an added bonus, cool off with a cool treat from many different locations in and around Town Center.
At the end of a hot day, the last thing you may want to do is heat up your kitchen by cooking dinner. Suwanee has many area restaurants from fast food to fine dining where you and your family can have a delicious meal without heating your home.
BEAT THE HEAT ATLANTA ATTRACTIONS:
One of the many good things about Suwanee is its location and proximity to Atlanta and all that a big city has to offer. And perhaps it's during the long, hot days of summer that many area residents will load up the car with family and friends and take the short drive to ATL where you can visit one of Atlanta's many attractions.
Explore the animals of the deep blue sea up close and personal with a visit to the Georgia Aquarium and then meander over to the World of
Coca-Cola where you can discover the magic of the drink. Take a tour of the Fox Theater and then stay to take in a show.
History buffs may want to relive the Battle of Atlanta at Cyclorama and celebrate 75 years of "Gone With the Wind" with a visit to Margaret Mitchell's house where you can take a guided tour.
With kids to entertain during the long, hot days of summer, perhaps it's a good time to visit to Imagine it! – The Children's Museum of Atlanta where play and learning intersect. And for all young scientists, visit the Fernbank Museum of Natural History and the Fernbank Science Center.
The Center for Puppetry Arts in Atlanta is the largest American organization solely dedicated to the art of puppetry and includes Puppets: The Power of Wonder that features more than 350 puppets from around the world.
You can also beat the heat by heading to Six Flag White Water to stay cool during the mid-day heat.
EXHAUSTION & HEAT STROKE:
A couple of big health concerns when it comes to hot weather are heat exhaustion and heat stroke.
Sweating is the body's way of cooling itself and heat exhaustion is when sweating can't keep up with the demands of the body.
Symptoms of heat exhaustion include profuse sweating, weakness, nausea, vomiting, lightheadedness, headache and muscle cramps.
If symptoms are not treated in a timely and appropriate manner, heat exhaustion can progress to heat stroke, a life threatening condition that requires immediate medical care. Symptoms of heat stroke include confusion and lethargy, the skin stops sweating and the body's temperature rises and seizures can occur.
The key to preventing or overcoming heat exhaustion is to avoid strenuous, outdoor activity during the hottest times of the day.
However, there are days when it is difficult to avoid being outside, so if you do have to be outdoors, take frequent breaks in a shaded area, stay hydrated and watch for and know the symptoms of heat exhaustion. The sooner the symptoms are recognized and managed, the less chance that complications will occur.
(For more information about Heat Exhaustion and Heat Stroke go to medicinenet.com)
And we all know that sun exposure can be harmful to the skin. Avoid sunburn. Stay inside during the hottest part of the day. When outdoors, apply sunscreen and if outdoors for prolonged periods, reapply sunscreen often.