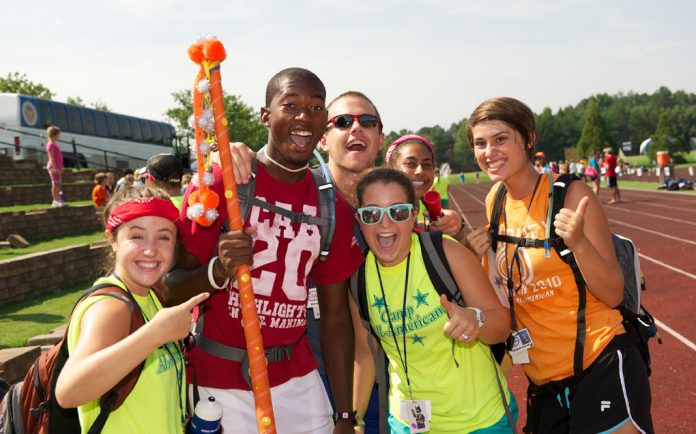 Hello Mother, Hello Father. It's time to think about Summer Camp!
As adults, perhaps some of the most treasured childhood memories come from the times you cut ties with parents and found newfound freedom at summer camp. And for parents of many school-aged children, summer means packing bags, loading up on bug spray and sun screen and sending your little camper off to have those same fun-filled experiences.
So whether it's an overnight camp miles away or a day camp just down the road, Suwanee Magazine has put together a list of summer camps near and far. According to the
American Camps Association, more than 12,000 day and resident camps exist in the U.S. and each year, more than 11 million children and adults attend camp.
Adrenaline Climbing
770-271-1390 | AdrenalineClimbing.com
For kids, ages 6 to 12, each 1 week program is jam-packed with adventure, exploration, and excitement. Outdoor fun and education on a "Higher Level" is what you'll find at Adrenaline Climbing. We take the term "Field Trip" to the extreme. We travel to exotic locales, both indoors and out, seeking the most unusual and interesting experiences for our kids. It's just one of the many reasons why we're voted the top day camp in Atlanta year after year!
Anita's ArtsCool
678-230-4937 | AnitasArtsCool.com
Travel to other countries and design your own creations. Explore your five senses. Taste your food art or make a tactile collage. Mix up paint creatures, ex: Giraphant – will the legs be short and heavy or thin and spindly? Connect and learn about artists as children. Dreams – Make pop out doors to reveal surprises in your dream paintings. Learn the basics, work with a wide range of art materials, learn about famous artists and other countries while having fun. Bring a sack lunch. For ages 6 – 10, 9 a.m. – 2 p.m., supplies included. $120 per week or $30 a day, $10 registration fee
Camp All-American
678-405-2266 | Perimeter.org/camp
Voted best summer day camp by local publications, Camp All-American is the premier camp in North Atlanta.  Join us for our 23rd summer and see for yourself why campers and parents alike rave about the Camp All-American experience. Our world class facilities include more than 100 secure acres loaded full of fun: 11 acre wilderness and ropes course area contains over 1 mile of zip lines, giant swings and one thrill after the other, pristine athletic fields, tennis courts, water complex, putting green, and over 300,000 square feet of air conditioned space.
Camp Horizons – Harrisonburg, VA
540-896-7600 | CampHorizonsVA.com
An all-around, try stuff, get dirty, have fun, make friends summer camp in Virginia's beautiful Shenandoah Valley. Co-ed, ages 6-17. One and two week sessions. Programs include Discover (ages 6-8), Journey (ages 9-11) and Explorer (ages 12-16). Activities include sports, swimming, water slide, canoeing, arts & crafts, movie making, radio, photography, drama, dance, ropes course, climbing wall, caving, rock climbing, hiking, nature, horseback and more! Check out our specialty camps for Horseback (girls ages 10-14), Adventure (ages 14-17) and Performing Arts (ages 14-17)! Airport pickup available from Washington Dulles. ACA Accredited.
Club Scientific
404-932-2552 | northGeorgia.ClubScientific.com
Your child can be a meteorologist, robot maker, video game inventor, veterinarian, or space explorer!  Club Scientific North Georgia is a high-quality science camp for children ages 4-13. With hands-on science projects and an 8:1 student/staff ratio, we provide programs to excite the minds of young children. Science was never this much fun!
Emagination Computer Camp
877-248-0206 | ComputerCamps.com
Technology learning PLUS summer camp fun! Emagination blends the latest in tech learning with cool non-tech activities that create a well-rounded summer camp experience. Mercer University at Atlanta. Ages 8-17. 2-week sessions. Day and overnight. Create Flash®animations, 3D animations, digital music. Design video games. Build robots, RC cars, iApps. swimming & recreation. Emagination also offers a separate and immersive two-week course in video game development. At Emagination Game Design teens 15-18 join a team to build a 3D video game, visit a game development studio, learn from guest speakers and present to a panel of industry experts.
Encore Music Camp
770-914-8866 | EncoreMusicCamps.com
Encore! Band Camp provides an enjoyable musical experience for band students from 5th through 9th grade. Students receive a great blend of educational and recreational activities during the week.  Rehearsals and master classes are conducted by highly skilled specialists with proven success in working with band students at this level.  In addition to rehearsals and master classes, afternoon and evening recreational activities are scheduled.  The camp closes with concert performances in the evening of the final day of camp.
Georgia Track Camps
706-542-7915 | GeorgiaTrackCamps.com
Come join Head Coach Wayne Norton and his staff for the 2012 Track & Field camps at the University of Georgia. We look forward to seeing you at camp! Each camp is designed for all ability levels (this includes beginners, advanced athletes and coaches) where focus will be placed on their desired target area. Each camper will get the help that they need in any level. June 11-14, 2012, June 17-20, 2012 Track & Field and Cross Country Camp I Overnight and Day Camp
Girl Scout Summer Camp
770-702-9136 | GirlScoutSummer.com
You don't have to be a Girl Scout to experience any of the five camps throughout Greater Atlanta.  A wide variety of programs are available for a first time camper or a bold adventurer -watersports, crafts, horseback riding –even rock wall climbing!  Girls will have a summer of memories that last a lifetime! Overnight and day camp opportunities available for all girls in grades 1-12! Five great camps accessible to the Atlanta metro area.
Peace, Love & Pottery
678-714-5683 | PeaceLoveandPottery.net
Join us at our new location for our 3rd year of AWESOME Summer ART Camp!  Every week we journey through cool mediums including glass fusion, clay sculpture, canvas painting, tie dye, mixed media and of course, pottery!  We have 8 weeks of camp starting May 28th thru July 27th.  Each camp runs from 10am-2pm everyday.  The cost is just $170.00 / artist for the entire week and includes a Peace, Love & Pottery shirt!  Ages 5 +.  Be sure to check out our online calendar for details about our other school holiday day camps too!
Atlanta Silverbacks
678-436-8075 | AtlantaSilverbacks.com
The Multi Sports Summer Camps focus on keeping kids active in a fun sports-centric experience.  Participants will enjoy activities including soccer, football, wiffleball, kickball, PE Games, and more as well as a field trip to local Atlanta area attractions.  Spring Break Camp Only – $100. Summer Camps – $150 includes: Field Trip, Silverbacks T-shirt, Two ticket vouchers to any Silverbacks regular season home game. 9 AM- 4 PM. Extended Hours are 7:30am start and 6:30pm finish all week for an additional $20 fee (No additional fee during Spring Break).
Sky Zone SkyCamp
678-745-9900 | SkyZoneAtlanta.com
Sky Zone Indoor Trampoline Park, located in Suwanee, offers multiple weeks of soaring summer FUN with SkyCamp! SkyCamp includes five half days of out-of-this-world and unmatched activities atop Sky Zone's patented, all-trampoline, walled playing courts where participants can bounce off the walls – literally! Activities include open jump, 3-D Dodgeball, Foam Zone, SkySlam basketball, and SkyRobics 4Kids, and the agenda also includes breaks, snacks, and various off-the-court arts, crafts and games. Take YOUR summer to the SKY with SkyCamp!
Karate Atlanta
678-714-0000 | KarateAtlanta.com
Summer is coming soon! Your kids will have A LOT of fun AND learn focus and manners too! We are offering two Karate Camps to kids of ages 4 and up who want to learn more about Taekwondo and self defense.  We will play karate games, have a water balloon fight, and a pizza party.  There will be two separate Karate Camps offered, they will be held June 11th – 15th and July 9th – 13th from 9am – 1pm. Register before April 1st and receive a $20 discount off of Camp. We have camps occurring in Hamilton Mill, Duluth and Suwanee.
Masterpiece Mixers
678-928-1100 | MasterpieceMixers.com
Beat the heat and come unleash your inner Picasso. Our summer camps are incredibly fun and super creative. Campers will enjoy daily painting and art instruction, snack, games and more. Learn about some of the "Greats" like Monet, Van Gogh, Picasso and more. If the weather is right, we can paint "en plein air" just like they do in Montmartre France! Camps run Monday – Thursday, 9a.m.- 12 p.m., Daily price is $35, weekly is $115 and includes canvas, paint, apron, brushes, instruction, snacks, crafts and games. Week long campers get a shirt, too!
Suwanee Academy of the Arts
678-482-6333 | SuwaneeAcademy.com
Little Princesses (ages 3 – 7) will have Enchanted Adventures each morning at the Castle with the Fairy Godmother, Queen Bee and Princesses, culminating with a Majestic Ball. Little Heroes (ages 3 -7) will have action-packed morning adventures while training to save the day. They will learn basic tumbling, sports and aerobic skills, as well as character traits of Superheroes. In the Musical Theater Performance Workshop, campers (ages 7 – 13) will experience all facets of putting on a musical performance for family and friends! Summer Kindermusik classes, too!
Suwanee Sports Academy
770-614-6686 | SSASports.com
Suwanee Sports Academy is Gwinnett's premier multi-sport facility, and with nearly 100,000 square feet of indoor recreation space it is definitely the place for Suwanee kids to be this summer.  SSA's My Sport Summer Camps run every week of the summer and give kids the opportunity to learn and play a variety of sports and activities in a fun, safe and air-conditioned environment. Suwanee Sports Academy also offers numerous sport specific camps for basketball & volleyball players.
Tavani Soccer
770-396-8258 | TavaniSoccer.com
Tavani Soccer Camps are back for their 10th year. Our camps are for all levels of players, boys & girls ages 7-15, M-Fri, 9-12. The camps are designed to develop tactical, technical and physical skills to a higher level. Skills such as dribbling, passing, shooting, and playing as a team are emphasized in small-sided games daily. Each player receives a camp t-shirt, leather hand-stitched ball and a personal evaluation.
Hudgens Center for the Arts
770-632-6002 | TheHudgens.org
Print, paint, draw, sculpt, sew, throw, hammer, carve and glue!  The Hudgens offers a variety of fine art camps for budding artists of all ages.  From weekly day camps for 5 to 12 year olds to an intensive portfolio development course for teens, The Hudgens has something for everyone. Immerse yourself in the visual arts this summer at The Hudgens!  Color Wheel Summer Camps, ages 5–12, each week in June.  Summer Pottery Camps, ages 8–14, July 9-13 & 16-20.  Teen Summer Portfolio Development Intensive, ages 14–18, July 23-27.  Online enrollment for camp opens March 15.
V.C. Giles Music Studio
678-376-9800 | VCGilesMusicStudio.com
Come join us at V.C. Giles Music Studio for "Music Around the World."  Each day we will grab a passport and "travel" to a different country.  Come play the "Didgeridoo" from Australia. Dance to "Bouzouki" music from Greece. Sing songs in Spanish.   Play games, pick your favorite food and enjoy arts and crafts. When? June 11-14, or June 18-21 9:30 – 12:00 noon. Ages? 4 – 10 years old. Cost? $90.00 Early Bird Special (before May 14th) $99.00 After May 14th.
Wonder Colors Art Studio
770-831-7417 | WonderColorsArtStudio.com
Come and spend an amazing fun-filled week with us this summer at Wonder Colors Art Studio! During our art summer camps we will complete full art lessons, play games, make crafts, watch movies, have snacks, and make friends for grades K thru 5th.  Our art lessons will involve a wide range of art materials and techniques such as natural clay, paper mache, oil pastels, soft pastels, tempera paint, water colors, and collage! Our small camp sizes also allow for your artist to get the personal attention they need. Discounts available for siblings and artists who wish to attend multiple weeks
Georgia Gymnastics Academy
770-945-3424 | GGAcademy.com

Camp activities include gymnastics instruction, indoor and outdoor games, trampoline and pit play. You can climb our Giant Cargo Net, traverse our rock wall, jump in our "bouncy house" or slide down our inflatable slide. We also have outdoor water activities. Meet new friends playing board games or working puzzles. Camp is offered 1/2 day or full day for boys and girls 4 years old and up. Three year olds will be allowed to attend during select weeks. Camp will begin May 29th and continue through July. Sign up by the week or the day!