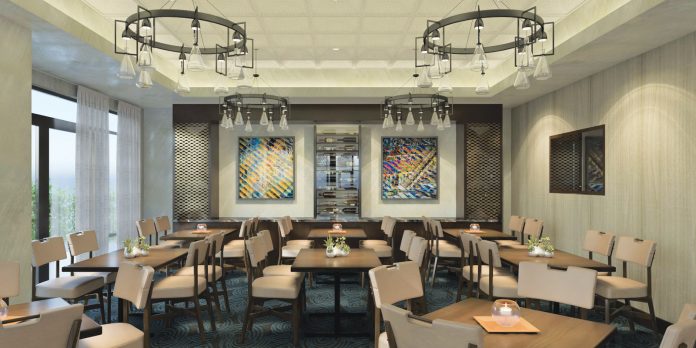 Rob and Jennifer Taranto bring their lifelong passion for hospitality to modern American chophouse Bottles & Bones, which opened in downtown Suwanee this past February. The duo is passionate about providing upscale hospitality to the Suwanee community and beyond, and treats diners to impeccable, old-school service in an upbeat and lively environment. The restaurant's pedigreed management team, led by General Manager Emile Blau, provides an experience that is approachable and appealing for a weeknight bite, craft cocktail in the lounge or weekend celebration. In essence, the husband-and- wife team has created the kind of restaurant they would want to dine in — one that they felt their neighborhood needed.
"We look for the community to embrace us whether it's for date night, casual late-night bites or a wonderful experience in our lounge, featuring nightly live entertainment," said Rob Taranto. "Our private dining room is available for celebrations or the perfect place for a business dinner."
Executive Chef Ryan Smith, formerly of Watershed on Peachtree and Food 101 concepts, worked closely with the Tarantos to create fresh, bright ingredients and approachable offerings. The menu features aged prime steaks sourced from Nebraska, daily fresh seafood and a wide variety of gluten-free selections. In addition, Bottles & Bones features an extensive appetizer menu, including a house- cured charcuterie board. Other stand-out dishes include the sweet potato souffle and roasted brussels sprouts with bacon jam vinaigrette. Diners can expect nightly specials as well as an inclusive prime rib dinner on Sunday and Monday nights, and the house specialty prime dry-aged porterhouse for two on Friday and Saturday nights.
Bottles & Bones is located at 400 Buford Highway N.E., Suwanee, GA 30024. For more information, visit BottlesandBonesga.com.