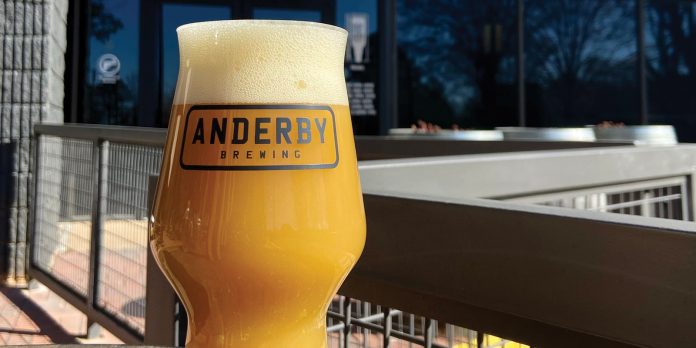 What started as a Groupon for a make-your-own beer class has evolved into a local craft brewery that's making a name for itself with good beer and a love for cats.
By: Lizzy James | Photos courtesy Anderby Brewing
Like many brewery owners, Preston Smelt developed his love for craft beer as a home brewer. Unlike most, however, his passion for craft beer was sparked by none other than a "How to Brew" Groupon gifted to him by his wife, Michell. After attending the class, Preston left with his arms full of new homebrew equipment. Eventually, his skill and ambitions outgrew their kitchen, and he began the search for property that could support a full-scale production brewery. The result was Anderby Brewing, a 19-tap brewery and taproom located off of Technology Parkway in Peachtree Corners. We had the chance to catch up with Preston and Michell to learn more about the exciting things Anderby is bringing to the Georgia craft beer scene.
HOW DID YOU GET INVOLVED IN THE CRAFT BEER INDUSTRY?
Michell: Craft beer definitely started out as Preston's thing. About nine years ago I just happened to stumble across a Groupon for a make-your-own beer class, and decided to buy it for Preston and a friend. After the class, Preston found a passion for it and decided to buy his own kit. He started brewing on the stove in the townhouse we were living in at the time, and when we bought our current house we designed the den to be a spot where he can brew.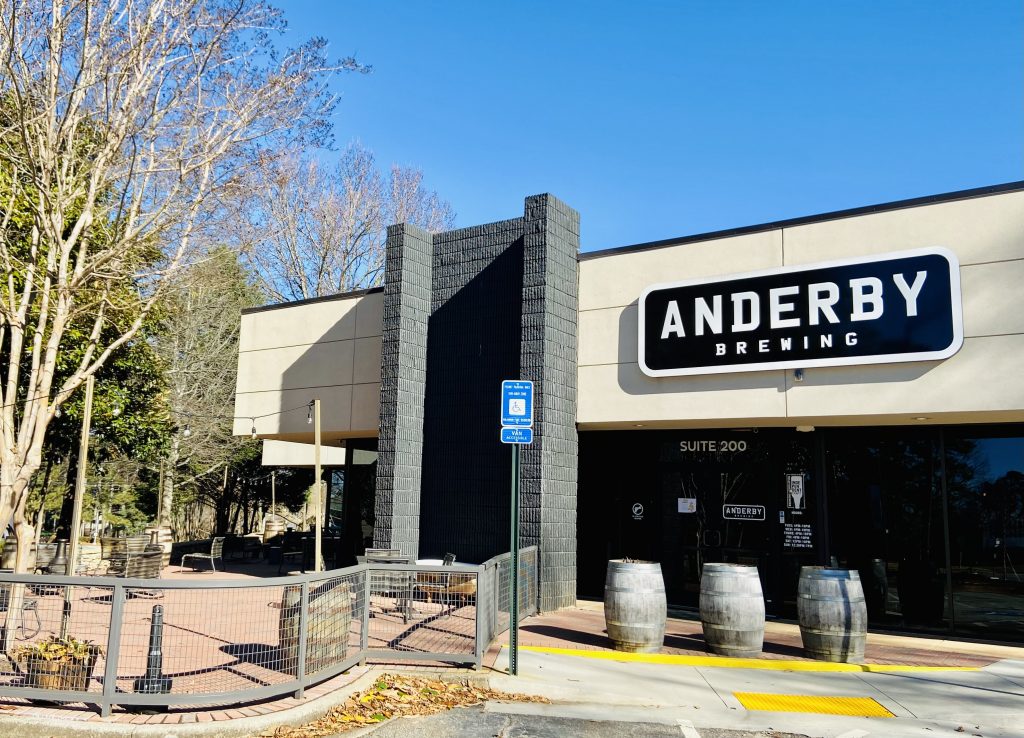 WHAT MADE YOU DECIDE TO OPEN A BREWERY?
Michell: One day Preston approached me and asked, "How do you feel about opening a brewery?" and I supported it. He knows all about craft beer and the different beer styles, whereas I didn't even really start drinking beer until about two years ago. It's been a big learning experience but we've enjoyed it.
WHAT IS THE STORY BEHIND THE NAME ANDERBY?
Preston: We struggled with names because we didn't know where we were going to be. Because of that, we didn't want our name to be Atlanta specific or anything that stamped us to a specific location. However, when researching our family name it came up that in the 12th century my family had a tie to Anderby England. The name kind of had a ring to it, and after some research we found out that it is a small coastal village of only about 300 people. Through our whole evolution of trying to build a brand, that name and idea of it being a place off the beaten path that you go to because you're trying to go there really stuck.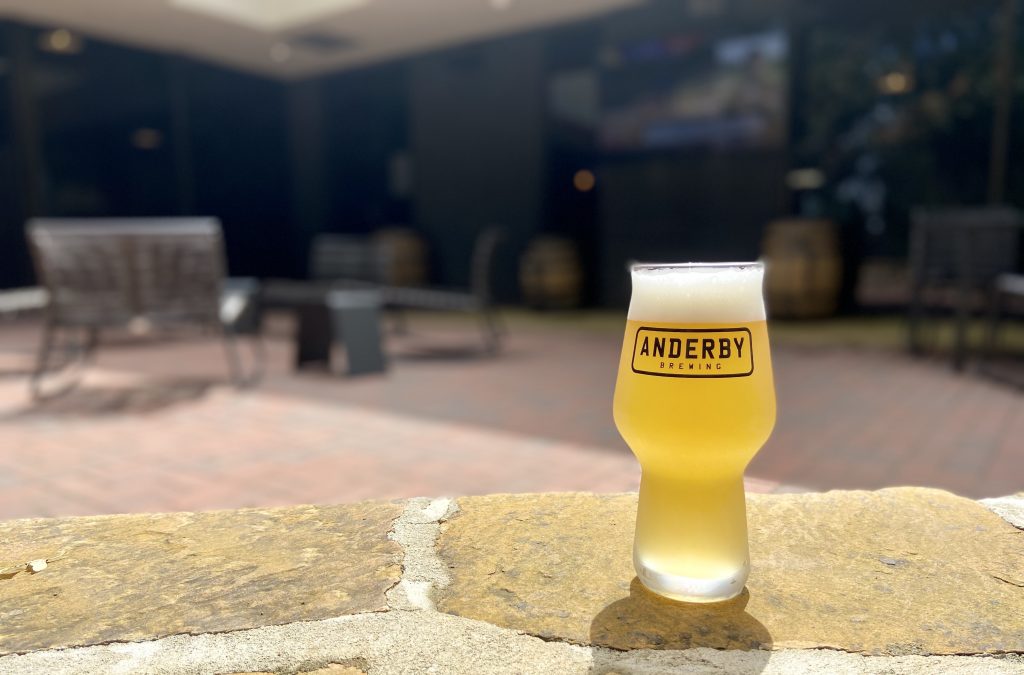 WHY PEACHTREE CORNERS?
Preston: The longest part of the location search was trying to figure out where we wanted to be located. We had some criteria that we were cognitive of and at the time we didn't want to go into an area that was already dense with breweries. I was also working in Dunwoody and wanted a location that was easy to get to, since the original plan was to keep our full-time jobs for as long as possible. We needed something where at the end of the work day we could get to the brewery. My broker found a place off Peachtree Circle Corners that we really liked, but never went through. I started talking to the city during that time and very quickly the city said, "We are about to do some cool stuff on Tech Park and turn it into a very different area. It would be great to have a brewery over there." So we found our current space and learned that it had a local owner who always wanted to do something fun and different in the building. We ended up approaching him with the idea and now here we are!
WHAT HAS THE COMMUNITY SUPPORT BEEN LIKE?
Preston: Everyone in the community has been so supportive. Pre-COVID, people who worked on Tech Park would stop in for a beer or two after work. Since then, we've done even more to better ourselves and our beer recipes. We spent some time last November with a consultant and he really helped us to elevate our voice so to speak. Now, in my opinion, the beer is night and day from when we first opened. The beer we've been putting out recently is worlds above from when we first opened. So it's going to be fun when people come back to work in the offices here and say, "Wow, this isn't the same brewery from before."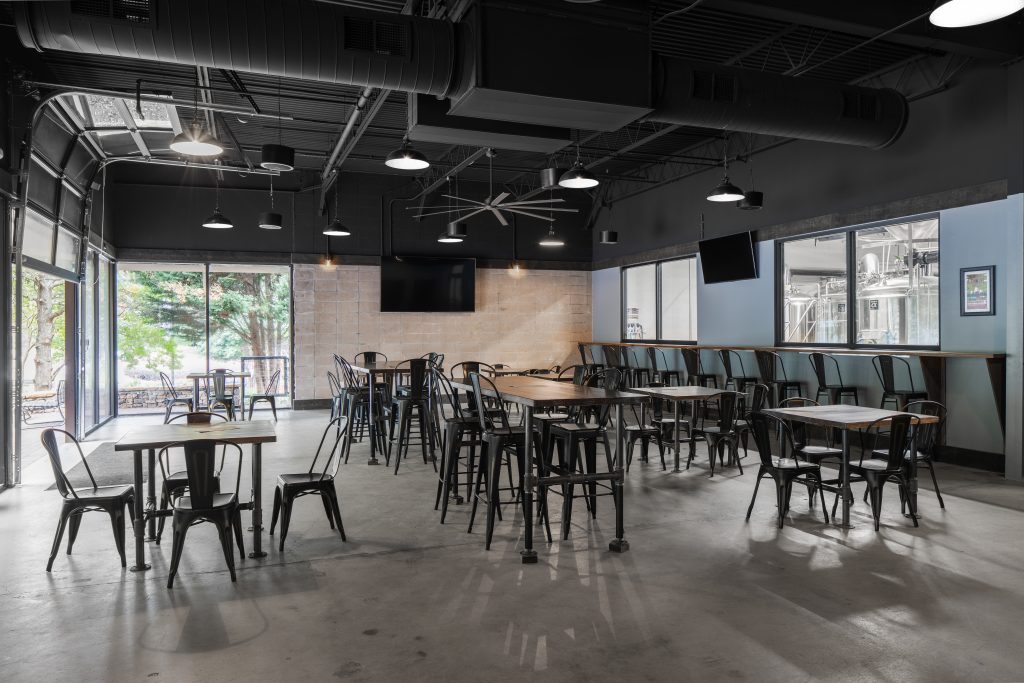 WHAT SETS ANDERBY APART FROM OTHER GEORGIA BREWERIES?
Preston: We are craft malt certified and use craft malts in 85-100% of our recipes. I have yet to hear of a Georgia brewery that leans into using local and regional malts as much as we do. We use Riverbend Malt House and they specialize in regional-grown malt. All of the grain we receive from them comes from a 500-mile radius around Asheville. For us, it brings a unique twist on all of our beers. Riverbend does a lot of fun stuff like applewood-smoked malts that we have used and every once in a while they come up with new one-off flavors that we incorporate into our recipes. I don't brew for me, I try to brew for the marketplace. If I don't listen to the market and adjust accordingly then our business won't succeed. We don't do anything to try to inflate our ratings, so once we put ourselves out there we just roll with it. Initially, I was focused on a large variety of styles and not a lot of variations within those styles. Unfortunately, we learned that's not what drives people in. We noticed an increase in foot traffic when we started to expand with stouts and IPAs. We want to build a foundation on a few good core beers and then begin to play around on those variations.
Michell: I think that something else that sets us apart is that ability to be really self-aware. We are okay with someone not liking our beer, especially if they can be constructive about what it is they don't like about it. We encourage honest feedback from our patrons, because we can't grow unless we know what our customers like and don't like. Something else that is unique to us is our love for cats. A lot of our beers have cat themes, and I feel like we are kind of segmenting into the cat- themed brewery. For example, our Chunkzilla Imperial Stout is named after one of our cat's nicknames, so when designing the can label we wanted to do a throwback to the old Godzilla movies and I wanted her to be the feature. My hope is to continue adding in animal components, and bring awareness to things that affect the rescue community.
WHERE ELSE CAN PEOPLE FIND YOUR BEER OTHER THAN THE BREWERY?
Preston: As of right now we are in 30-40 package stores across the state and in all Georgia Total Wines. We also have kegs in Marlow's Avalon, Buffalo Wild Wings in North Point and a few other local restaurants in the Peachtree Corners area.
Anderby Brewing is located at 110 Technology Pkwy., Suite 200, in Peachtree Corners. For a complete beer list and to stay up to date on everything Anderby, visit AnderbyBrewing.com or follow them on social media.