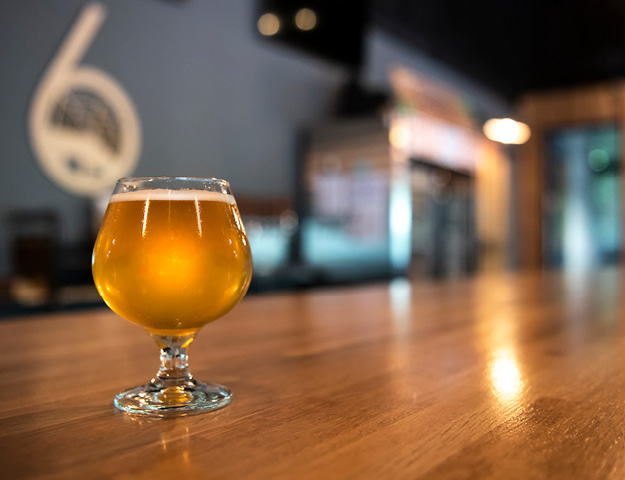 Father-son duo bring their shared passion for beer to Johns Creek with Six Bridges Brewing
By: Lizzy Kidney | Photos by Karl Lamb
The longtime dream of Charles and Clay Gridley has grown into Georgia's first father-son owned brewery. Six Bridges Brewing features open ceilings, a long bar with plenty of seating, and large communal tables that encourage conversation, adding to the cozy, family-oriented atmosphere.
Since opening in December of 2018, Six Bridges has made waves in the local craft beer scene, bringing home a gold and silver medal at the BJCP competition and placing second in the Georgia Brew Battle contest at the 2019 Suwanee Beer Fest. We recently had the chance to catch up with Clay Gridley to learn more about the experience Six Bridges is bringing to the local craft beer scene.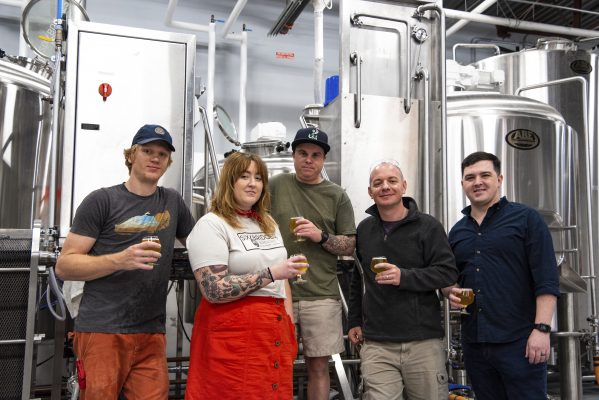 How did you and your father get into the craft beer industry?
My dad worked as an engineer for Coors back in the early '80s, and that kind of sparked his passion for craft beer. My dad used to have this pipe dream of opening a brewery out West with all three of his sons and naming it "My Three Sons Brewing." Unfortunately, my brothers loved drinking beer but neither really developed a strong passion for brewing it. However, I got involved in the industry and developed a love for homebrewing. When I mentioned opening a place of my own, my dad jumped on board and it all grew from there.
What made you choose Johns Creek as the location for your brewery?
Our team did studies in the area and the City of Johns Creek really just jumped off the page for us. We knew that we would be a great complement to this wonderful city and everyone here has been so supportive and welcoming.
How did you come up with the name Six Bridges Brewing?
The City of Johns Creek actually came up with it. The name symbolizes the six different bridges that were built by the Native Americans and settlers to help cross the Chattahoochee with their goods and livestock. We had been looking around for local landmarks and tossing around ideas with the city and this was a suggestion that everyone seemed to love.
How did you find your head brewer?
Alex "Chewy" Ciaburri was a brewer in the Atlanta craft beer scene and he actually reached out to me when he found out we were opening the brewery. His knowledge on a big scale really complements my dad and I's knowledge on a small scale, making us the perfect team.
What makes Six Bridges Brewing unique?
We are the first father-son owned brewery in Georgia, and that has had a big hand in helping us brand our beer. There's a little more at stake with a family-owned business and we try to be really competitive with our beers and make some world-class stuff that everyone will love. We want our taproom to be a gathering spot for the community. We like to use local artists for our artwork throughout the taproom and provide a place where people can get together and not have to worry. We also have a "pour it forward" wall in the brewery where customers can come in and purchase a beer for someone. That person's name then gets put on the board and when they come in they have a free beer waiting for them!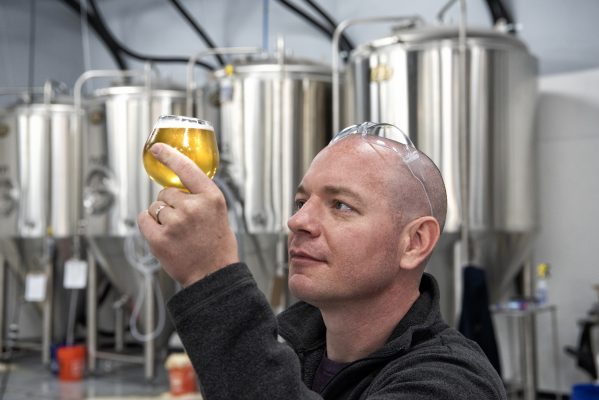 What is your biggest seller in the taproom?
I would say our two biggest sellers are our Shelby Golden Ale or the Medlock IPA. If you could recommend a summer beer, what would it be? Definitely our Sour Continuum with pink guava. It is light, crisp, fruity, tart and it's only 4.3% alcohol so it won't zap you in the heat. A lot of people who have come in and tried it said it is going to be their go-to pool beer.
How has the response been since opening?
The local community has really surprised us with how much they love local beer. I've had people walk in and say, "You are exactly four-tenths of a mile from my house," and that's really flattering. Beer is one of those things that can be made locally with local products and it's great having the community embrace that.
Tell me about Charity Wednesdays.
On Wednesdays, we have pint nights with rotating charities like Senior Services North Fulton, the Symphony, Historical Society, and more. We take $1 from every pint purchased that night and donate it to the charity of that week. We have also been involved with events like a polar plunge for the Special Olympics and even held a Crawfish Boil for Senior Services North Fulton.
Where else can local residents find your beer?
We recently started distributing so right now our beer is in places that are within 5-10 miles of the brewery like Taco Mac, Max's Bottle Shop, and Marlow's Tavern.