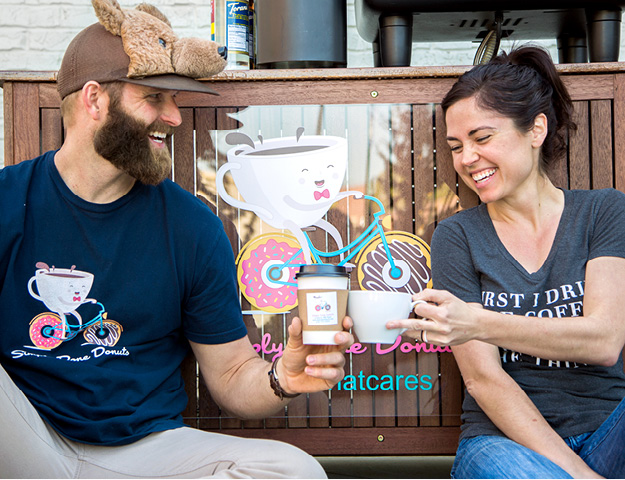 Duluth's Simply Done Donuts packs big flavor into bit-size packages.
By: Alicia Carter | Photos Courtesy Simply Done Donuts and ATLYS MEDIA
A lot of people dream about quitting their 9-to-5 to pursue their passion, but very few people actually act upon it. After all, it's risky, and not to mention scary, to venture out on your own in pursuit of your passion project. That risk becomes a lot less intimidating, however, when it's dipped in frosting and topped with sprinkles, or toasted coconut, or cookie crumbles, or peanut butter, or … you get the idea. Karissa Tuttle decided to take that risk in 2015 when she left corporate America to launch a food truck — or "donut wagon," as she calls it — selling mini donuts throughout Atlanta. At the time, there were very few mom-and- pop donut shops in the area, and a food truck was a nice stepping stone to opening a brick-and-mortar shop. "It allowed us to get our feet wet without all the overhead," Karissa says. After a year and a half of splitting their time between their day jobs and nights on the truck, Karissa and her husband, Joey, opened Simply Done Donuts in 2017.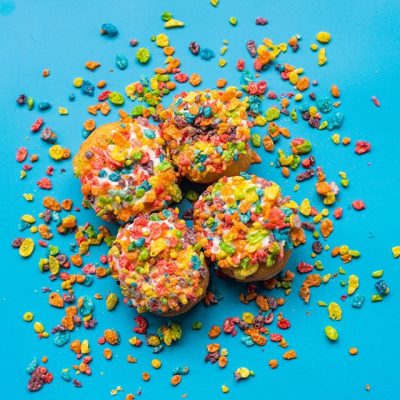 Since then, the pair have been busy whipping up mini bites of heaven at their bright and colorful donut and coffee shop in downtown Duluth. From the cheerful logo of a cup of coffee sitting atop a donut-wheeled bicycle to the variety of ingredients that make up their mini creations, Simply Done stands out from the crowd with its playful approach to food. Their donut toppings run the gamut of a child's (or adult's) flavortown dreams with standouts like the Smorelicious, inspired by the campfire classic; the Elvis, featuring the King's favorite flavor combo of chocolate, peanut butter, banana and bacon; and the Samoa, a vanilla donut topped with chocolate icing, toasted coconut and a caramel drizzle. Picking a favorite is no easy task: "Apple Pie is our most popular to date," Karissa says. "My husband, Joey, and our team think the PB&J is way underrated, which it is! You won't go wrong with any of them."
A personal favorite, however, would have to be the Fruity Pebbles Donut. On the surface, the construction is simple — a vanilla cake donut topped with vanilla frosting and Fruity Pebbles cereal — but the flavor combination will blast you back to the early '90s, when it was acceptable to down a bowlful of multicolored sugar crisps while watching Preppy and the gang on "Saved by the Bell." And if the yabba-dabba- do of the Fruity Pebbles donut doesn't send you on a nostalgic time warp, maybe the crackle and pop of the Oh Snap will do the trick — a vanilla glazed donut topped with Rice Krispies and marshmallow drizzle.
The menu doesn't stop at donuts, though. While you're there, indulge in a Donut Milkshake, in which three plain donuts are blended with vanilla ice cream and whole milk topped with whipped cream and your donut of choice. Simply Done has also partnered with the sustainable coffee company Three Tree Coffee Roasters to offer an assortment of caffeinated beverages, including lattes, cappuccinos, macchiatos, cold brews, frappes and more. "It was really important for us to teach folks about our coffee and the mission behind it," Karissa says. "It is good to know your purchase goes to paying farmers way above average, working with organizations to help end human trafficking, all while staying local. All this stuff matters. It is not just a cup of coffee; it has a purpose and reach."
In April, the Tuttles announced they're expanding their mini donut empire with a second Simply Done location to open in Tampa. So it seems that taking that chance back in 2015 is paying off big for Karissa and Joey. So why not stop by their Duluth shop, pick up a six-pack of minis, and congratulate the pair on all of their success? Tell them we sent you!
Simply Done Donuts is located at 3550 W. Lawrenceville St., Suite 340, in Duluth. SimplyDoneDonuts.com