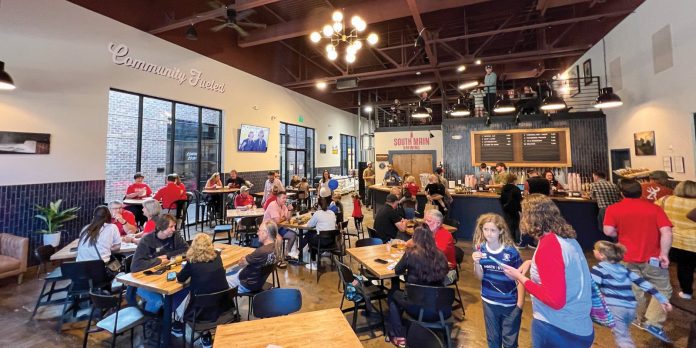 Oconee County's first brewery is fueling the community with good beer and great people.
By Lizzy James / Photos courtesy South Main Brewing
Oconee County's first craft brewery, South Main Brewing, was created out of what owners Dutch Guest, Brock Toole, and Head Brewer Nic Farley felt was a collective need for a local place of gathering. Since opening its doors in October of 2022, the brewery has taken the city of Watkinsville — and the Georgia craft beer scene — by storm. We recently had the chance to sit down with the owners to learn more about South Main's delicious craft beer and how they're living up to their motto: "community fueled."
How did you get involved in the craft beer industry? We began in 2019 in a local Rotary club as a group of good friends brewing together. The plan for a brewery grew while trying to navigate the professional and personal changes associated with the pandemic. We noticed a need in the community for a place to get together and enjoy a truly local experience. We brought Nic Farley, our head brewer, in to take what we were brewing to the next level, and South Main Brewing was established.
Why Watkinsville? Watkinsville is home for all of us. We love our community and we wanted to share our love of craft beer with our friends and family. We wanted to be Watkinsville and Oconee County's first brewery.
What's the story behind the name South Main? When we first began brewing and discussing the concept of opening a taproom, we were brewing at a historic home in the center of downtown Watkinsville on South Main Street. We wanted our branding to pay homage to our roots, so our name is centered on that beginning location. Our pump logo is based off the gas pump at the front of the property which has always been a local landmark. Many of our beer names are based on local areas of Watkinsville and Oconee County as well. We truly embrace our "community fueled" slogan.
What has community support been like since opening your doors? Community support since opening has been overwhelming, and we could not ask for better patrons. The City of Watkinsville and Wire Park have been working with us from the beginning to help ensure our success. We are constantly in awe of the positivity and love we feel from our patrons and the community as a whole.
What sets you apart from other Georgia breweries? We focus on customer service in our taproom as well as constantly working on improving our products. Even with our best sellers, we are always looking at the potential to refine the product to improve the quality and taste of each of them. We are also constantly looking at new types of beer to introduce. There is a guarantee that when you walk in our taproom, that our best sellers will be available but also that there will probably be something you haven't tried that will surprise you.
Tell us a little bit about your brewing team. Nic Farley, our head brewer and co-owner, has been brewing for 16 years. He began home brewing while working with a craft beer magazine, and ultimately fell in love with the brewing process — and he's been refining his craft ever since. When we approached him with the idea of South Main, he moved to join the team from Atlanta.
What is your best seller in the taproom? Currently, Hazed on Main is our best seller. This is our hazy New England IPA. Hopped like a West Coast but soft like a hazy, it is brewed with Citra, Mosaic, Sabre and Cashmere Lupomax hops. We have been refining it since our days back on South Main Street.
If you could recommend a seasonal beer for readers to try, what would it be? Idle Hours is our West Coast-style pilsner. A mixture of New Zealand's Motueka and Rabaul hops collide with American Chinook to create a crushable pilsner that is ripe with tropical fruit flavor and aroma.
Where can you find your beer outside of the taproom? We have just begun keg distributions to local establishments around Watkinsville and Athens. We are currently adding capacity to branch out further!
Do you currently host any events in your taproom? We have a consistent rotation of events throughout the week and are open Tuesday-Sunday. We sponsor a cornhole league through Cornhole ATL that meets at Wire Park on Tuesdays. Weekly, we host trivia on Wednesday and live music on Friday. Thursdays are typically filled with Tours and Tastings, which includes a tour of the brewhouse with our Head Brew Master Nic, and a flight of samples that Nic creates. We also schedule a Giving Thursday throughout each month. Giving Thursday provides us a chance to give back to our community by sponsoring rotating nonprofit organizations for a percentage night. We have a brew deck area upstairs that overlooks the taproom and brewhouse, and our brew deck can hold up to 35 people and is available to rent. We also host bigger events and festivals throughout the year and partner with Wire Park and neighboring businesses. Following South Main Brewing on Facebook and Instagram is the best way to stay informed of all our activities!
Are there any upcoming news or events that the community should know about? We currently have an open container policy in the park. Patrons can purchase our beer and take it to enjoy a nice walk or hang out outside! We are also expanding our taproom into the new Food Court (The Grid) that will feature an additional service bar for to-go beer.
South Main is located at 1725 Electric Ave., Suite 140, in Watkinsville. For a complete beer list and to stay up to date on everything South Main, visit SouthMainBrewing.com or follow them on social media @southmainbrewing.